I stayed at Le Meridien Dubai last night, which I was extremely impressed by. The hotel is right next to the airport, and has a dedicated building exclusively for club guests, which is separated from the main hotel.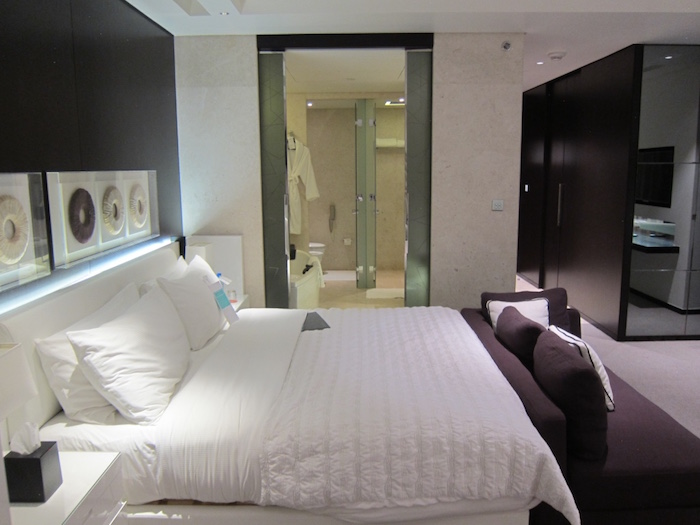 Le Meridien Dubai club room
The club wing was recently renovated and is gorgeous, in stark contrast to the main part of the hotel, which is past its prime.

Le Meridien Dubai club wing

Le Meridien Dubai "normal" wing
This brings me to my one complaint about this hotel, which I faced while checking out. I've become accustomed to hotels basically begging for online reviews throughout stays. At a minimum they usually have a card in the room asking you to share your experience online if you were pleased. Then at check-out they'll sometimes subtly mention that they'd appreciate if you wrote an online review. And then finally there are post stay surveys and follow-up emails soliciting online reviews. All of which I'm fine with and used to, in theory.
The service at Le Meridien Dubai was really good throughout my stay. When the associate asked how everything was at check-out I said "lovely, I was very impressed by this hotel and will definitely be back."
Her ears perked up, and she was happy to hear that.
She then handed me a paper survey and asked me to fill it out, sharing my experience about the stay. I said "oh I'll just fill out the survey they send after each stay," but she didn't react, which I took to mean that she'd appreciate if I still filled out this form, which I did. And that was fine.
After I spent a couple of minutes filling out the survey the conversation continued:
"Have you heard of TripAdvisor?"
"Yes."
"Would you please consider writing a review on TripAdvisor saying good things?"
"Sure."
"Please do, it is very important."
"Okay…"
Then she handed me a piece of paper with her name on it.
"Please mention my name."
"Okay…"
"Don't forget, it's very important you do this. Thank you so much."
At this point I was starting to wonder whether I was a guest at the hotel or her employee.
So I still have a great things to say about the club accommodations at this hotel, because they're fantastic. It's my new favorite option for quick overnights in Dubai. The service throughout my stay was excellent, though it certainly sours my impression of the hotel when they literally beg for you to write a review, and beg for you to mention them.
I get why employees want to be mentioned online. As I've written about in the past, hotel chains give big incentives for employees to be mentioned in reviews. Last I heard, Hyatt gives associates $25 in cash if they're mentioned by name in an online review, and I suspect Starwood offers a similar incentive.
But at what point are hotel staff crossing the line? Is it okay if they mention at check-out that they'd appreciate if you consider writing an online review? How about if they tell you how important it is? What about if they give you their name because they want to be mentioned?
Like I said, I still found the service at the hotel to be great, but at some point the begging sours my perception of the customer service at the hotel.