Reader TVH asked the following in the Ask Lucky forum:
So I've got a bunch of these AA employee recognition tickets that I always seem to carry with me but never actually use. What have others experienced that warranted an employee getting one of your recognition awards?
This question served as a good reminder which I think can often be forgotten. The airline and hotel industry consumes most of my life, and there are so many employees who go above and beyond to make it special. That's part of what I love about it, actually. While there are of course some bad apples out there, I don't think there are many industries with a more passionate "core" workforce.
If you're an elite member with an airline or hotel chain, you probably get some certificates with your membership packet which you can give out to employees to thank them for providing exceptional service.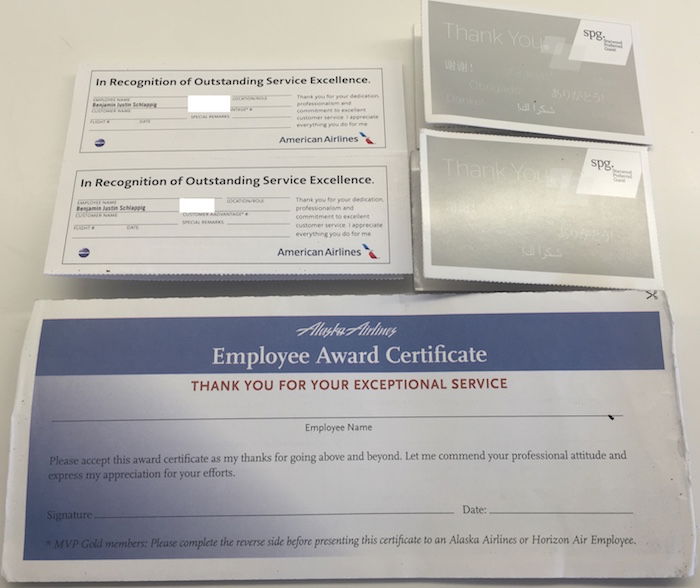 There are no "requirements" for giving these out, and it's totally up to you as to which circumstances warrant them. Unlike some other people, I don't use these for bribery, but rather to thank those who are going above and beyond because of their passion for the job, rather than as a one off.
As a matter of fact, I probably give them out most often for service I witness employees providing to others, rather than service I receive directly. For example, I often like to recognize employees who I see showing grace while dealing with especially difficult guests (which is surprisingly often in the airline & hotel industry).
But you don't need these elite certificates to thank someone in the airline or hotel industry. Actually, I'd argue there are better ways to recognize them.
Obviously just saying "thanks for doing a great job" means a lot. But perhaps more significantly than anything else, giving an airline or hotel employee a shout out by name on social media can make the biggest difference — it makes the employee and brand both look good, and gives the brand some exposure as well. That's a win-win-win.
For example, last I heard, Hyatt employees receive $25 if they're mentioned by name online for providing great service. That's a pretty nice bonus for an online mention!
Perhaps more important than the $25 is that they'll get a pat on the back from their manager as well.
Of course you should always recognize employees with "pure" intentions, but I'd also note that employees remember who thanks them by name, and it has often lead to even better service in the future. I've found this to be more true in the hotel industry than the airline industry, given that frequent travelers probably deal with the same hotel employees more often than the same airline employees.
Bottom line
There are so many ways to thank those who go above and beyond in the airline & hotel industry, and it can make a big difference to them. I figured it was worth posting a reminder that there are so many ways to thank these people (a "thank you" in person, a recognition form, mentioning their name in a post-stay/flight survey, mentioning them on social media, sending an email to their manager, etc.), and it can make a meaningful difference to them.
Not only do they often get cash rewards for recognition, but they'll also get a pat on the back from their manager, and it will certainly be considered for future promotion opportunities, or at a minimum offset any complaints they may get.
I truly think we can spread a bit more goodwill in the industry by positive reinforcement, and there are so many ways to easily do that nowadays in a meaningful way.
What's your preferred method of recognizing employees in the airline and hotel industry?