Fairly frequently I get questions from readers asking what they're entitled to if their hotel room isn't ready by the published check-in time. I've never really been sure of the answer, so perhaps it's time I ask you guys what you think.
In many ways I don't envy the position hotels are in, especially when it comes to rooms that are frequented by elite members with guaranteed late check-out. For example, how can you promise someone 2-3PM check-in when an elite member checking out of the same room is entitled to 4PM check-out? In general I realize the late check-out benefit balances out with people who check-in late (or others who check-out early), though when a hotel only has a limited number of a certain type of room, it gets trickier.
Let me pose this question and share my thoughts in the context of my current situation. We're staying at a European Starwood hotel, and used a Suite Night Award to confirm an upgrade (in advance) to a suite.
We arrived at the hotel at around 2PM after a redeye from the U.S. and were looking forward to taking a nap, though were informed that the room wouldn't be vacated by the previous guest until 4PM, and that it would take about two hours to clean the room, meaning we'd only have access to the room three hours after the stated check-in time.
While that crushed my hopes of getting a nap, I can't fault the hotel here. There was an elite member in the suite before me, and they were entitled to a late check-out. I'm also grateful they cleared my suite upgrade in advance, and I realize there are a limited number of suites. So I'm sure we could have gotten a standard room earlier, but that would represent a downgrade from our confirmed room.
I'd be peeved, on the other hand, if I hadn't applied a suite upgrade and they couldn't even get me a standard room by the stated check-in time. So I didn't expect anything from the hotel, and don't think they did anything wrong.
However, it got me thinking — is a hotel check-in time "guaranteed," and if so, under what circumstances? If you're just in a standard room and it's not available at the stated check-in time, are you entitled to something?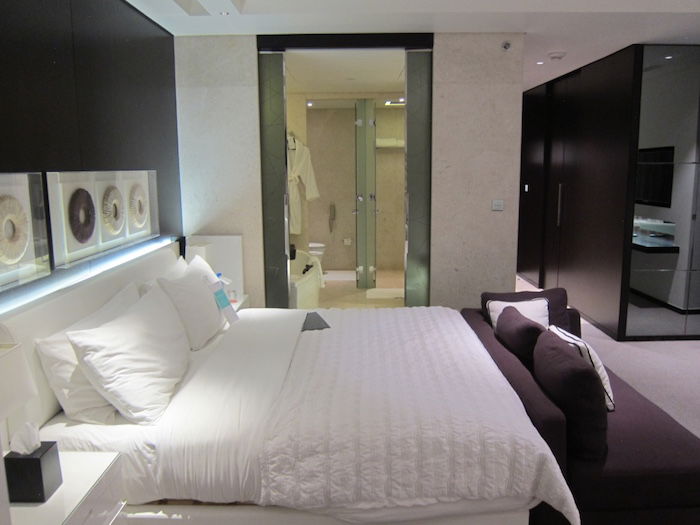 I think if the room is ready a short while after the scheduled check-in time that's fine, but what if it's only ready 3-4 hours after the stated check-in time? And what if you're on a one night stay with an early departure the next day?
Like I said, this isn't my situation, but big picture I do wonder at what point guests are due something when a hotel can't honor their stated check-in time.
In general I think the extent of "compensation" due would maybe be a free lunch or dinner in the hotel's restaurant, a nice welcome amenity, a room upgrade, or something of the like. Perhaps if you just have a short one night stay, some sort of a partial refund wouldn't be an unreasonable request.
But I'm curious if I'm looking at this all wrong, and what you guys think.
Is a hotel's stated check-in time a guarantee, or simply a guideline? Under what circumstances? What is a guest due if the stated time can't be honored?