Homewood Suites By Hilton properties offer a fairly uncommon benefit: on Monday through Thursday nights from 5 to 7 p.m., they offer guests a complimentary "Evening Social," clearly aimed at the budget-minded business traveler crowd. There is wine and beer, as well as "small plate" offerings, which the chain's website describes as "just the right size as an appetizer or a small, satisfying meal."
Homewood Suites publishes a monthly calendar that generally describes each night's "theme." There are salad nights, pasta nights, slider nights, for example. The calendar is the same for all of Homewood's 400-something locations throughout North America.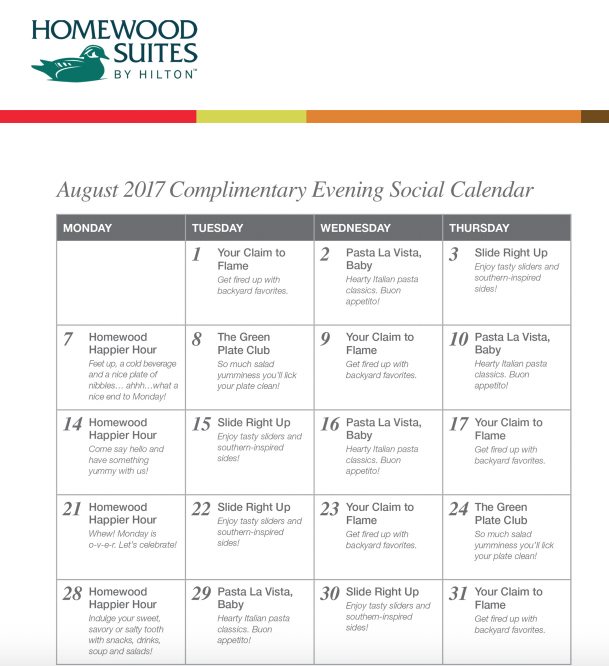 I didn't have high expectations for these Evening Socials, but for what they are, they're not terrible.
For "Your Claim to Flame," which they described as "backyard favorites," the main dish was a burger. The hamburgers weren't great, to be honest. The buns were cold and way too big for the beef patties. But they were edible.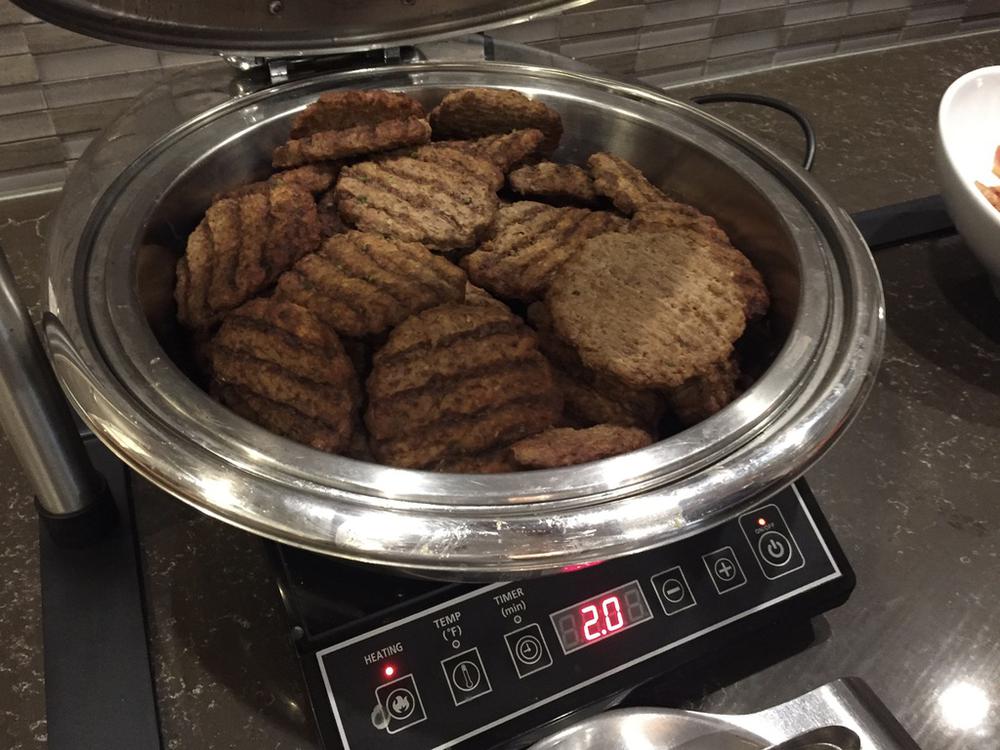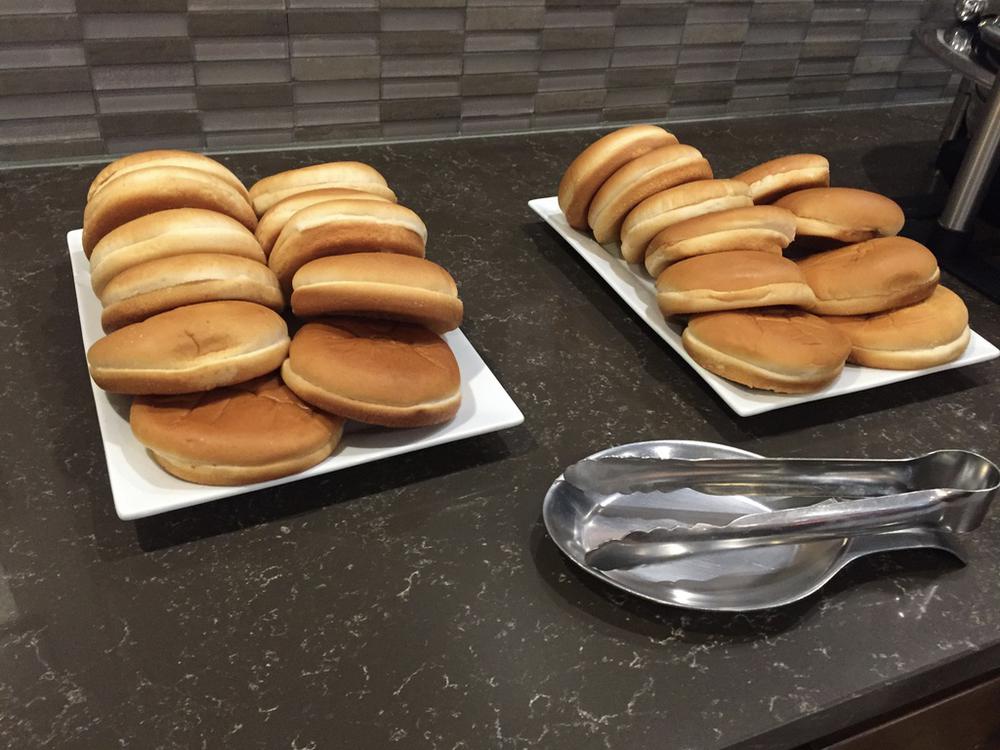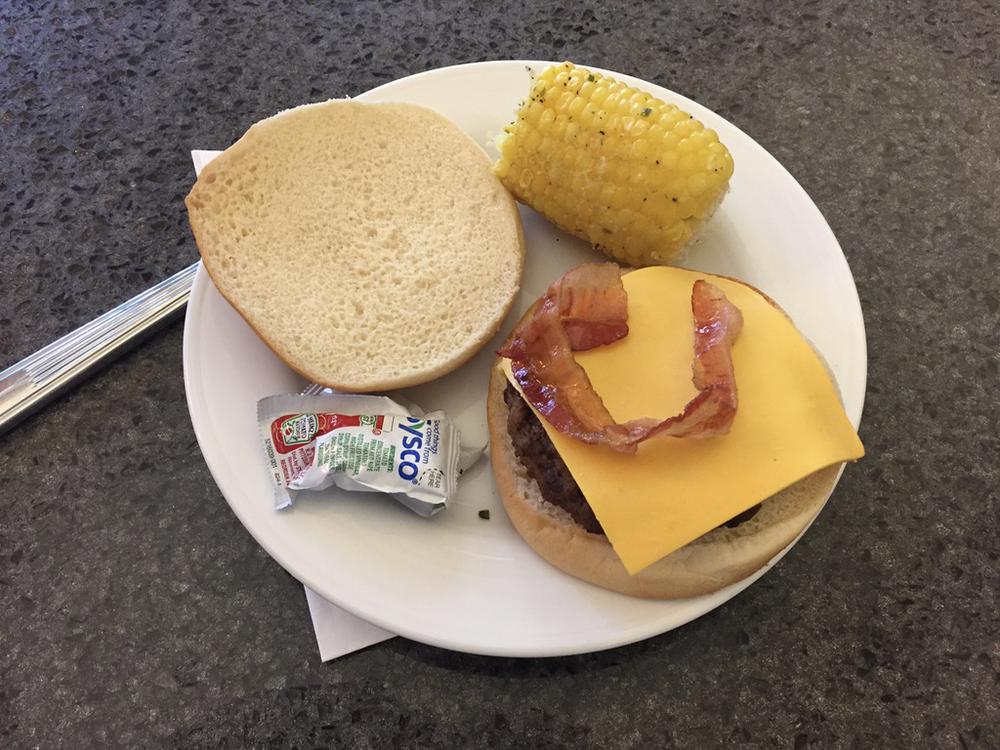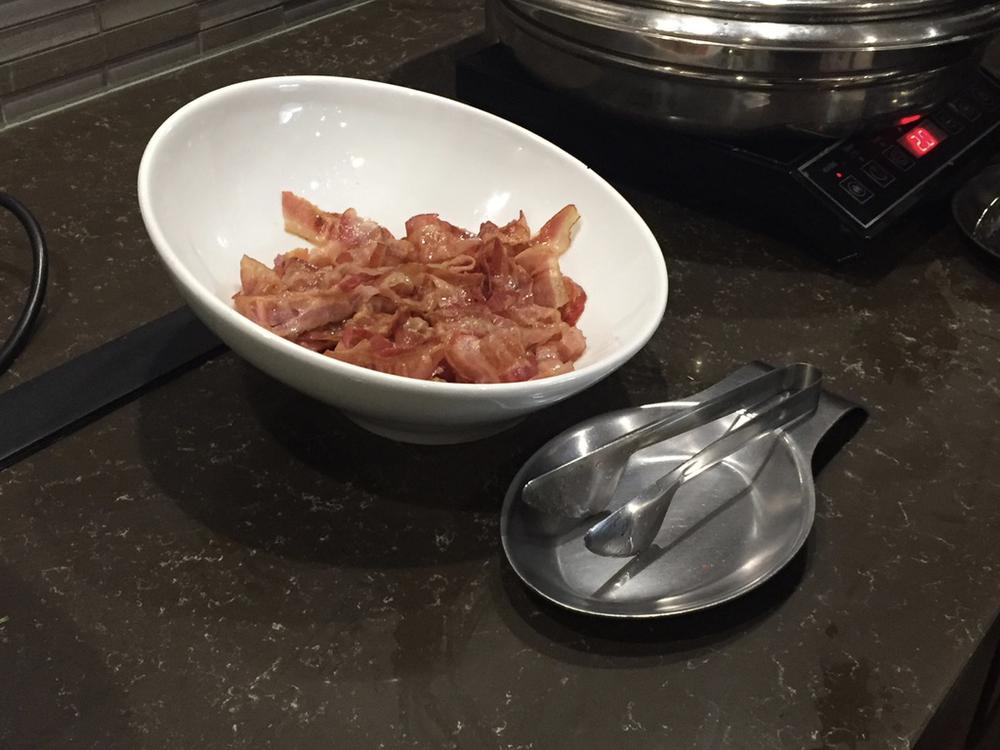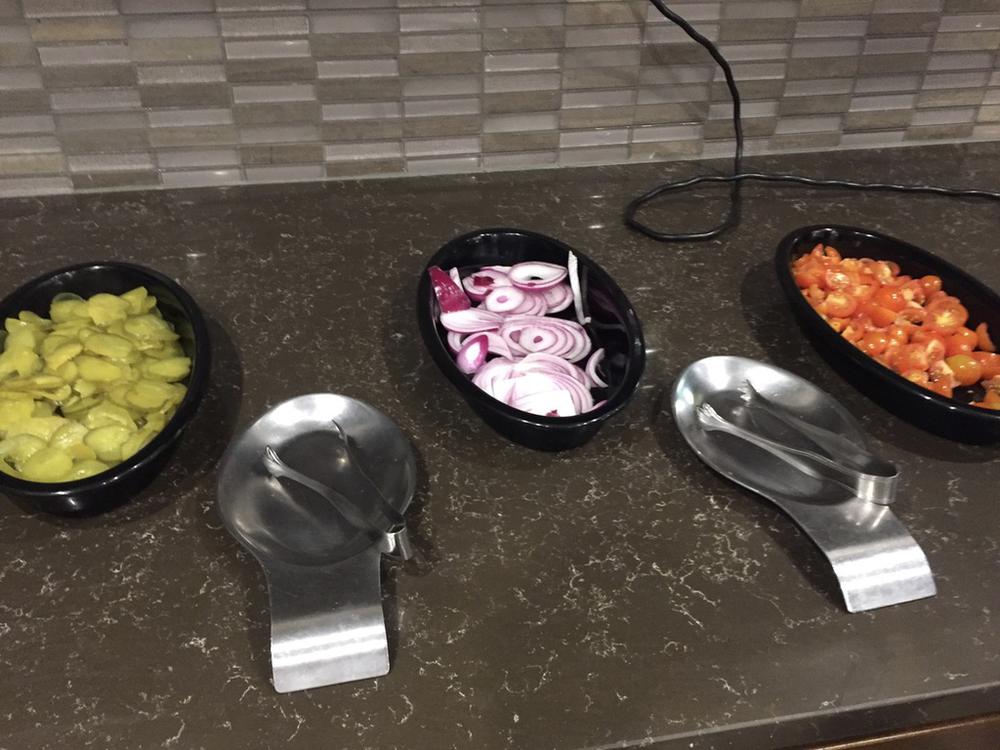 There was also corn on the cob, which was decent.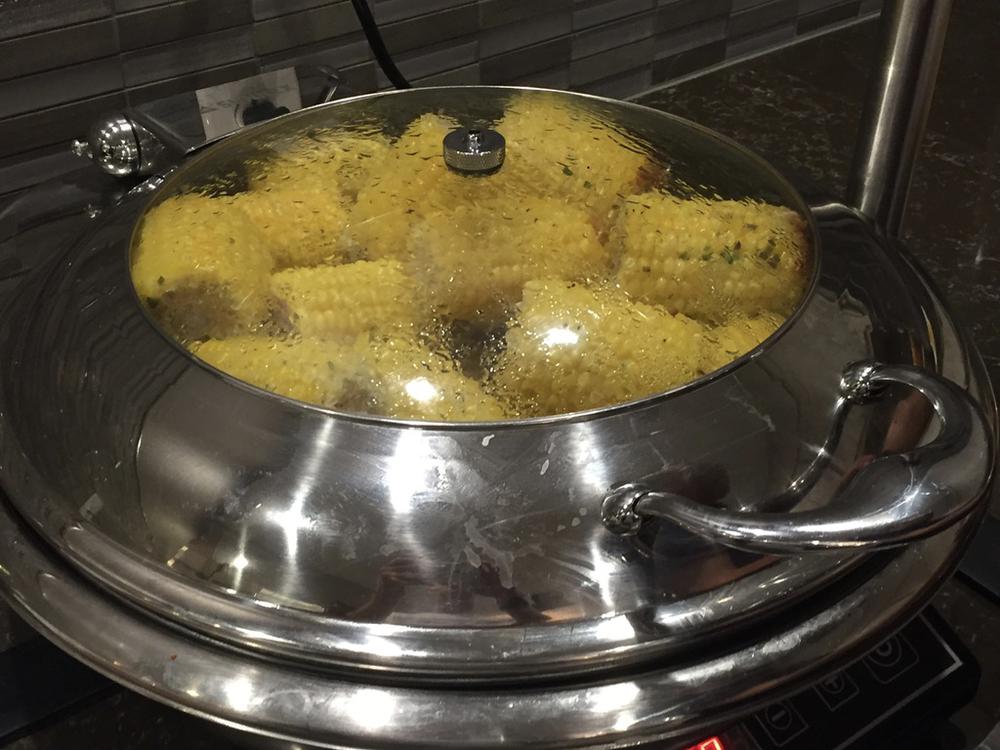 You could also make yourself a side salad.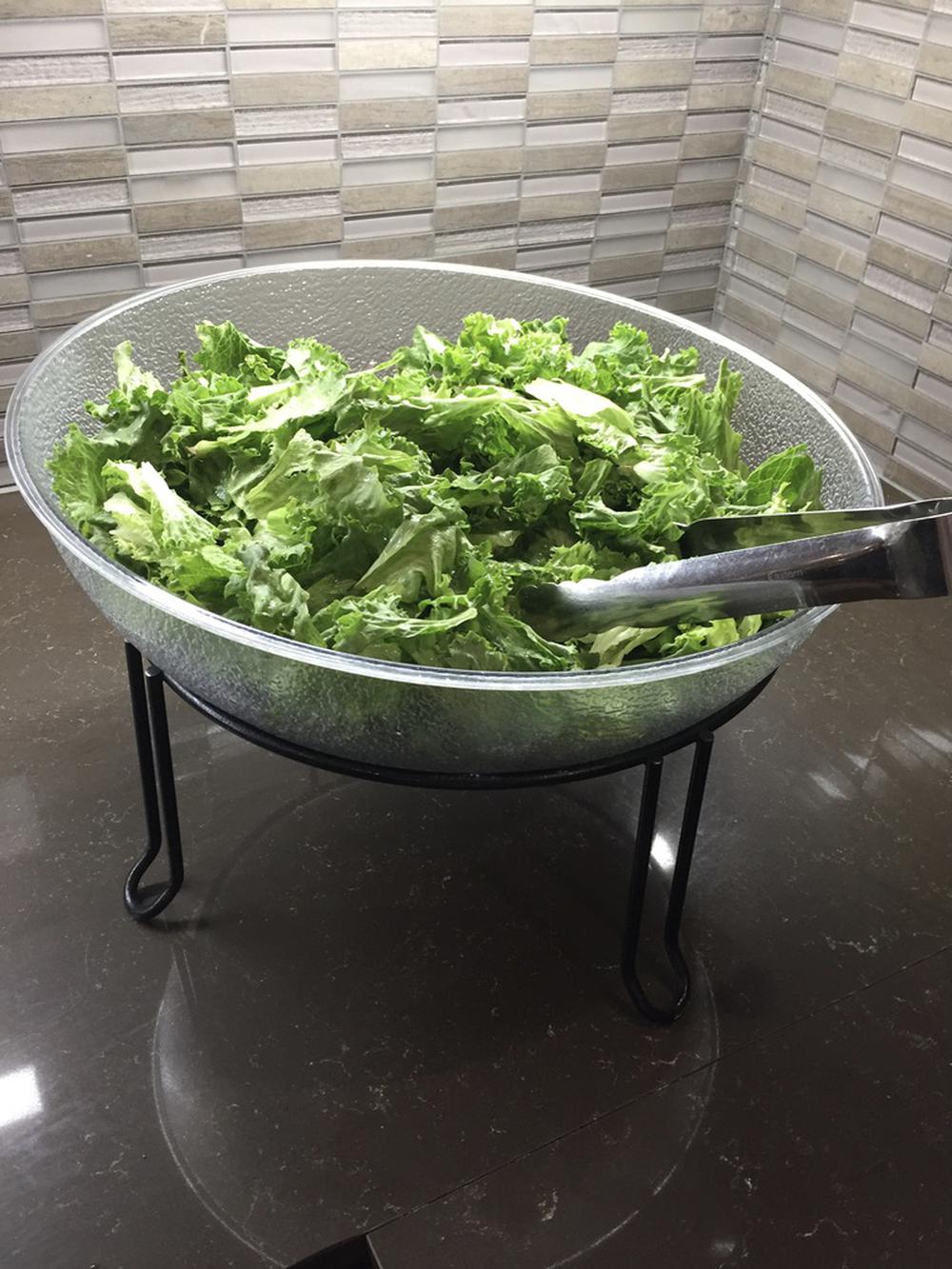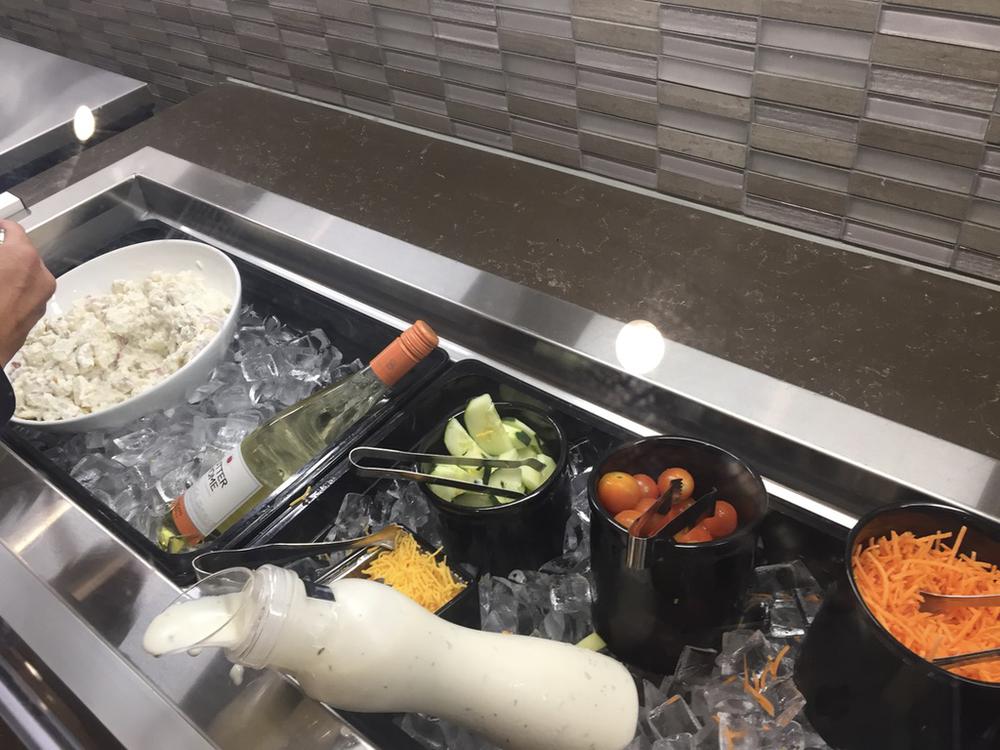 For "Slide Right Up" night, they had pulled pork sliders. I didn't have any, but people seemed to like them.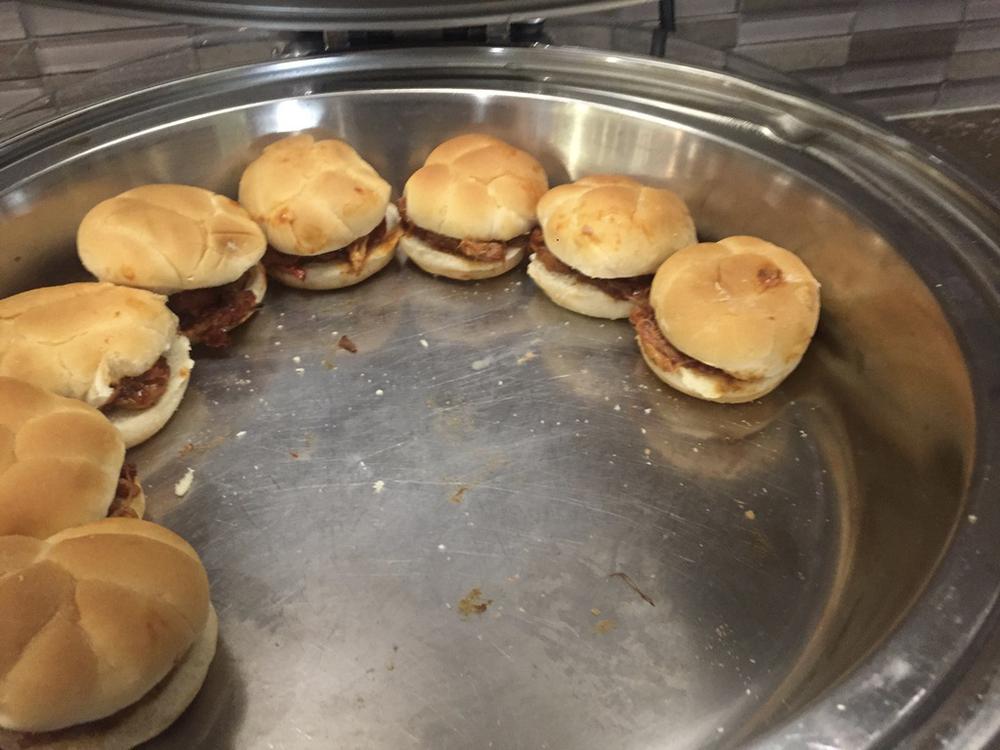 Then for "The Green Plate Club," there was salad and some grilled chicken. Anyone who has met me knows that the only circumstance under which I will consume a salad is if it's a choice between that or cannibalism. (To be clear, I wish I liked salad, but I don't. Sometimes people say, "Maybe you just haven't had the right salad yet," which sounds a lot to me like "Maybe you just haven't met the right girl yet.")
So obviously, I didn't try it, but it looked fresh.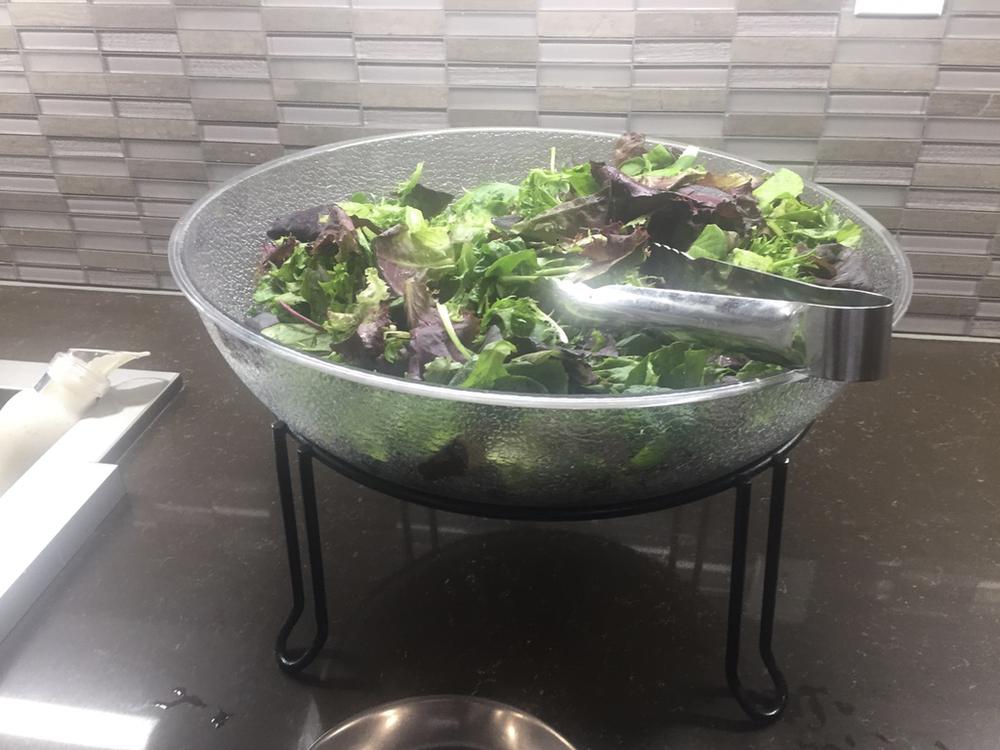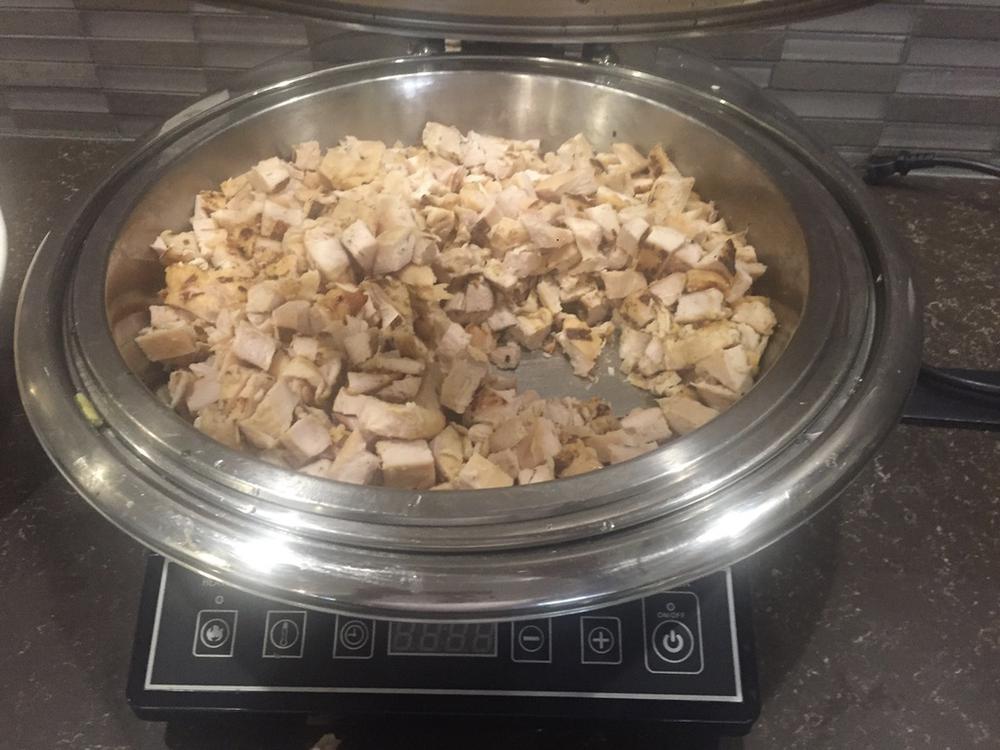 Oddly, on salad night they also had potato chips and… Chex Mix.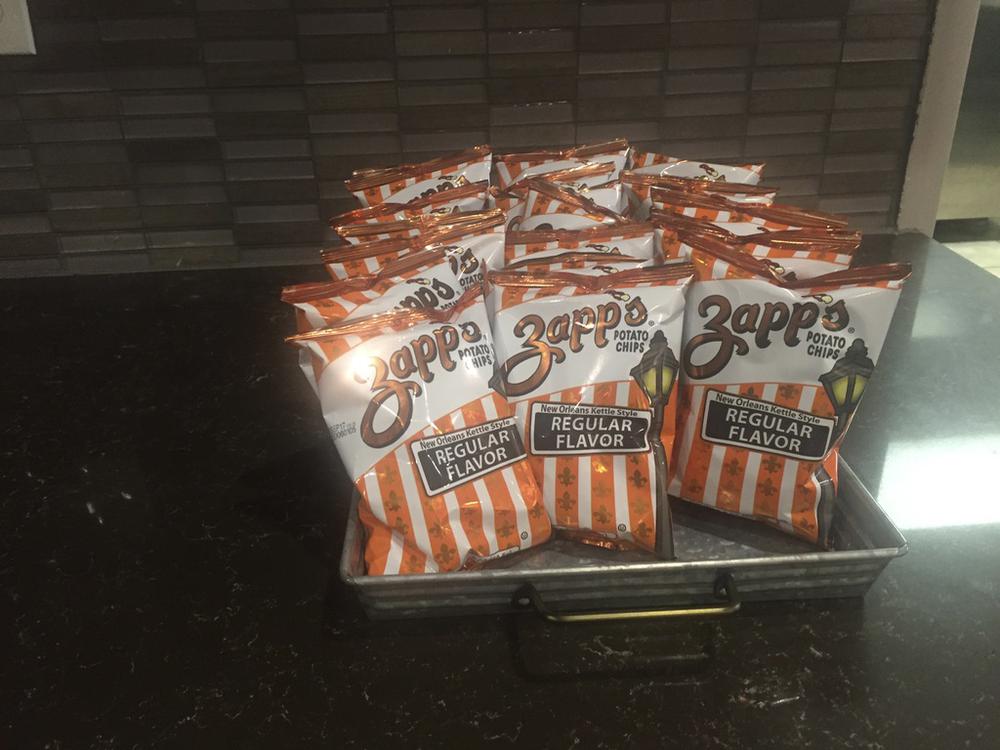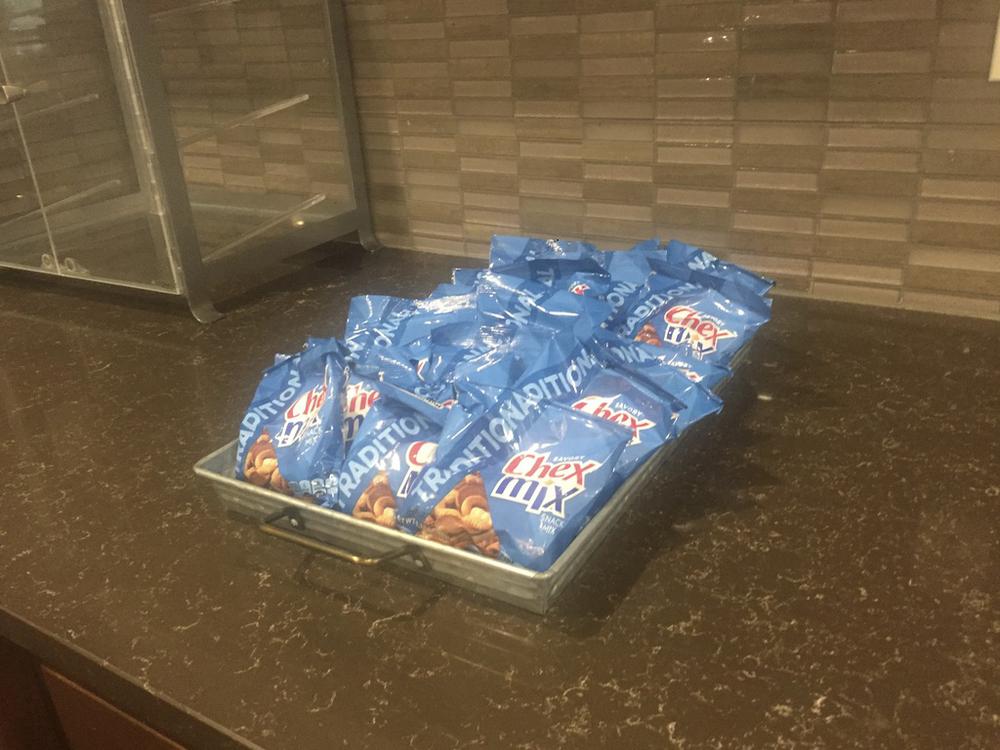 Each day they also had a different soup on offer.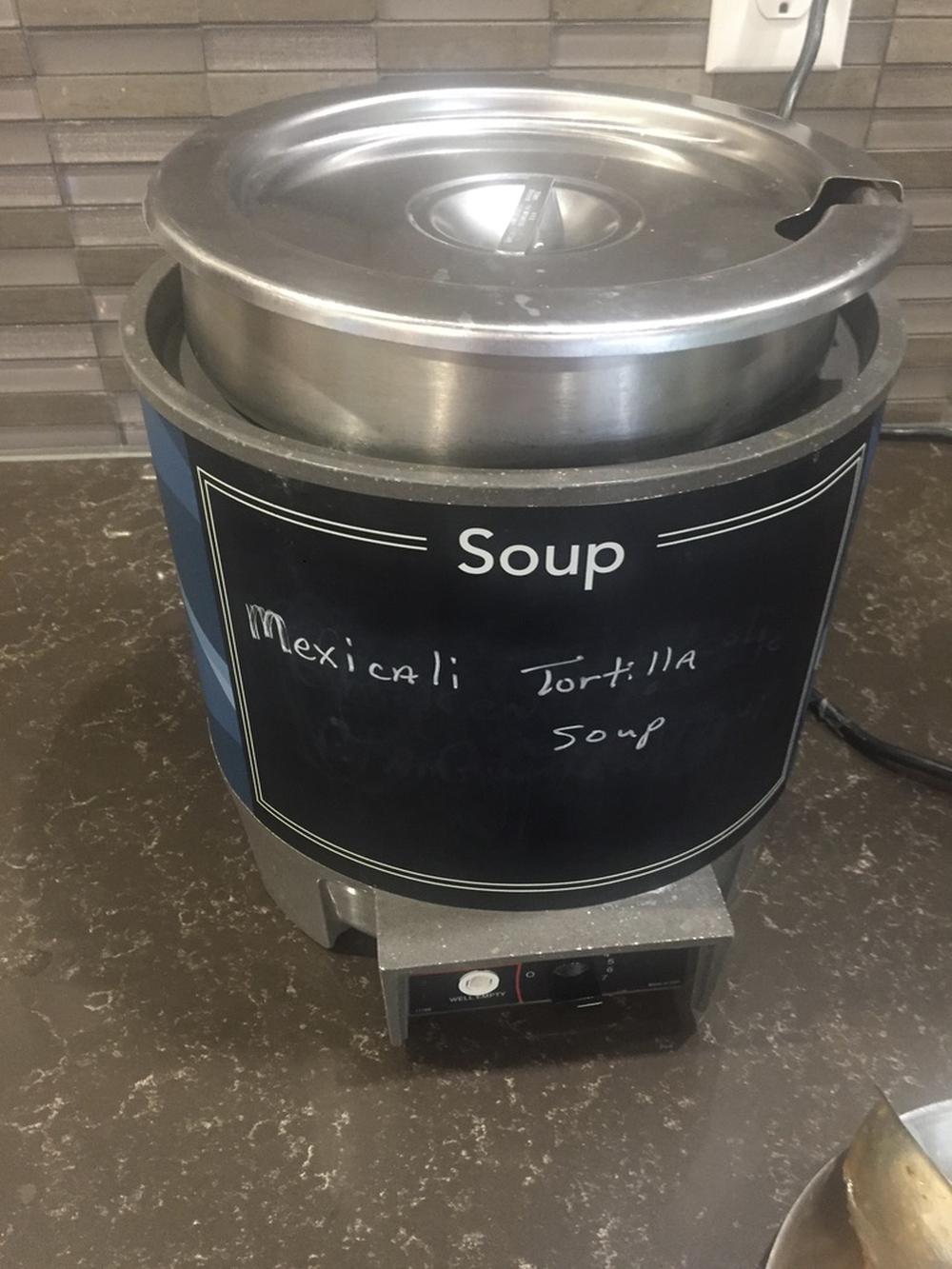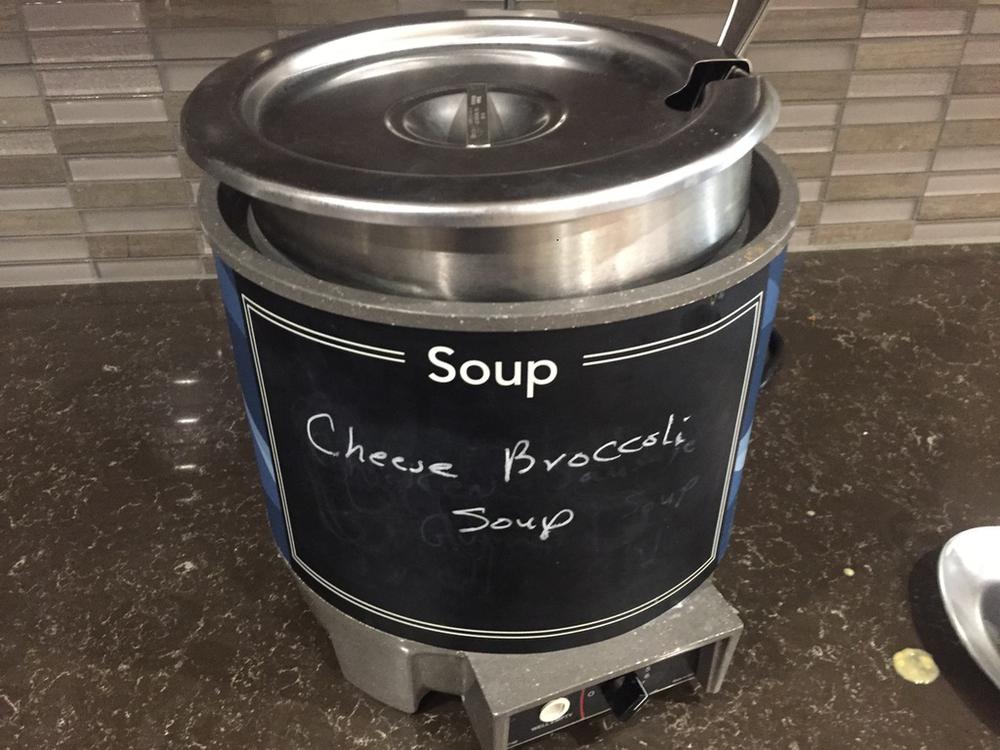 The booze selection was the same every night: one red, one white, and beer. I tried the white wine, which to me was so bad that the $0 price per glass almost seemed a little too high. But I'm not a big drinker, so that's fine for me.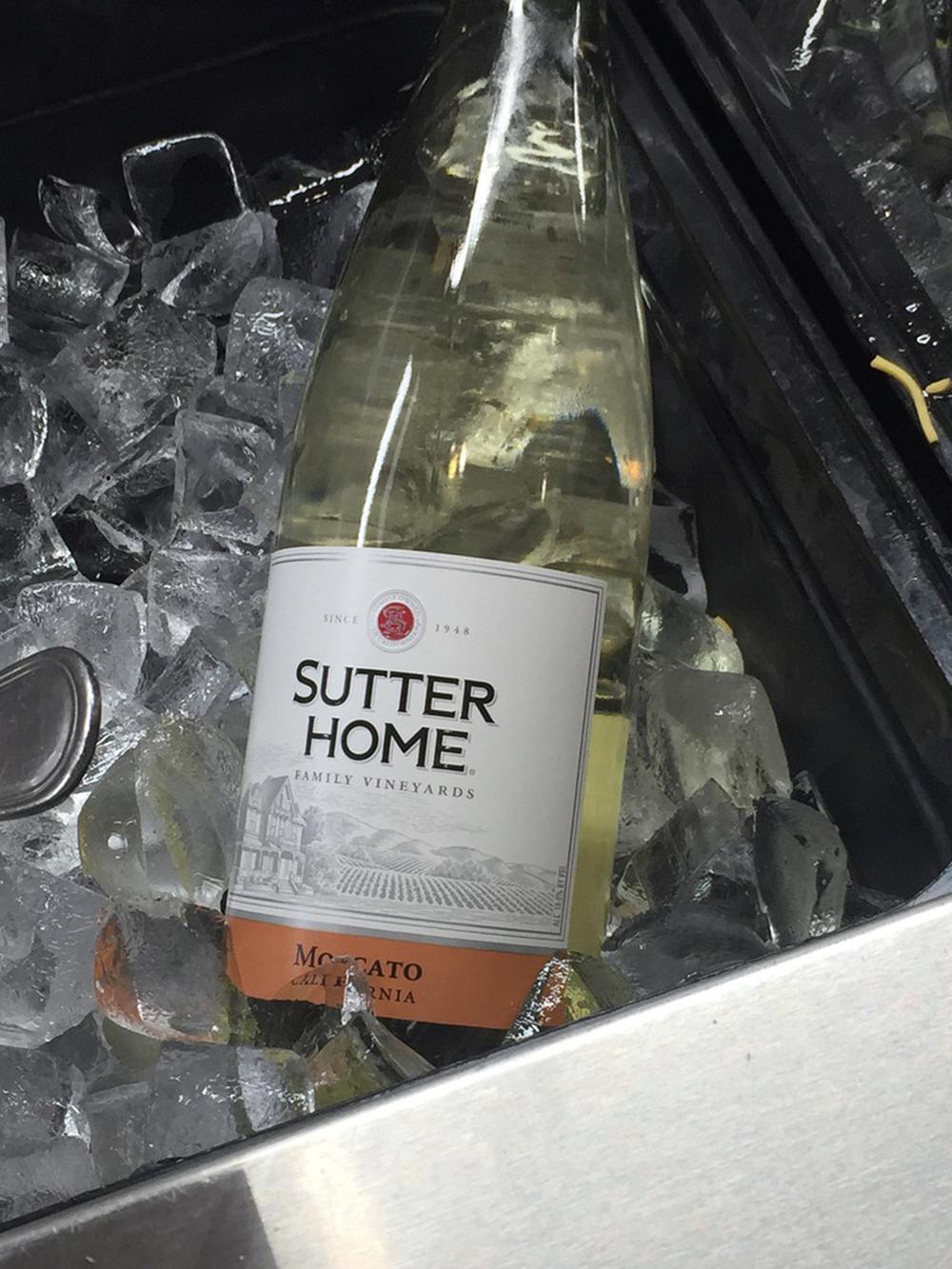 There were no dessert-type foods any night, but considering that this is advertised as "small plates," I wouldn't expect any.
Honestly, considering the price-conscious market segment in which this brand competes, the Evening Social is a nice amenity. But there isn't that much variety in the menu (there are only about five themes that rotate), so true road warriors who stay at Homewood Suites for several weeks in a given year might get tired of the same selections over and over again.
Other hotels with similar offerings
For something a little more upscale, Element by Westin properties (there are 86 of them worldwide) offer a free happy hour three times a week, with food and drinks.
For food and drinks every night, a chain called Drury Inn (found in 21 states) offers the "5:30 Kickback." Drury Inns have a loyal fan base that rave about this amenity.
Staybridge Suites (an IHG property) offers a free "Social Happy Hour" three days a week..
Has anyone tried dinner at one of these (or other) properties that offer it to all guests? What did you think?