Several weeks ago, Hilton CEO Chris Nassetta revealed that Hilton would soon announce the details of a new extended stay brand. Well, we officially have more details as of today.
Hilton details new extended stay hotel brand
Hilton's new extended stay brand is using the working title Project H3 (Hilton is just finishing the trademark process on the actual name), and is expected to launch in the United States in the near future. This is described as a lower midscale, extended stay solution, intended primarily for guests who want to stay for 20 or more nights.
Hilton describes this as meeting the needs of the rapidly expanding $300 billion workforce travel market, including for travel nurses, military personnel, and those experiencing workforce relocations. For those kinds of guests, Hilton is promising a brand that offers a reliable home base that allows them to maintain their routines while delivering simplicity, consistency, and convenience.
So, what features will these limited service properties offer?
They'll feature a "deliberate design," with an "inviting exterior," and outdoor patios with grills and a communal fire pit
They'll have spacious apartment-style accommodations, with suites that feature an adaptable layout with four distinct areas for guests to rest, work, cook, and refresh; there will be ample storage space, efficient closet design, movable furniture, a fully equipped kitchen, and a spacious bathroom design
They'll have a nontraditional lobby experience, with a "hyper-functional lobby called The Hive, creating a balance between friendly smiles and self-sufficiency (lol); off the lobby there will be the front desk, fitness center, laundry, and a simple retail market
They'll have 24-hour complimentary lobby coffee, as well as a grab & go breakfast
These hotels will participate in the Hilton Honors loyalty program
Below is a video Hilton has shared about the new hotel brand, along with some pictures.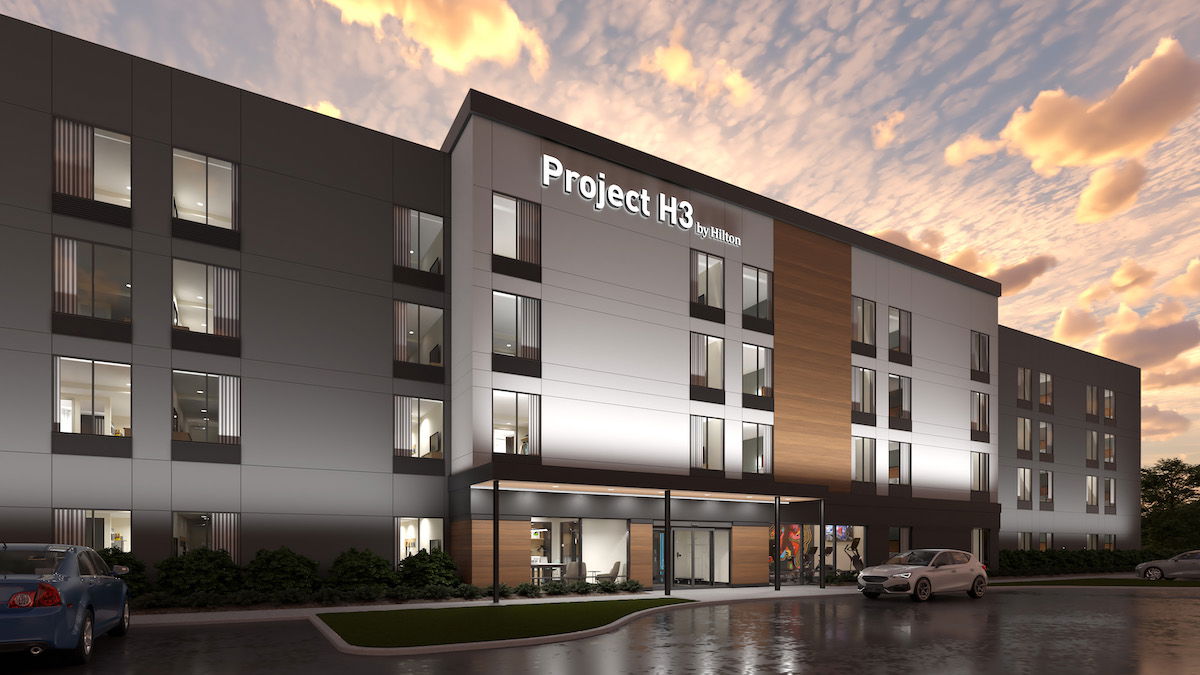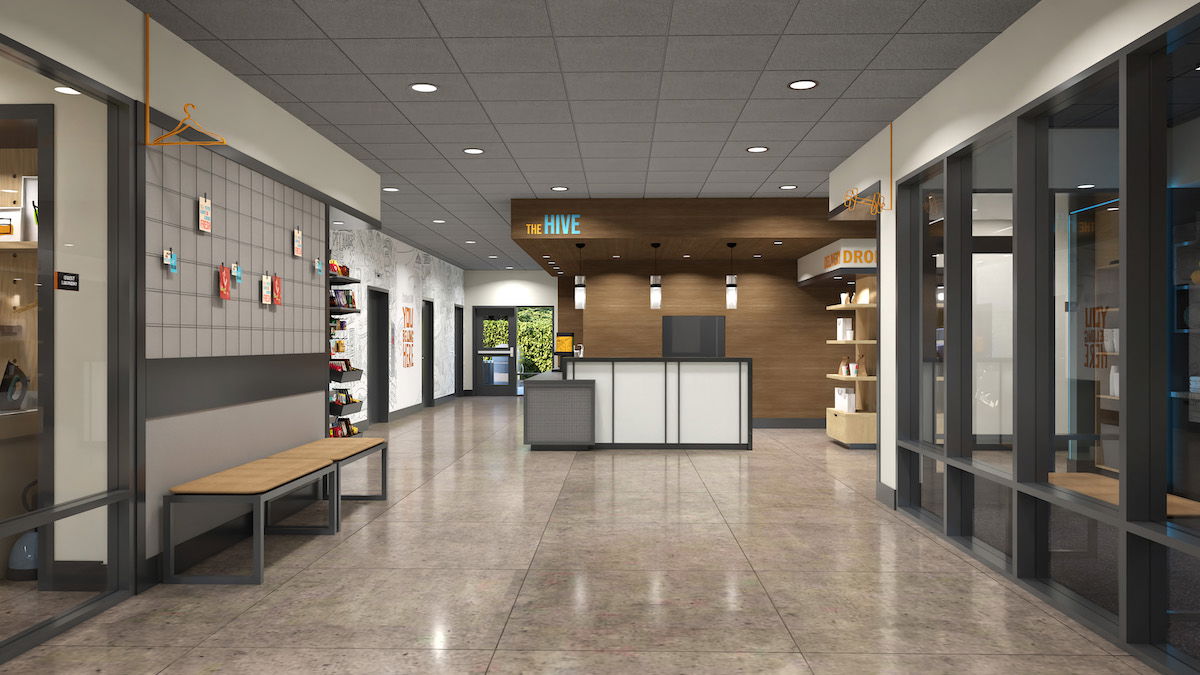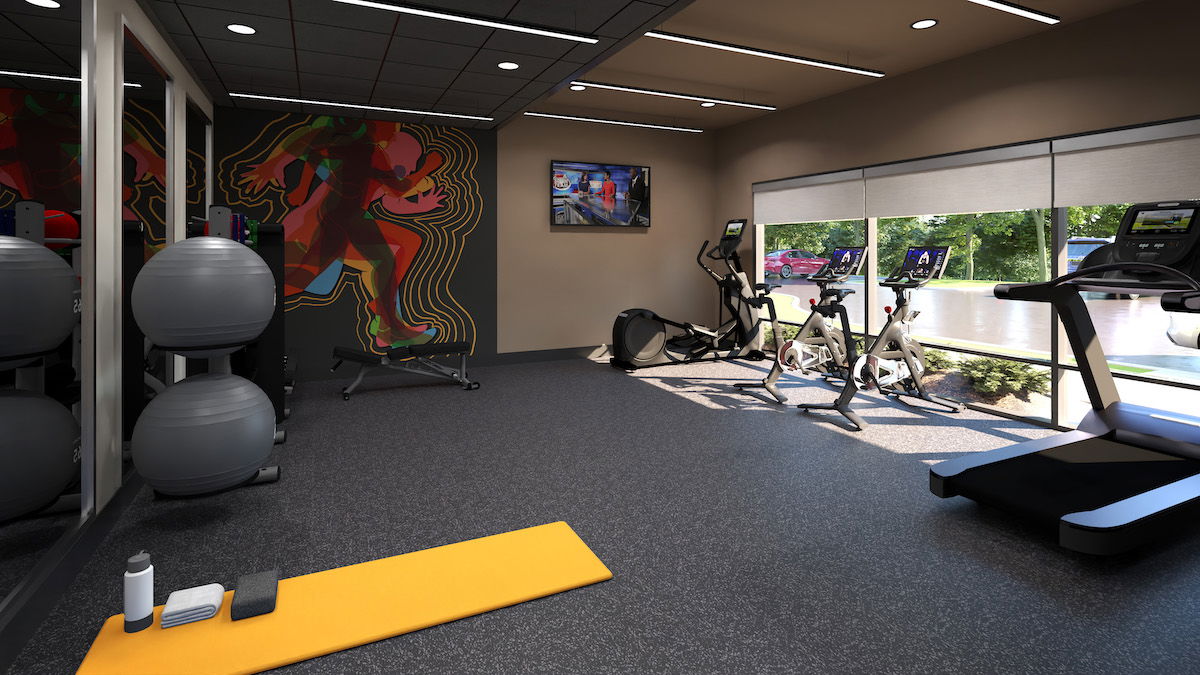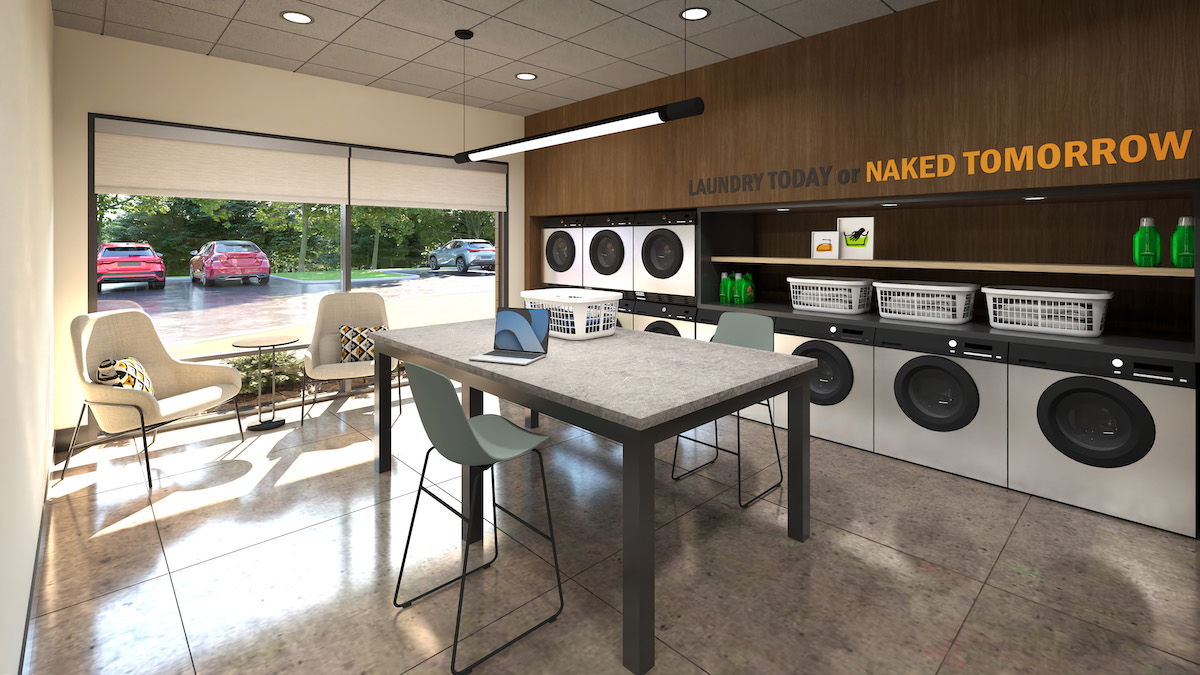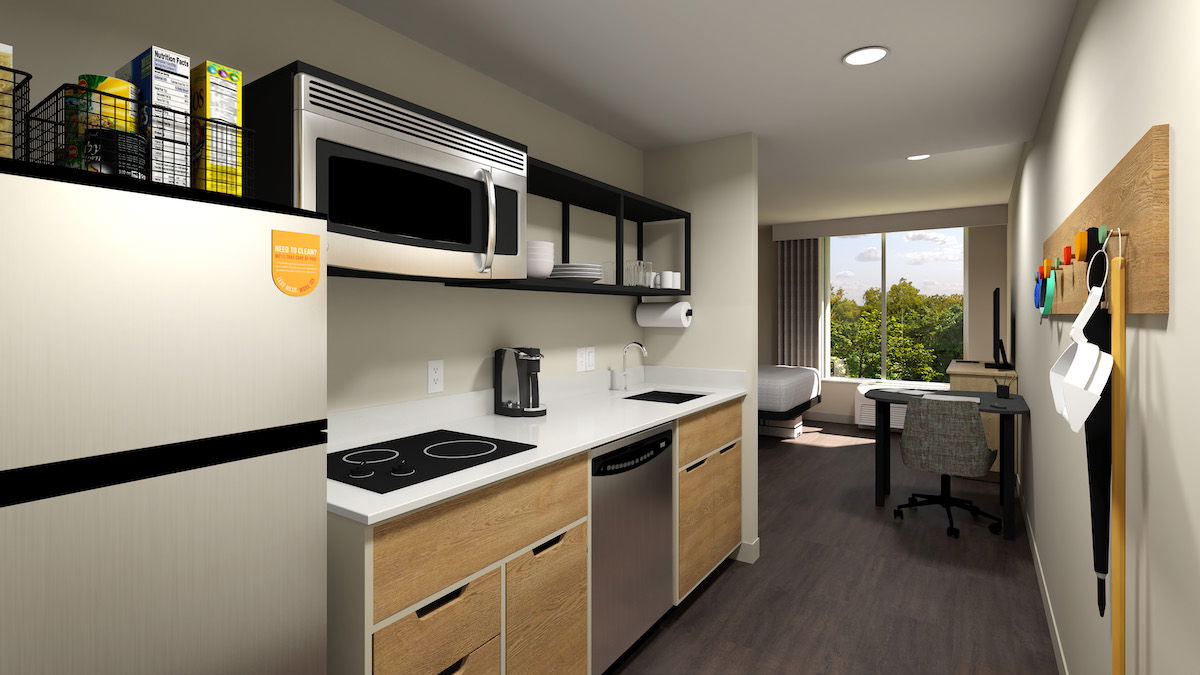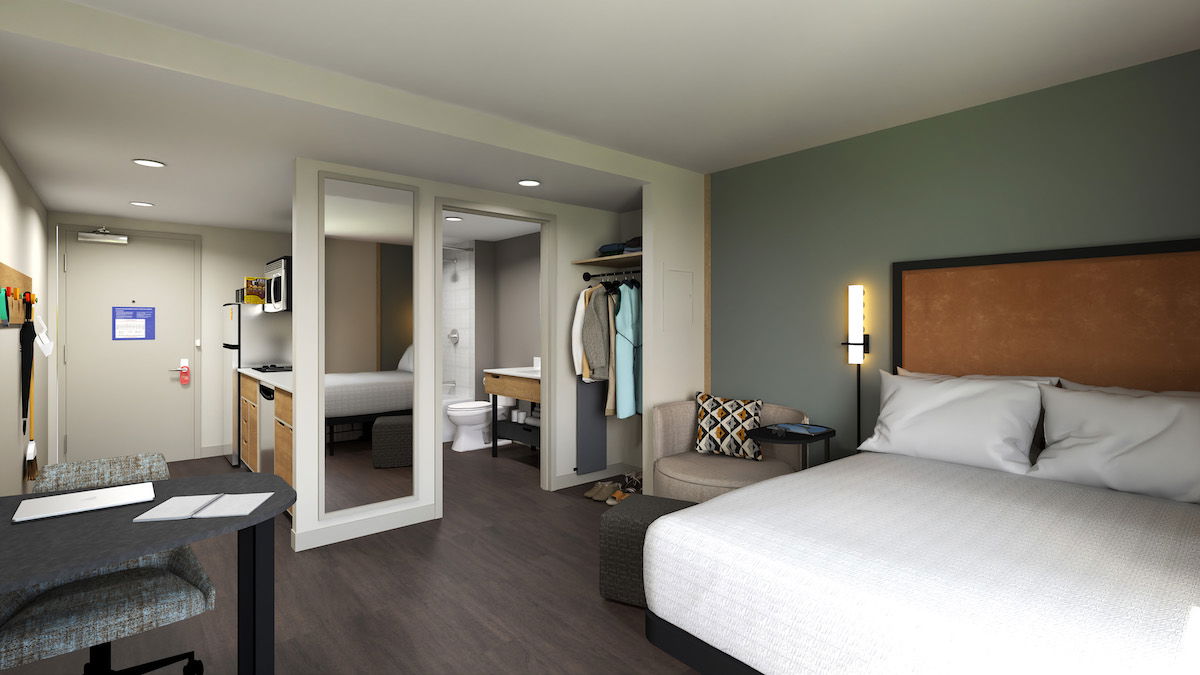 What Hilton's new hotel brand means for owners
It's worth keeping in mind that new hotel brands are really created for hotel owners, and us guests are just the product. So what is Hilton promising investors about the new Project H3 by Hilton concept?
Project H3 by Hilton is described as an exciting investment opportunity for developers looking to diversify their portfolio under the Hilton brand name. Hilton highlights that:
The new brand prototype dedicates the majority of space to revenue-generating guest rooms, reducing overhead costs
Through Hilton's best-in-class commercial engine, owners will have access to above-property revenue management and sales support that will streamline on-property staffing needs, including with digital check-in, digital keys, and more
Here's how Kevin Jacobs, Hilton's Chief Financial Offer, describes the new brand for owners:
"Hotel owners have played an integral role in the development of Project H3 and they will continue to guide us as we build this brand from the ground up. Project H3 has incredible growth potential, tapping into the rapidly expanding and underserved workforce travel market. The response from the hotel owner and developer community has been immediate and enthusiastic. We're engaged in more than 100 active development conversations, with many owners expressing interest in multiple locations."
My take on Hilton's new extended stay brand
First of all, while most hotel brands have been doing quite a bit of cost cutting since the start of the pandemic when it comes to the guest experience, it's interesting the extent to which Hilton's CEO has been vocal about this. Nassetta has been clear that many hotel service cuts are permanent. As he explained in April 2021:
"The work we're doing right now in every one of our brands is about making them higher-margin businesses and creating more labor efficiencies, particularly in the areas of housekeeping, food and beverage, and other areas. When we get out of the crisis, those businesses will be higher margin and require less labor than they did pre-Covid."
So it's not surprising to see the continued focus on brands that tick all of those boxes, of having labor efficiencies, and more. I can't blame Hilton, as a publicly traded company looking to maximize shareholder value. At the same time, I wish we'd see Hilton focus on creating a more robust portfolio of lifestyle brands, since it's an area where Hilton could do better, in my opinion.
Next, I find it interesting that the hope is that this brand will have an average length of stay of 20-30 nights, compared to significantly less than that for existing extended stay brands. What exactly is different about this brand compared to other extended stay brands, other than the desire for guests to stay longer?
Will the hotels only be bookable with a certain minimum stay? There's nothing about the amenities of these hotels that seem to differentiate them otherwise, perhaps except them being a bit lower end than current existing options. Conversely, people can nowadays book homes and apartments by the night (through companies like Airbnb), so I'm not sure it's so easy to target guests in this way.
Along those lines, will full points and elite nights be awarded for this brand? Given the average length of stay that Hilton anticipates, this might just be the brand with the highest concentration of Hilton Honors Diamond members. 😉
There are currently a lot of hotel brands that are referred to as extended stay (Hyatt Studios was otherwise the newest, and was just recently announced). In reality, that just means they don't offer many services, and that rooms are large and have kitchenettes. There hasn't actually been much innovation in this sector, so I'm curious if Hilton can create something that actually encourages people to stay for an extended period of time, as I don't think that's something that's currently done very well.
In theory it would be innovative if Hilton actually created a brand that could compete with apartments for longer stays, but I don't see anything that really differentiates these hotels in that regard. Maybe it will just come down to pricing?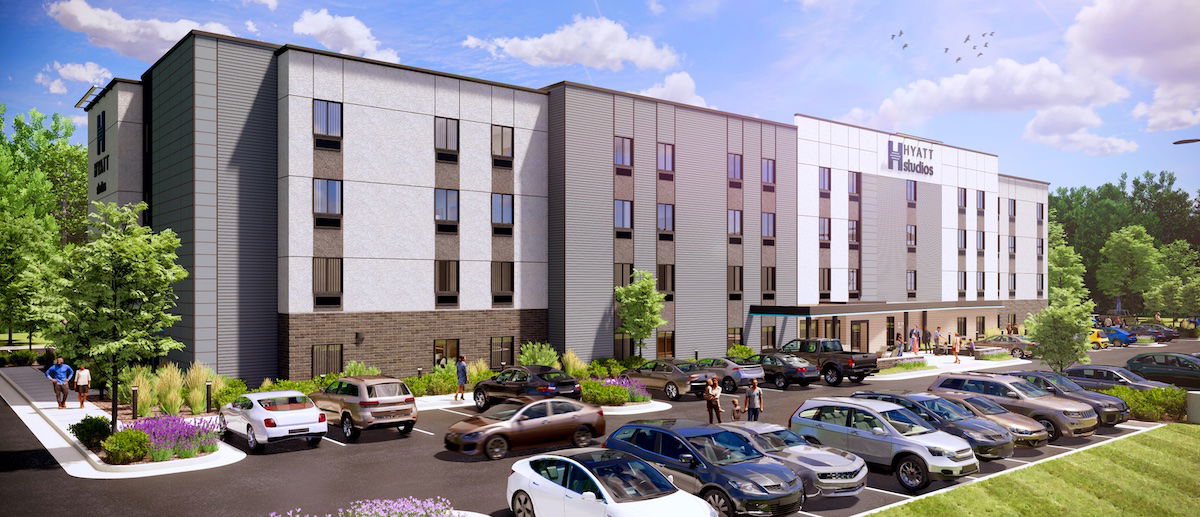 Bottom line
Hilton has announced the details of Project H3, which is the working name of a new extended stay brand that will be lower end than any of Hilton's existing brands. Hilton is targeting guests who stay 20+ nights, and will offer apartment-style accommodations. I'm curious to see how this all plays out…
What do you make of Hilton's new extended stay concept?