A few months ago, Hilton announced some major changes that they're making to their Honors program. Many of these changes have already been enacted, including the ability to extend your Diamond status by a year, changing how award costs are calculated (including new points and money awards), etc.
Hilton has now made yet another perk available, which I'm quite excited about. As of today, Hilton Honors points pooling is live, allowing members to combine points across accounts. This allows members to share up to 500,000 points per year, and have up to two million points per year shared with them, at no cost. This is a fantastic new benefit.
To create a new "pool," just follow this link and enter the name and email address of the person you'd like to invite to the pool.
After you do that, you'll receive an email confirming that you tried to initiate a points pool.
The person you're inviting will also receive an email, and will be asked to confirm that they want to join.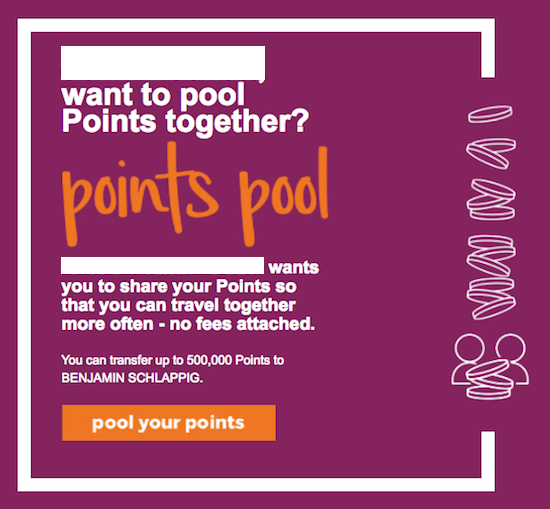 Once accounts are linked, points can be transferred instantly from the people who have been linked to the person who initiated the pool, which is pretty awesome.
Here are the basic details you need to know about points pooling:
Up to 11 Hilton Honors members can combine points — one pooler can initiate and receive points from up to 10 members
You need to have a minimum balance of 1,000 points to take advantage of this
You can use pooled points for whatever you'd like, including both room and non-room rewards
You can transfer a minimum of 1,000 points and a maximum of 500,000 points into a pool in a calendar year
While some other hotel loyalty programs allow points pooling in one capacity or another, Hilton Honors' system is by far the most "no strings attached" of any of them. In addition to the general benefit of being able to transfer these points to others, this is also an awesome way to transfer points to a spouse who may have status with Hilton, and therefore would get more value out of having a stay booked in their name. Furthermore, it's also a great way to combine points when a single member doesn't have enough points for a free stay, but you do when you combine them.
Very well done, Hilton!
Will you be taking advantage of Hilton's points pooling?