At the beginning of the month we learned about the changes that Hilton is making to their loyalty program.
The big changes being made to Hilton's loyalty program
We're seeing five major changes coming:
The name of the program is being changed from Hilton HHonors to Hilton Honors
The introduction of points pooling, where you can pool points with up to 10 Hilton Honors members at no cost
The ability to redeem points for Amazon purchases; this isn't something any of us will likely ever use, but I can see value in this for the "average" person
The ability to extend Diamond status for free as a one-time benefit, assuming you've earned Diamond for three years and have at least 250 lifetime elite qualifying nights or 500,000 base points
The introduction of Points & Money awards, and in the process, Hilton is getting rid of their traditional award chart
There are some changes that are unarguably positive, like the introduction of points pooling and the ability to extend Diamond status for free as a one-time benefit. However, the jury is still out on Hilton introducing Points & Money awards.
This is potentially the biggest change being made to the program, as Hilton is completely changing how they price awards. We knew this change would be happening soon, though we now officially have a date — Hilton Honors will be introducing Points & Money awards as of March 1, 2017. Below I'll recap the basics of the changes we can expect.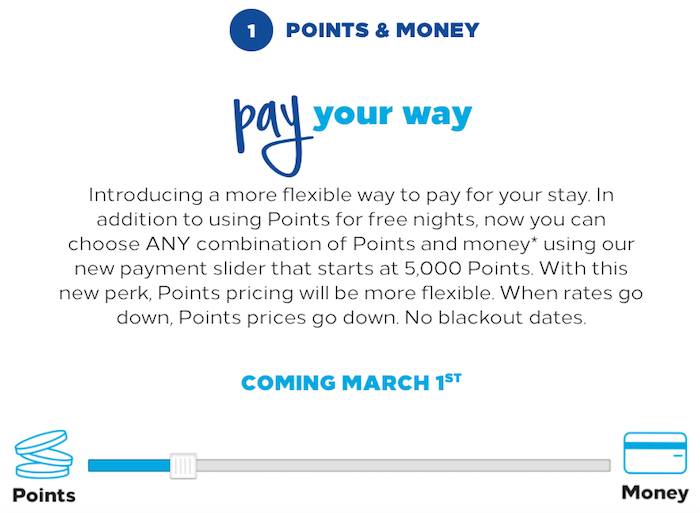 The basics of Hilton's new award pricing
Hilton is completely changing up the way their award chart currently works, and in particular is reimagining their points plus cash awards. Presently their points plus cash bookings are capacity controlled. While they can offer outsized value, I also rarely see them available, personally.
Soon it will be possible to make a Points & Money booking for any reservation where a standard room is available for sale. You'll have the flexibility of a sliding scale, where you redeem anywhere between 1,000 points and for the full cost of the stay.
Here's how Hilton explains the changes in their own words:
Members will soon be able to choose nearly any combination of Points and money to pay for their stay.* With this new perk, Points pricing will become more flexible too.

What this means: Just as the rate of a hotel room can change, the number of Points for a reward stay can vary as well.

What's the benefit: When demand is lower, many nights will have a lower Points price. And when demand is higher, you won't need to redeem more Points than the maximum price today.
While the pricing will be mostly linear no matter how many points you redeem for each particular booking, the value you'll get per point through this option will vary depending on the reservation. We'll have to wait until we have a better sense of pricing before we draw too many conclusions.
As part of this, Hilton is also ditching their current system of having hotel categories, which look as follows:
While that sounds bad, Hilton promises they won't charge more than the current maximum being charged for a given category. In other words, Hilton's most aspirational hotels won't cost more than 95,000 points per night. Here's a chart they made comparing the pricing under the new and old system: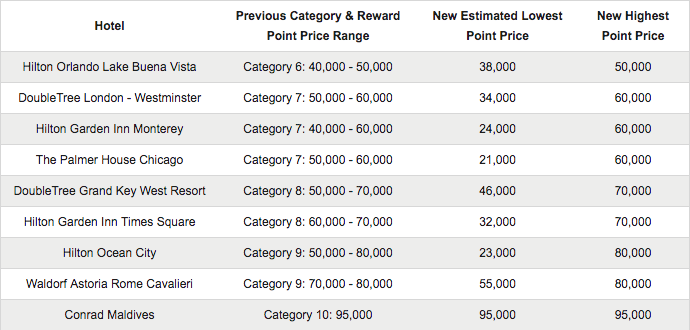 Hilton's program is already the closest hotel loyalty program to being revenue based, so I suspect we'll see that trend continue. In other words, we'll see stays become cheaper seasonally, though it remains to be seen what rates will be like otherwise.
Bottom line
We have just about a week remaining until Hilton Honors completely changes their award pricing. So if you want to be sure you lock in an award under the current prices, you'll want to book now.
Hilton executives insist that these changes are positive, and that award prices won't go up. I'm hoping that's true (and there's a very good, mutually beneficial reason that it may be).
While Hilton promises that hotels won't be priced higher than the maximum cost of their current categories, keep in mind the huge variability in these categories. For example, Category 7 hotels range from 30,000 points to 60,000 points per night. So a Category 7 hotel that presently costs 30,000 points per night could cost 60,000 points per night under the new program (it's unlikely, but possible).
I'm looking forward to being able to draw my own conclusions firsthand on March 1…