View from the Wing wrote about this a couple of days ago, though I think it's worth writing about it as well to get as many eyeballs on this ridiculous practice as possible. It's simply not okay.
Unfortunately "resort fees" in many destinations have become the norm, as annoying as they are. They were originally introduced primarily for two reasons:
They're a way for hotels to try and get more revenue without increasing the room rate
It works out better for them than an increase in the room rate, since they don't have to pay travel agents a commission on the resort fee; in some areas it also allows them to skirt the typical occupancy tax that otherwise applies on the room rate
Resorts were able to get away with it at first since they could throw in amenities like beach chairs, etc., which they might otherwise charge for. The problem is that once a majority of hotels in certain destinations introduced these fees, it made it tough for other hotels not to. They were at an extreme disadvantage if they didn't charge these fees. If they simply raised their rates they'd appear more expensive than the competition, given how good many hotels are at hiding resort fees.
We've occasionally also seen some city hotels introduce similar fees, and it's just ridiculous. For example, I've written in the past about the Le Parker Meridien New York "facilities charge." That's $15 per day, which I still find ridiculous, but at least they have a pool, which is otherwise a unique amenity in NYC.
But much more ridiculous is the new fee at a few Hilton hotels in New York City, including the Hilton New York Midtown. This is New York City's biggest hotel, with roughly 2,000 rooms.
Some Hiltons in New York have introduced a new $25 per day "urban destination charge," which includes the following:
Daily Mandatory Charge will be added to the room rate and includes: Urban Destination Charge with premium guest internet access (3 devices); daily $15 beverage credit in Lobby Lounge or Bridges Bar; daily $10 food credit in Herb N' Kitchen (grab and go only); local and toll-free calls.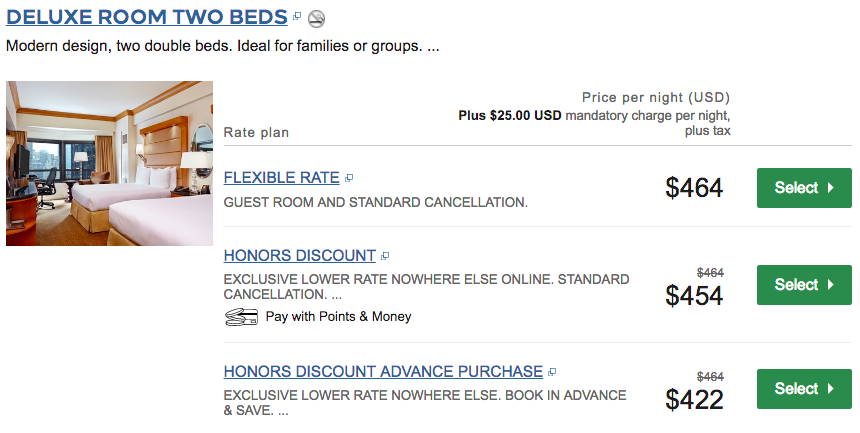 So you get free internet, which you already received before as long as you're a Hilton Honors member. You receive local and toll-free calls, which in 2017 is like offering free faxes. And you receive a daily $10-15 credit at select outlets, which is a way they're presumably hoping to generate even more revenue, since no one is going to spend exactly that amount, and nevermind that most people won't use that credit at all.
But you know what's possibly more offensive than the fee itself? The fact that on Twitter the hotel has the indecency to claim that "a small number of Hilton properties in NYC are testing a fee for amenities and services that [they] believe enhance the guest experience."
Hi Gary, a small number of Hilton properties in NYC are testing a fee for amenities and services that we believe enhance the guest experience. We appreciate your feedback and will share it with the right people.

— NY Hilton Midtown (@NYHiltonMidtown) November 30, 2017
That's right, this $25 per night fee is an enhancement.
We're used to hearing loyalty programs spin negative changes as enhancements, though this has to be one of the most egregious uses of the word "enhancement" that I've seen in a long time. Do hotels really think people are this stupid? There's a certain point at which you're just better off not saying anything, rather than lying to your guests' faces.
If you're as offended by this fee as I am, and since they're just "testing" this, I'd recommend Tweeting @HiltonHotels and @NYHiltonMidtown to express your displeasure with the fee, and share that you wouldn't stay there (if that's in fact the case). What makes this interesting is that while most Hilton properties are franchised, this one is actually corporately owned, which makes this even more disturbing. This isn't an individual hotel trying to pull a fast one, but rather Hilton corporate trying to do so.
@HiltonHotels @NYHiltonMidtown Your "urban destination charge" is ridiculous, and would prevent me from ever staying at your property. Whoever came up with the idea should be ashamed.

— Ben Schlappig (@OneMileataTime) November 30, 2017
Of course the hotel hopes this works. They have 2,000 rooms, and at $25 per night in fees, they're looking at up to an extra $50,000 per day in revenue, or up to $18,250,000 per year.
Unfortunately the Hilton New York isn't alone — at this point over 40 NYC hotels charge these fees. Once the fees are in place at a certain number of hotels, you can bet even more hotels will follow, as it becomes the norm rather than the exception. It's no different than airline "fuel surcharges."