The Marriott Rewards and Starwood Preferred Guest programs are being integrated as we speak, and it sure isn't taking long for Hilton to try and poach elites.
I remember Hilton ran an aggressive status match campaign shortly after Marriott's takeover of Starwood was announced, but now they're taking out some targeted Facebook ads that I sort of dig.
My friend Scott sent me a screenshot he saw on Facebook promoting Hilton status matches, with the following caption:
"Only Hilton Honors offers free breakfast at every brand. We'll match your status so you can eat elite. Is your mouth watering yet?"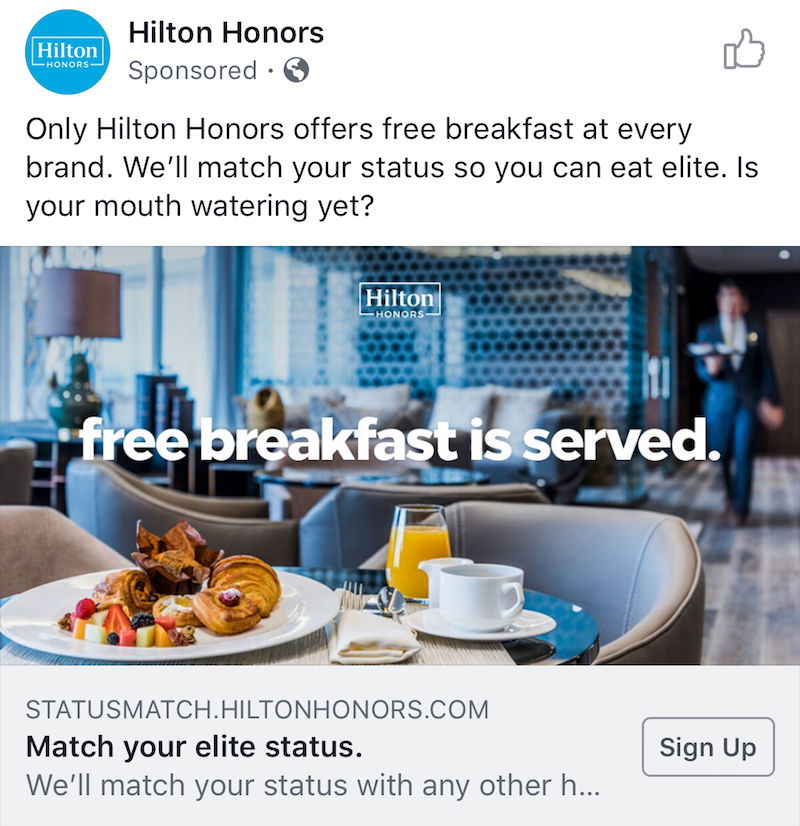 Clearly they're referring to how Marriott still won't offer elite members complimentary breakfast at all brands with their new loyalty program.
Now, in fairness, Hilton's ad is actually dishonest. World of Hyatt also offers top tier elite members free breakfast at all brands. That's unless they're somehow counting Mlife properties as Hyatt hotels, which doesn't really seem fair.
But Hilton does deserve credit in general for the ways in which they've improved their program. They used to not offer free breakfast at Waldorf Astoria properties, but they finally added it as a benefit at the beginning of the year, so they now have a consistent breakfast benefit.
What's Marriott's excuse, again?