Hilton Honors deserves a lot of credit for the continuous promotions they've been offering for a while.
As of February 1, 2017, Hilton Honors is running their "2K Every Day" promotion, which is straightforward. Members who register earn 2,000 bonus points per night, regardless of how long they stay for, at what Hilton hotels they stay, etc.
While 2,000 points per night isn't a huge bonus, it's solid, especially given the lack of compelling promotions from other hotel loyalty programs at the moment.
Fortunately on top of that Hilton has just announced a further promotion, which is valid throughout the rest of 2017.
Hilton Honors members can earn an additional 500 bonus points per booking when they complete a stay booked through the Hilton Honors app. Registration is required prior to your first eligible booking.
The promotion is valid for stays booked and consumed between February 7 and December 31, 2017, there's no limit to how many bonus points you can earn, and this promotion can be stacked with others.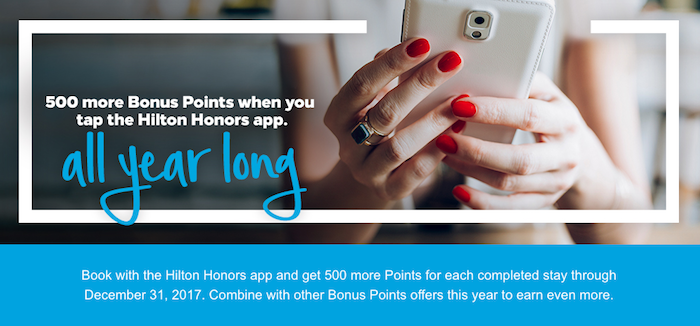 I value Hilton points at ~0.4 cents each, so to me 500 points are worth ~$2. That's not a reason to switch a stay to Hilton, but at the same time you might as well book through the app to take advantage of the offer.
Ultimately this isn't a huge bonus, at least compared to the previous such promotion Hilton offered. Late last year Hilton offered an additional 5,000 bonus points per app booking, which was huge.
In some cases this meant you could get almost free hotel stays, since you could get the bonus even on award stays, as long as there was an eligible charge on the folio. So you could book a hotel that cost 5,000 points per night, put a charge on the folio, and then earn 5,000 points. Of course that requires finding a Category 1 Hilton property that's convenient and/or that you want to stay at.