Before I get too deep into this post, let me note that:
I'm no expert on stocks; rather I'm writing about this topic because it's related to an aspect of the travel industry, and I find it to be interesting
This isn't an attempt to give any financial advice of any sort, and I don't own any Hertz stock, for that matter (though I sure wish I had bought some last week, I guess)
While some love to argue that the stock market pretty directly reflects the economy, I've never viewed it that way, and most definitely don't view it that way at this point; I find the current state of the stock market to be puzzling at best
Travel stocks have rallied the past week
Virtually all travel stocks have performed exceptionally well in the past week, and many travel stocks have been up around 100%. For example, American Airlines' stock has gone from $10.50 on May 29 to $20.31 yesterday.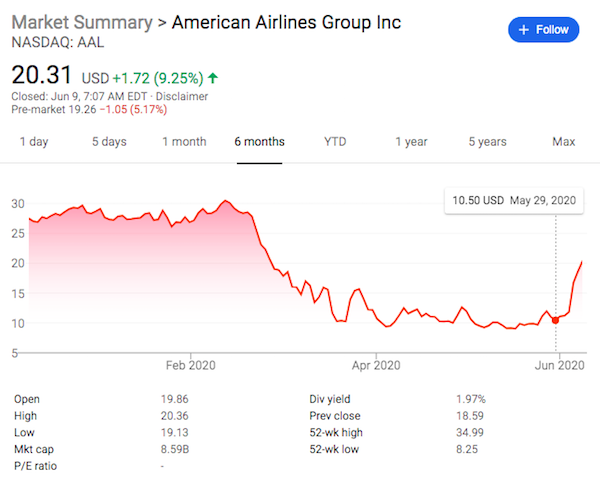 The stock increases have been pretty consistent across airlines, cruise lines, hotels, etc. This reflects consumer sentiment improving when it comes to travel. Despite everything going on in the world (and in particular in the US), more people seem ready to travel sooner rather than later.
Personally I feel like the markets aren't terribly rational. Just as these stocks perhaps dipped down a bit too far when the crisis first happened, this also seems like an overreaction.
Travel brands are so far from a recovery. Margins in much of the travel industry are razor-thin, so even the improvements we're seeing now won't return companies to anywhere close to profitability.
In the case of airlines, we're now seeing flights about 15% as full as they were during the same period last year. Even if we see a recovery to 75%, that would still represent airlines losing money. That doesn't even account for all the additional debt that airlines have taken on.
Anyway, I digress…
There has been nothing quite like Hertz stock, though
While most travel stocks have performed well the past week, Hertz stock is in a league of its own.
Hertz filed for Chapter 11 bankruptcy on Friday, May 22. When the markets reopened after Memorial Day (on Tuesday, May 26), Hertz stock was at $0.56.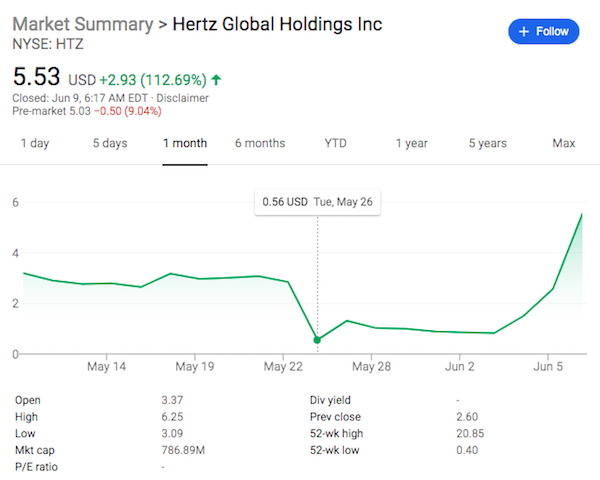 Now somehow Hertz stock is at $5.53, as it has increased in value by over 500% in three days:
The stock was up 84% last Thursday
The stock was up 71% last Friday
The stock was up 113% yesterday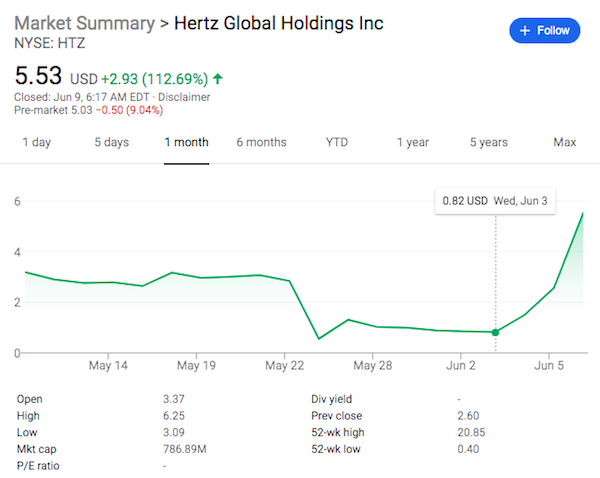 Beyond that:
The stock has now increased in value nearly tenfold since May 26
The stock price is now roughly twice as high as it was on May 22, before Hertz filed for Chapter 11 bankruptcy
The stock price is now the highest it has been since mid-April
Bottom line
Travel stocks have done particularly well the past week, though even so, Hertz has been an outlier. The stock has increased tenfold since the company filed for bankruptcy, and I remain really confused…
Congrats to those who decided to buy Hertz stock after the company filed for Chapter 11… I guess?