Qatar Airways will be the launch customer of the Airbus A350, and was scheduled to begin service between Doha and Frankfurt with their first A350 as of January 15, 2015. I was super excited about that, not just because it was the inaugural flight for the airline, but also because it was the inaugural commercial flight for the aircraft as a whole.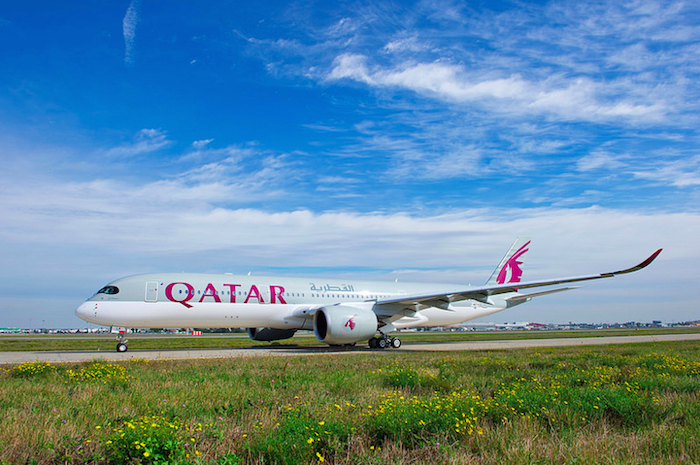 Qatar Airways A350
Then late last week they even announced plans for their second daily A350 frequency between Doha and Frankfurt as of February, 2015.
Well, it looks like "the A350 aircraft ceremonial transfer of title has been postponed until further notice," per Qatar Airways' Facebook page:
#QatarAirways announces that the Airbus #A350 aircraft ceremonial transfer of title has been postponed until further notice.

With the imminent launch of the new Airbus A350 programme, both entities are committed to introducing the A350 very soon. #QatarA350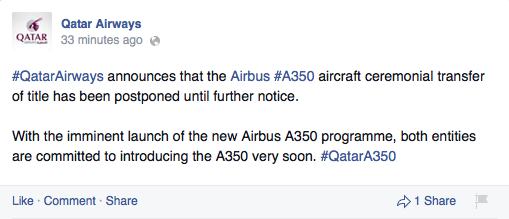 Presumably the inaugural flight will be delayed as well. As of now the previously announced schedule is still in place in the GDS, though I think it's safe to say that will change as well.
I was booked on the inaugural, so one hand I was really hoping they'd stick to the current date, as it tied into another trip that I'll be taking quite nicely.
On the other hand, I could never say no to some good old drama from His Excellency. If he can create sound bites as good as the ones he created over the A380, I'll have no shortage of content on this blog over the next six months. That's job security, folks. 😉
So, anyone have a theory as to what happened? Was there an imperfection in the carpet? A scratch on a seat?
Bottom line
I can't believe I fell for it and actually booked the Qatar Airways A350 inaugural flight. I should have learned my lesson from last time — you only book a Qatar Airways inaugural flight the fifth time it's announced… at the earliest!
(Tip of the hat to Roger)