Hainan Airlines has announced some spiffy new interiors for their 787-9s.
For those of you not familiar with Hainan Airlines, they're based in Beijing, and are one of the best mainland Chinese carriers. They are the only mainland Chinese airline to have a Skytrax 5-star rating, not that I put much weight into that.
The airline is also owned by HNA Group, which is having serious financial issues. They've been trying to sell investments and have allegedly struggled to finance planes, so there have been a lot of questions about Hainan's future.
Hainan's current 787 business class
On their 787s, Hainan has two kinds of business class seats. Some of their planes have standard fully flat business class seats, in a 2-2-2 configuration.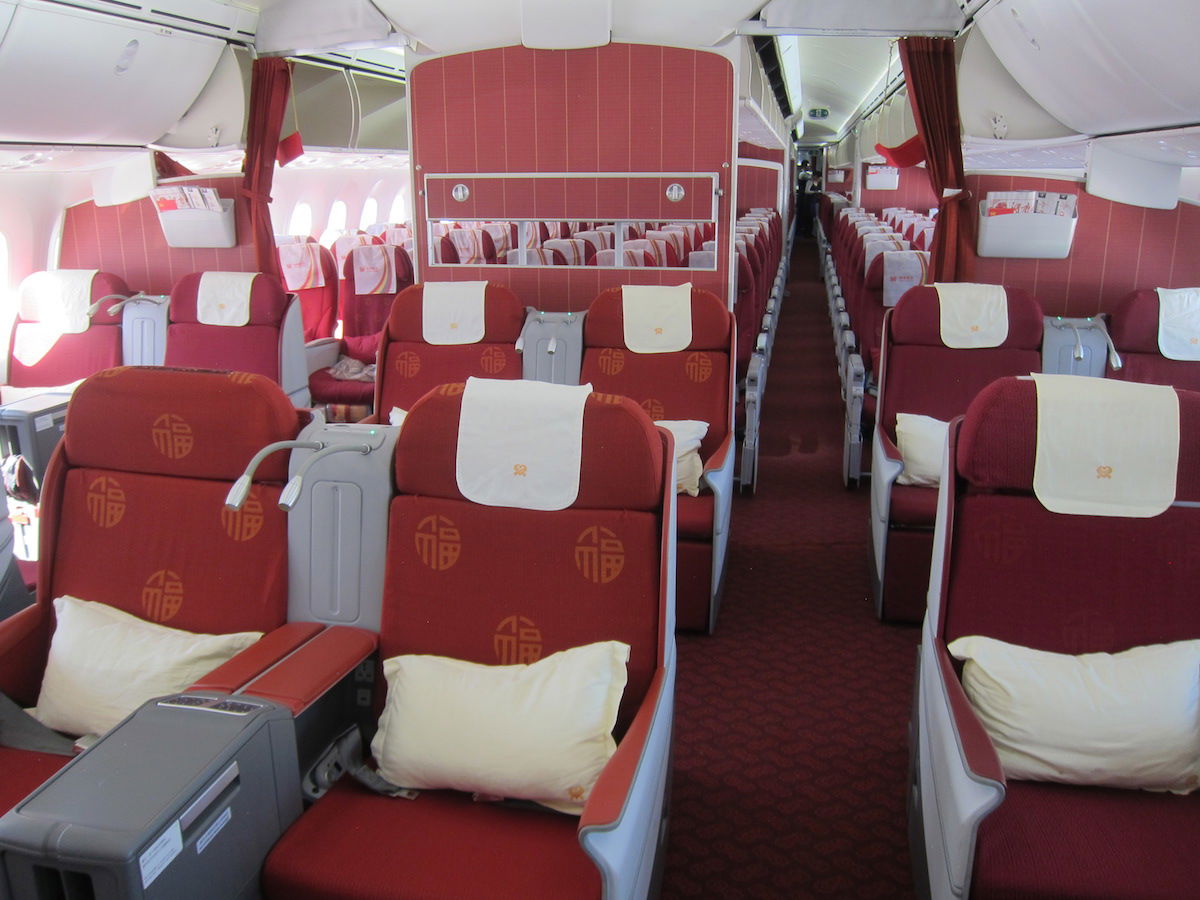 Then in 2017, the airline introduced reverse herringbone seats in business class.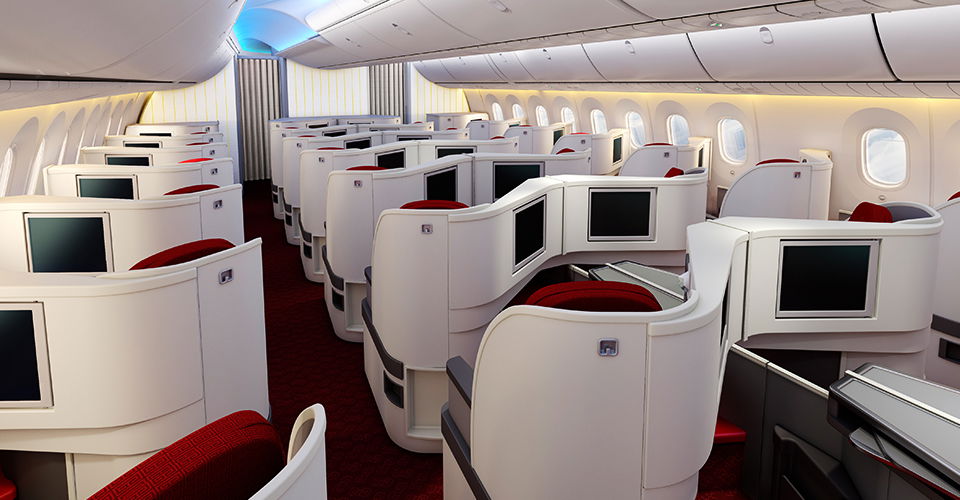 Hainan introducing new 787 interiors
The airline already has 28 Boeing 787-9s, and they have a further 10 on order. Hainan Airlines has just announced that their latest Boeing 787-9 features new interiors. Hainan describes the new interiors as being "Dream Feather" themed, which is the brand's latest visual design:
The "Dream Feather" concept is based on the idea that a feather in a dream is often presented as a feather that is floating in the air or a "feather in flight."
So with these new interiors, Hainan is keeping roughly the same B/E Aerospace Super Diamond reverse herringbone seats in business class, they're just featuring different finishes.
There's also one other change — they're going from offering 30 seats to offering 26 seats, because they say this increases spacing between seats to 46″, "the ideal distance between reverse herringbone seats."
I'm happy to see them increase spacing between seats a bit, since reverse herringbone seats can be tight.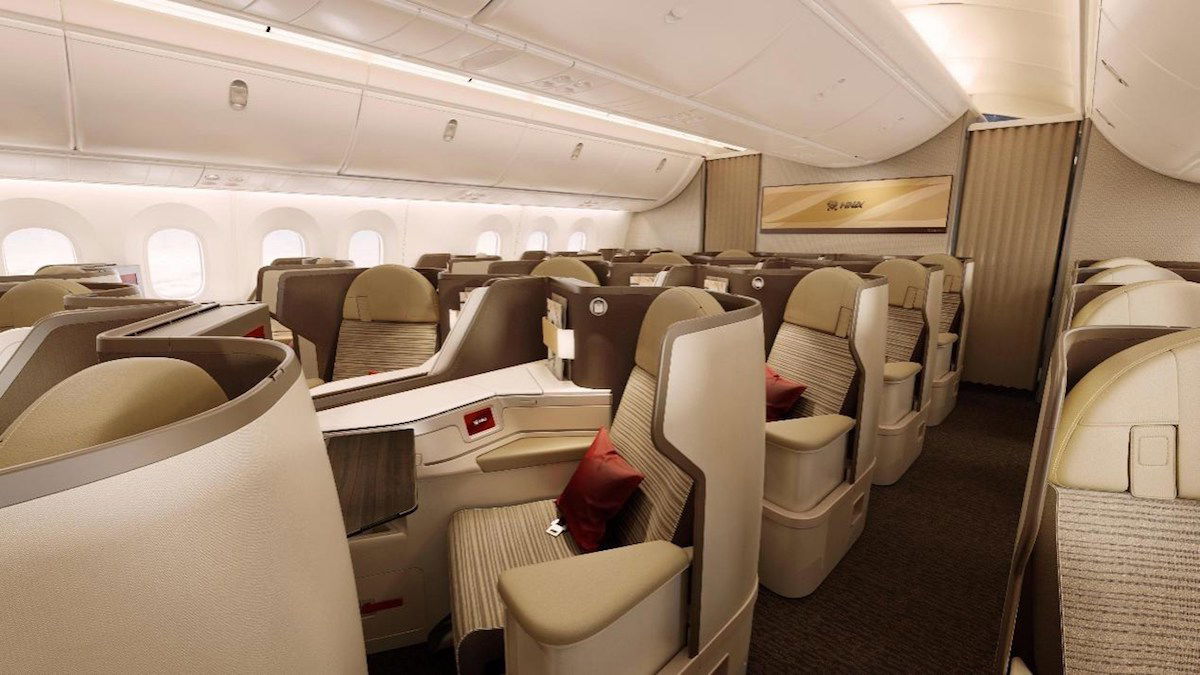 I feel like if they were going to have an English press release about this, they could have maybe had someone read it over, though:
The spaciousness of the area allocated to the passenger, including five places for storage coupled with the golden yarn flickering under the light in the gentle atmosphere, highlight the noble luxury quality.
For the first time, Hainan is also introducing a premium economy product, which they're calling Super Economy. The cabin will feature 21 seats in a 2-3-2 configuration. Premium economy features Collins Aerospace MiQ seats, with 13″ personal televisions.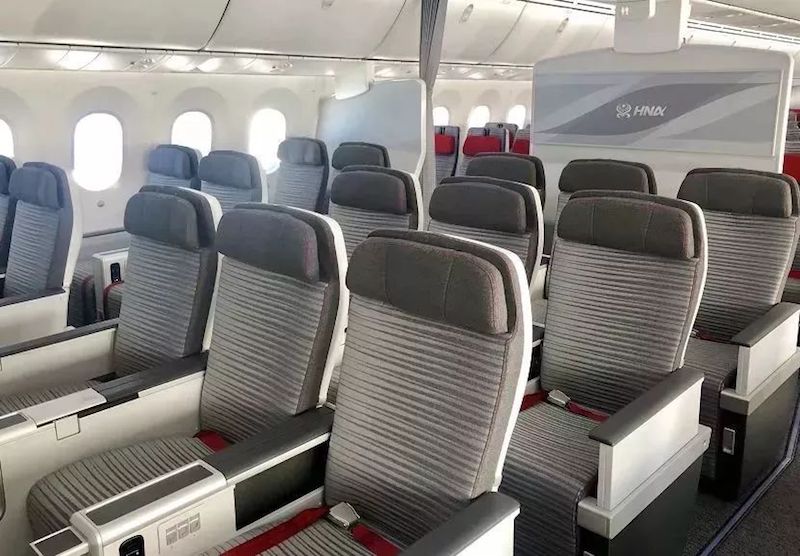 Hainan is also refreshing their economy product, and will have Recaro CL3710 seats with 12″ personal televisions, USB and 110v outlets, and more.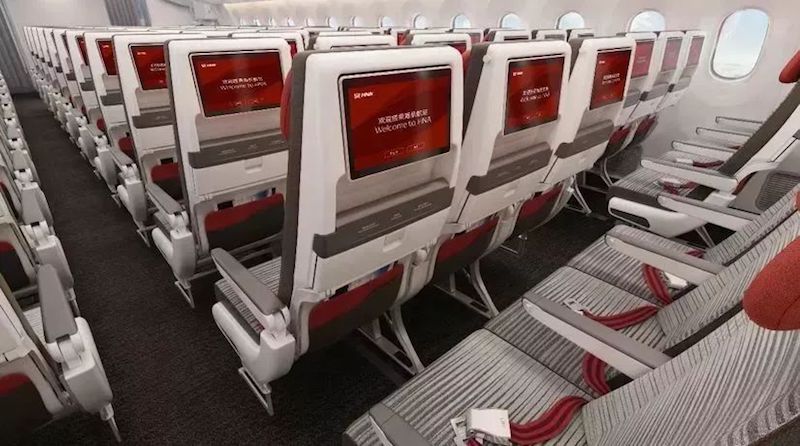 Overall the new cabins are beautiful, in my opinion.
What I find strange about Hainan's plans
These new interiors seem great, don't get me wrong. I'm thrilled to see that they're increasing the spacing between reverse herringbone seats, which might just make them the most comfortable reverse herringbone seats out there. It's also cool to see a mainland Chinese airline introduce premium economy, since it's still a rarity in China.
However, I am still a bit surprised to see them introduce this entirely new configuration when they're cash strapped like they are. It's not a new design as such that surprises me, but that they're launching a very different configuration than before.
The airline already has multiple 787-9 configurations, and adding yet another one to the mix seems like it will create product confusion and scheduling challenges. It's my understanding that they're not reconfiguring existing planes with the new interiors in the immediate future, so only a very limited number of routes will feature the new 787-9s.
If you're going to introduce something like premium economy, to me it seems like it would make sense to roll it out on a widespread basis as quickly as possible to create awareness of the product, but that's not what's happening here.
Similarly, even just from a logistical standpoint, reducing the number of business class seats by four and swapping planes last minute could prove to be a challenge.
So I love the new interiors, but I am a bit confused/surprised to see them introduce an all new configuration in their current financial state.
What do you make of Hainan's new cabins?
(Tip of the hat to @HKTBlog_Dom)