I wasn't going to write about this story because I don't have a whole lot to add, really, but it's also the story I've received more emails and comments about than any other this week. It's the story of an American that redeemed British Airways Avios thinking he would end up in Granada, Spain, but instead ended up in the Caribbean, in Grenada.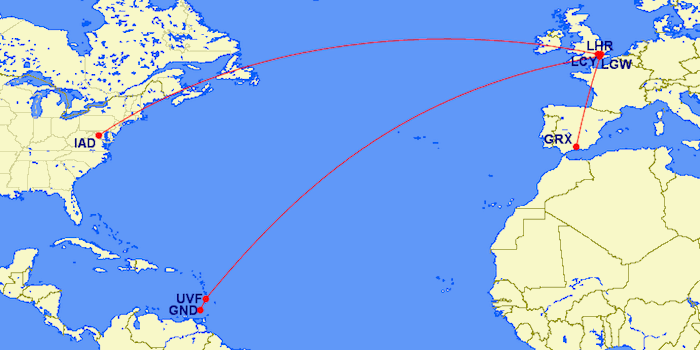 Via CNBC:
Gamson, who said he clearly told the British Airways agent over the phone Granada, Spain, didn't notice the mistake because his e-tickets did not contain the airport code or the duration of the trip. It was only 20 minutes after departure from a stopover in London that he looked at the in-flight map and asked the flight attendant, "Why are we headed west to go to Spain?"

"His response was: 'Spain? We're going to West Indies,' " Gamson said.

After nearly three days of transit, Gamson just barely made it to the conference, but his vacation was ruined: He's out the more than 375,000 frequent-flier miles he had used to book his first-class tickets, and he said the airline was less than helpful.

British Airways offered him and his partner $376 each and 50,000 miles, Gamson said. But he figured the pre-booked hotels, trains and other tours they had planned cost upward of $34,000. So he sued the airline, and he's representing himself.
First of all, I don't think the passenger intentionally booked this to be an "ambulance chaser" (or perhaps "Avios chaser?"). At the same time, it's kind of amazing if he genuinely didn't "catch on" to flying to the wrong place for so long. I mean:
The cost in Avios is so much higher for this award, so if he looked at the award chart he would have realized the cost difference.
Presumably he had to change airports in London, since the service to the Caribbean is out of London Gatwick Airport, so you'd think at some point in the transfer he would have caught on.
The flight from London Gatwick to Grenada stops in St. Lucia, so I don't know if he didn't notice that on the departures board, during boarding announcements, etc.
British Airways cabin crew love making excessive pre-departure PAs, so I have a hard time imagining they didn't state the destination at some point, or the flight time.
I'm not trying to say he did it intentionally (because I don't think he did), but at the same time I can't help but feel like it would take a lot of "looking the other way" not to catch onto any of the signs.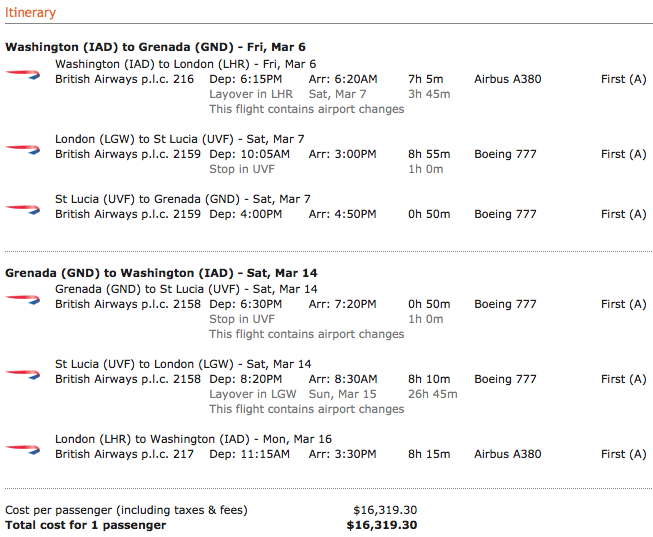 And to be clear, that doesn't even begin to address the incompetence on the part of British Airways. But I kind of expect incompetence from the airlines, so I tend to think we have to look out for ourselves.
On the plus side, at least he was in first class — here's to hoping it was the new product!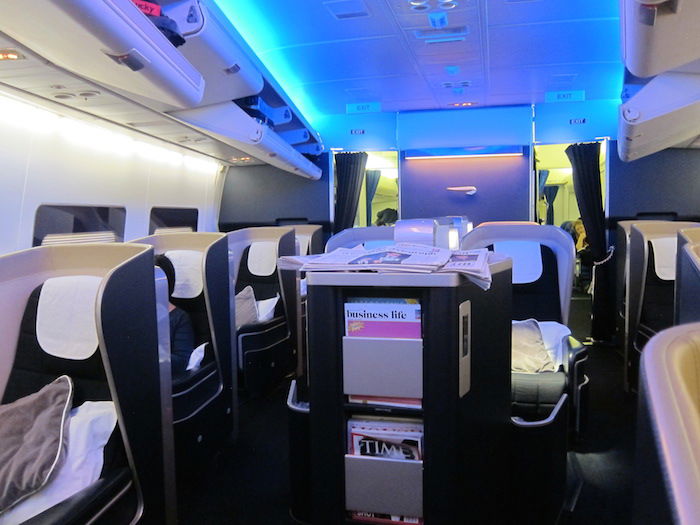 What do you think? I think it goes without saying that both British Airways and the passenger are partly at fault, but who do you think is more at fault?