I was at CVS yesterday picking up some stuff, and when I went to pay, the associate at the register asked if I found everything alright. In the past I've always instinctively said "yes," though this time I decided to be honest.
"No, actually."
"Sorry about that. What couldn't you find?"
"Well, I was looking for [name of toothpaste]."
"Oh, we didn't have that?"
"Nope."
"Sorry about that."
"And I was looking for travel sized shaving cream."
"Oh we should have had that in stock."
"I looked over in the travel section, and it wasn't there."
"Sorry about that."
And that was only two of the four items I couldn't find. 😉 After that interaction I was reminded why I usually lie and just say "yes."
And that brings me to hotels.
"How was your stay?"
That seems to be a pretty common question when checking out of hotels. But does the front office associate really care how your stay was? And more importantly, what can they do about it?
It's very rare that I complain directly to a hotel. Living in hotels full time, I can count on one hand the number of times I've complained at a hotel this year. I'll almost always mention negative aspects of hotels in my reviews, but that's simply to give a balanced review, and often they're very minor points, and not things I'd actually complain about.
Aside from that, I tend to think that:
Staff issues (friendliness, professionalism, etc.) need to be taken up with the front office manager at a minimum, and ideally with the general manager
Issues with processes/procedures (no elite check-in line, bad club lounge hours, etc.) should be taken up with the general manager
Non-service issues that can immediately be fixed are what I'll take up with a front office associate (dirty room, noisy room, etc.) — I'll typically address them when they happen so that the hotel can make things right, as opposed to at check-out
As a result, when I'm asked at check-out how my stay was, I'll typically just say "good." Because in most cases I view it as the front office associate simply going through the motions. I guess you could say that the way I interpret the question is whether there's anything the front office associate can do to improve my experience before leaving, as opposed to whether everything was actually good. Feedback like "I'd recommend tearing the entire place down, firing everyone, and starting from scratch," probably wouldn't be especially constructive. 😉
Anyway, I stayed at the SLS Beverly Hills last week and was jetlagged. I went to bed at a reasonable hour, and woke up at around midnight to the sound of music. Really, really loud music.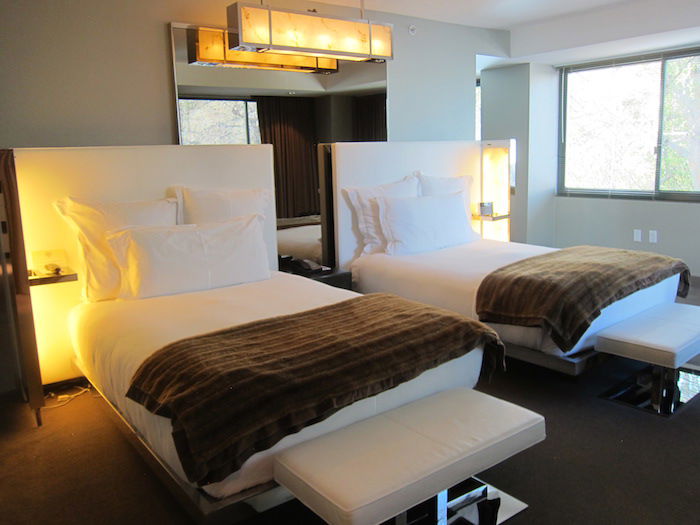 It's clear it wasn't coming from another room, and at the same time I wasn't going to switch rooms as I had unpacked and it was the middle of the night, so I wouldn't have complained about it. Instead I stayed up till 2AM and got some work done.
But when I checked out at 6AM the friendly associate asked how everything was. I said "great, at least after 2AM, since it was really loud all night." She explained that they were having some party at the hotel, apologized profusely, and asked if she could maybe credit some Starpoints to my account.

It was a really nice gesture, as I wasn't expecting anything and wouldn't have complained.
I'm curious, how do you answer when asked at check-out how everything with your stay was? Are you honest and provide all kinds of feedback, or do you just say "good?" And if you do provide feedback, what response have you received from the associate?