Earlier I wrote about how Garuda Indonesia is offering a 90% off award promotion, for tickets booked by December 31, 2016, and for travel between February 1 and May 31, 2017. The promotion obviously seems too good to be true, given that this means that a first class Garuda Indonesia award ticket will cost between 9,000 and 19,000 miles, which is insane.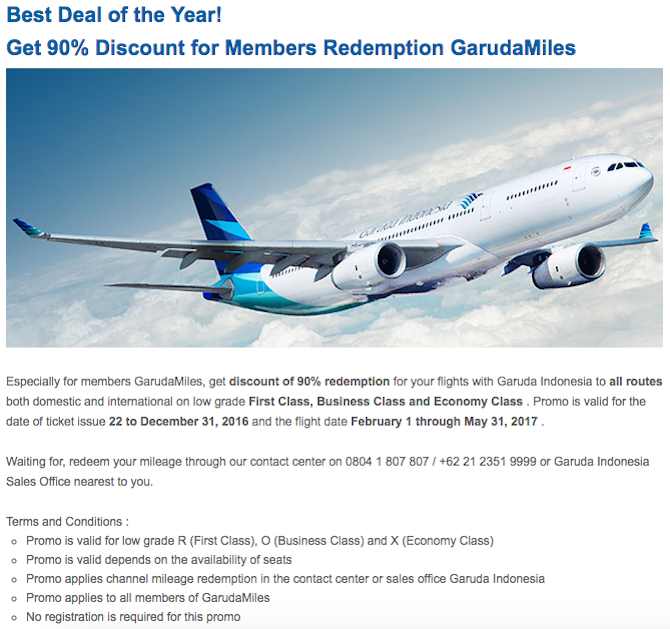 Many speculated that Garuda Indonesia in fact intended to offer 10% off, meaning that they meant they were charging 90% of the normal cost. It's no surprise that some people suspected that may be the case, since it's not often you see a 90% off award sale.
Well, Garuda Indonesia has confirmed on Twitter that the promotion is indeed intended to be for 90% off, meaning it's as generous as we thought.
Hello there. You can get discount 90% (Pay 10% of the normal point needed). Thank you. – Harry

— Garuda Indonesia (@IndonesiaGaruda) December 22, 2016
That's incredible, and I'm happy to see that the promotion is what we suspected it would be.
As I mentioned in the previous post, you need to book by phone in order to take advantage of this promotion. It can be tough to get through to Garuda Indonesia's call center, as the automated system seems to hang up on many people after a few minutes. However, if you try often enough you should be able to get through.
This is a promotion that's certainly worth the risk and effort, in my opinion. There's lots of award availability across dates given how few people otherwise have access to these awards (you can't book Garuda Indonesia first class through partner programs), so I'd certainly consider taking advantage of this.
Garuda Indonesia first class is one of the best products in the world, so I'd highly recommend using this promotion if you can.
You should be able to search Garuda Indonesia first class award space through the website quite easily, even if you can't book it there. You'll need a GarudaMiles account, and then just enter the details of the flight you want. Rather than clicking "Search Flights," click "Redeem Miles."
Then on the next page you'll be shown a calendar with dates that have availability at the standard cost. You won't be able to select the actual journey details if you don't have enough miles, but at least you can see if there's availability.
If you have any data points to share on trying to redeem miles for Garuda Indonesia first class, please do, as I think we'd all benefit from working together here!
(Tip of the hat to Point Me to the Plane)