On Tuesday I wrote about how Garuda Indonesia had an equipment change on their Jakarta to London route, starting for travel in June 2017. Starting in June the flight will no longer feature a first class cabin, which is a shame, given that Garuda Indonesia has one of the world's best first class products, as far as I'm concerned.
While I was sad about this news, it looks like there might be a silver lining. We first learned in mid-2016 that Garuda Indonesia wants to start flying to the U.S. Specifically, they want to operate a one stop flight between Jakarta and Los Angeles, with a stop in Japan.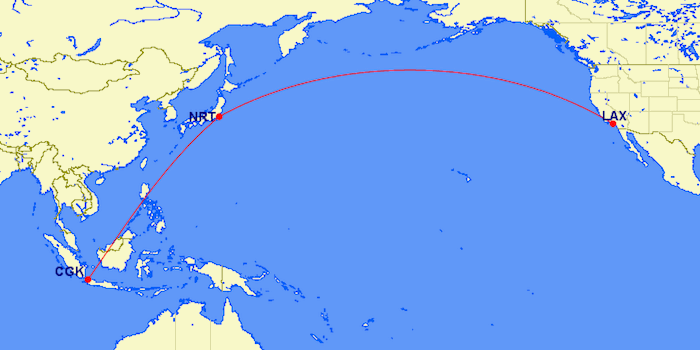 One of the reasons they hadn't yet started the service was because Indonesian airlines were banned from flying to the U.S. due to their safety ratings. In August 2016, Indonesia was finally granted a Category 1 safety rating, meaning that Indonesian airlines are now permitted to fly to the U.S.
So my speculation was that Garuda Indonesia may be using that 777 to start flights to the U.S. While that route hasn't yet been confirmed, Reuters ran an article on Monday about how Garuda Indonesia plans on launching service to the U.S. this year in spit of Trump's "Muslim ban." Per the article:
"We are staying on course, planning to start flying there (the U.S.) in June or July," Garuda spokesman Benny S. Butarbutar said.
So it certainly could be a coincidence, but I suspect that Garuda Indonesia taking a three class 777 off the London route is related to them desiring to launch their U.S. flight around the same time.
That's great news, especially because I thought that Garuda Indonesia was going to use a two cabin plane for the U.S.
I can't wait for this flight to go on sale, and hopefully for Garuda Indonesia to have a fare sale to kick off the route. 😉
(Tip of the hat to Mark)