In March of this year Garuda Indonesia joined the SkyTeam alliance. In the past Garuda Indonesia had a pretty bad reputation and a not-so-great safety record, but they've really been putting a lot of effort into improving lately.
What interests me most about Garuda Indonesia are their newly delivered 777-300ER aircraft, which feature a spectacular first and business class product that I'd really like to try.
Based on the trip report I've read of Garuda Indonesia's first class, it actually looks like a really competitive product.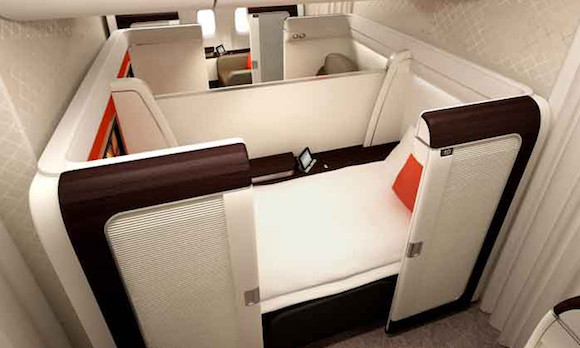 Garuda Indonesia's new 777-300ER first class

Garuda Indonesia's new 777-300ER executive class
The rest of their fleet doesn't look quite as good, and up until now the 777-300ER has only been flown on select routes to/from Jakarta.
However, Garuda Indonesia has just announced that they'll be starting 777-300ER service between Bali and Tokyo Narita. Bali is my favorite relaxation spot in the world, and this will hands down be the best first class product available to/from Bali.
The 777-300ER flight, which replaces the previous A330 frequency, will operate daily as follows:
GA880 Bali to Tokyo departing 12:30AM arriving 8:50AM
GA881 Tokyo to Bali departing 11:00AM arriving 5:25PM
The service begins August 4, 2014, though the service switches back to an A330 from September 12 through September 30, 2014.
This is awesome news! Now that Garuda Indonesia is in SkyTeam you can redeem Delta SkyMiles for this route, and Delta doesn't even impose fuel surcharges for Garuda Indonesia redemptions. It also adds another option for a one stop routing from the US to Bali, given the number of Delta flights into Tokyo Narita.
The downside is that you can't redeem Delta SkyMiles for international first class, so you'll get business class at most, which still looks like a great product.
In theory you should be able to redeem Korean Air SkyPass miles for first class travel on Garuda Indonesia, though last time I called they still weren't able to actually book Garuda Indonesia first class award space.
Bottom line
This new service is exciting regardless of which cabin you're flying in, as Garuda Indonesia's 777-300ER product is competitive across cabins. And it's especially useful for SkyTeam flyers, since there really isn't any service to Bali right now that's competitive with this.
Now if only I could figure out how to economically redeem miles for Garuda Indonesia first class…