In mid-December I wrote about how French low cost carrier French Blue was planning on launching flights between Paris Orly and Tahiti, and they intended to operate the flight via San Francisco. When the flights first went on sale, the airline didn't have pick-up rights in San Francisco (since Paris to Tahiti is technically a domestic flight, and they didn't have the right to sell travel between the US and France), but rather just used San Francisco as a refueling stop.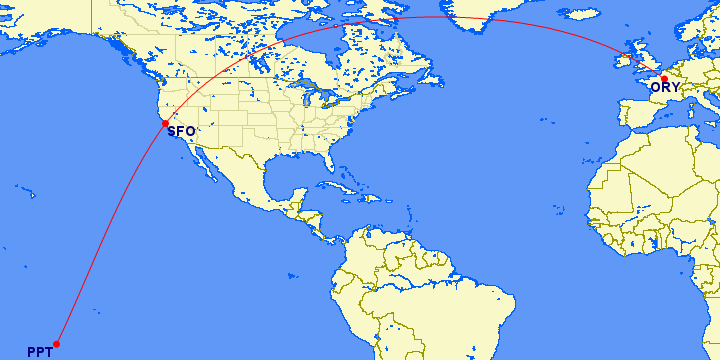 There are a couple of interesting updates on this route.
French Blue has rebranded as French Bee
In January French Blue made the decision to rebrand as French Bee. This was apparently due to objections from JetBlue, as they claimed the French Blue name could cause confusion. Frankly I'm surprised that they rebranded because of this, because you'd think that just the similarity of having "Blue" in the name wouldn't be enough to force something like this. Beyond that, the airlines don't compete in any markets, which makes it even more surprising.
But anyone, French Blue (now French Bee) complied, and in late January they changed their name.
French Bee now has traffic rights to/from San Francisco
French Bee plans on operating this new flight 2x weekly as of May 11, 2018, using an Airbus A350, with the following schedule:
BF710 Paris Orly to San Francisco departing 7:15PM arriving 9:25PM
BF710 San Francisco to Papeete departing 11:55PM arriving 5:15AM (+1 day)
BF711 Papeete to San Francisco departing 7:30AM arriving 6:30PM
BF711 San Francisco to Paris Orly departing 8:45PM arriving 4:20PM (+1 day)
When the flight first went on sale, French Bee only had the right to sell tickets all the way between Paris and Tahiti, meaning that they couldn't sell tickets to people wanting to travel between either French airport and San Francisco.
French Bee now has DOT approval to sell tickets to/from San Francisco, which is great news for consumers, as it opens up two new routes where you can get ultra low fares.
The catch is that as of the time of this post, French Bee's website only seems to be selling tickets from Tahiti to San Francisco or Paris to San Francisco, and isn't yet selling tickets that are originating in San Francisco. This permission was just granted, so my guess is that within the coming hours (or days) the flight will be bookable for those looking to travel roundtrip from San Francisco, and they're just getting the technology updated. The airline doesn't yet have an English language site, so maybe they're working on getting that up as well.
In terms of the fares, right now I see 334.50EUR roundtrip fares from Tahiti to San Francisco, and 347.77EUR roundtrip fares from Paris to San Francisco. Hopefully we see similar fares for travel originating in San Francisco.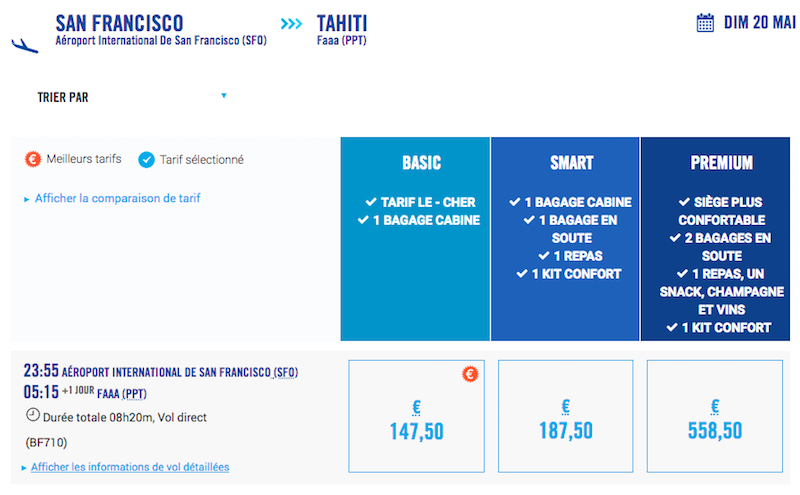 Even though Tahiti isn't that far from the US west coast, historically fares have been really high (right now the cheapest fare I see all year from San Francisco to Tahiti is $1,200+ roundtrip), so hopefully French Blue can help drive them down. Then again, it's not like there are unlimited lodging options in Tahiti, so this still won't be the ideal place for a budget getaway.
Does anyone plan on flying French Bee from San Francisco to Tahiti or Paris?