Here's a super easy way to earn up to 700 free AAdvantage miles.
American AAdvantage is celebrating their 35th anniversary, so they're giving away 350,000 AAdvantage miles to 35 grand prize winners. Now, personally I wouldn't be posting about the sweepstakes in and of itself, since your odds of winning are very low.
However, the reason the contest is worth entering is because you receive 350 free AAdvantage miles just for entering.
Simply follow this link to the promotion registration page, where you'll be prompted to enter your name, email address, and AAdvantage number. To earn 350 bonus AAdvantage miles, just tell American which milestone you're saving miles for, like a birthday, anniversary, etc.
Once you hit "Register now," you'll be brought to a page confirming that you'll receive 350 bonus miles in 6-8 weeks. On top of that, you can earn an extra 350 bonus miles by sharing a milestone with others, either through Facebook, Twitter, or email.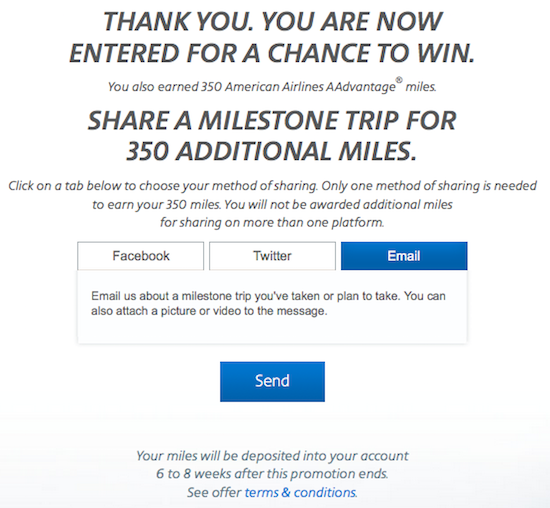 Whether or not you consider it worthwhile to spam your friends through Facebook or Twitter for 350 miles is up to you. If you don't want to, select the "Email" option, which will simply send an email to American, and you'll still get the 350 additional miles, for a total of 700.
That's an easy 700 AAdvantage miles. I value American miles at 1.5 cents each, so that's like a $10.50 reward for a minute of work. On top of that, it also helps reset the expiration date of your account, for anyone who is in that situation.
The promotion is valid through June 1, 2016, though since it only takes a minute to enter, I'd recommend doing so now.