As I mentioned previously, over the coming days and weeks you'll see the occasional post from a fellow reader who has applied to write for OMAAT on an ongoing basis. It's possible that posts will still be in the publication queue after we've announced our decision, so we'll be publishing these anonymously. We hope you enjoy the different perspectives!
---
I'm legally blind (not blonde, even though some days I get the two confused). I wasn't born this way but I was diagnosed with a serious eye disease in both eyes 10 years ago and my sight is fading more every year. Sometimes I even forget that I have this small problem as it hasn't hindered too much of what I can do (except drive and read proper books).
And I've been known to fall off a stage a couple of times while singing due to missing the steps.
Oh and I can't read Departure or Arrival boards.
I love to travel like the rest of us and I'm fortunate that these days I get to spend a lot of time in Europe as well as other regular trips for business and pleasure. The first time I told my Mum (Mom for our American readers!) I was flying alone she almost had a heart attack.
"What will you do?"
"How will you be able to navigate the airport on your own?"
And a million other questions only a mother could ask. Even my husband wasn't too fussed.
"Just make sure you pick me up that new release Jordan I want ok?"
What does my condition mean for me?
I can't read signs even if they're super large with massive writing; it's a complete blur to me
People's faces are a blur to me unless I know them well and can make out who they are by their features/hair/body types/voices (people often think I'm rude by staring but I honestly cannot make out their face and need time for my eyes to try not show me 4 faces at once)
The rest of the world is turning into a lovely haze with night being the absolute worst as I need someone to guide me/hold my hand in case I miss my footing
I do not ever call myself disabled or receive any type of special funding. This is what life has dealt me and I will never allow it to stop me living life! What you likely see well is the top left image. What I see is the bottom right image, but worse.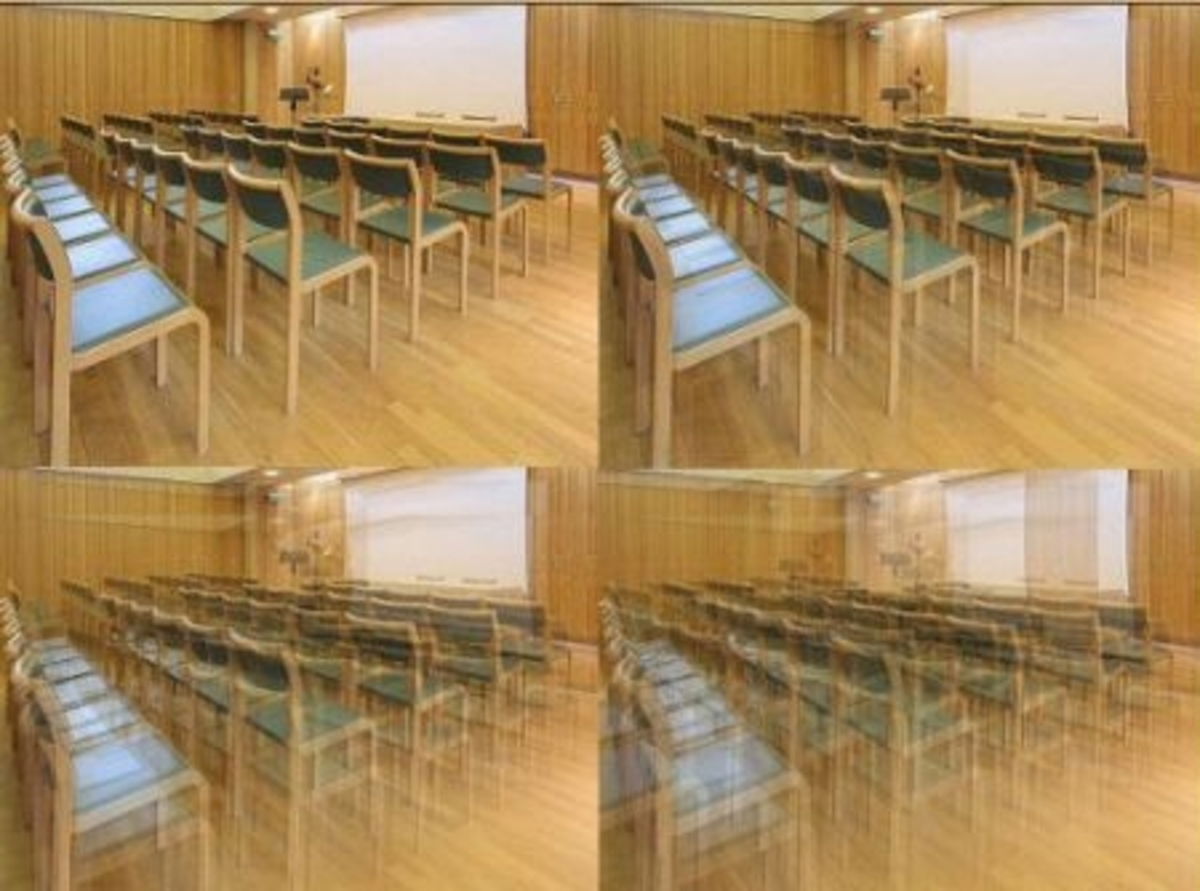 Just last month I took my first solo international flights in a year. This trip was a little different as I would be traveling on some airlines I hadn't been on before and layovers in airports I hadn't stopped over in. Normally I'm well organized and will request assistance in advance if I need it or will have another traveler with me for part of the way (or if I've been on a particular plane or at a particular airport and can remember the way I'm ok). I thought it might be interesting to share, as flying with a visual impairment is quite different.
The itinerary
I was flying to Athens, Greece from Melbourne, Australia.
one way Melbourne to Singapore on Singapore Airlines using 30k United miles (and $85.59 AUD in taxes)
a 7 hour layover in Singapore, for which I booked the Crowne Plaza Changi Airport to use on the short overnight
one way Singapore to Doha (90 min layover) and Doha to Athens both on Qatar using 78k Qantas points (and $182 AUD in taxes)
Rome to Melbourne via Bangkok with Thai Airways on the return leg using 85k Lifemiles (and $178 AUD in taxes)
I had flown with Singapore Airlines many times and know Changi Airport well but I had never flown Qatar Airways or been to Doha.
Booking using special assistance
Every airline has their own policy when it comes to travelers with visual impairment and those needing wheelchairs. You can find this on their website or by ringing their call centers to add it to your booking.
During booking there are some airlines that ask if there are any special service requests and you can select at that time, but not all of them do.
After booking I logged into every carrier's "manage my booking" section and requested special assistance if it was available to choose (again, not every website has this option):
Singapore Airlines: As I booked the ticket through United Mileage Plus it wouldn't allow me to request special assistance online; I called through and they made a note of it in my booking
Qatar Airways: Was able to tick the "visual impairment" box in my booking and it saved the information
Thai Airways: Every time I ticked the box an error came up and it wouldn't save; this happened every single time I tried to "manage" anything to do with a ticket on Thai's website, so I called them and they made a note in the reservation and also asked if I would need a wheelchair at the jet bridge
The journey
Melbourne Airport: No assistance was offered or made reference of when I checked in. As it's my home airport I know it pretty well and didn't get disorientated too much.
Singapore Airlines and Changi Airport: No direct mention was given to me when I checked in or boarded, however I let the cabin manager know that I would need assistance when it got too dark to find any lights, assistance with walking to the bathroom, help with reading the writing on the immigration forms and to read the menus (very small font!).
Meet and Assist were waiting for me on the air bridge and walked me from the bridge all the way to the Crowne Plaza Hotel (which I was incredibly grateful for, as the hotel itself was so dark I literally couldn't see). They also offered a wheelchair but I declined.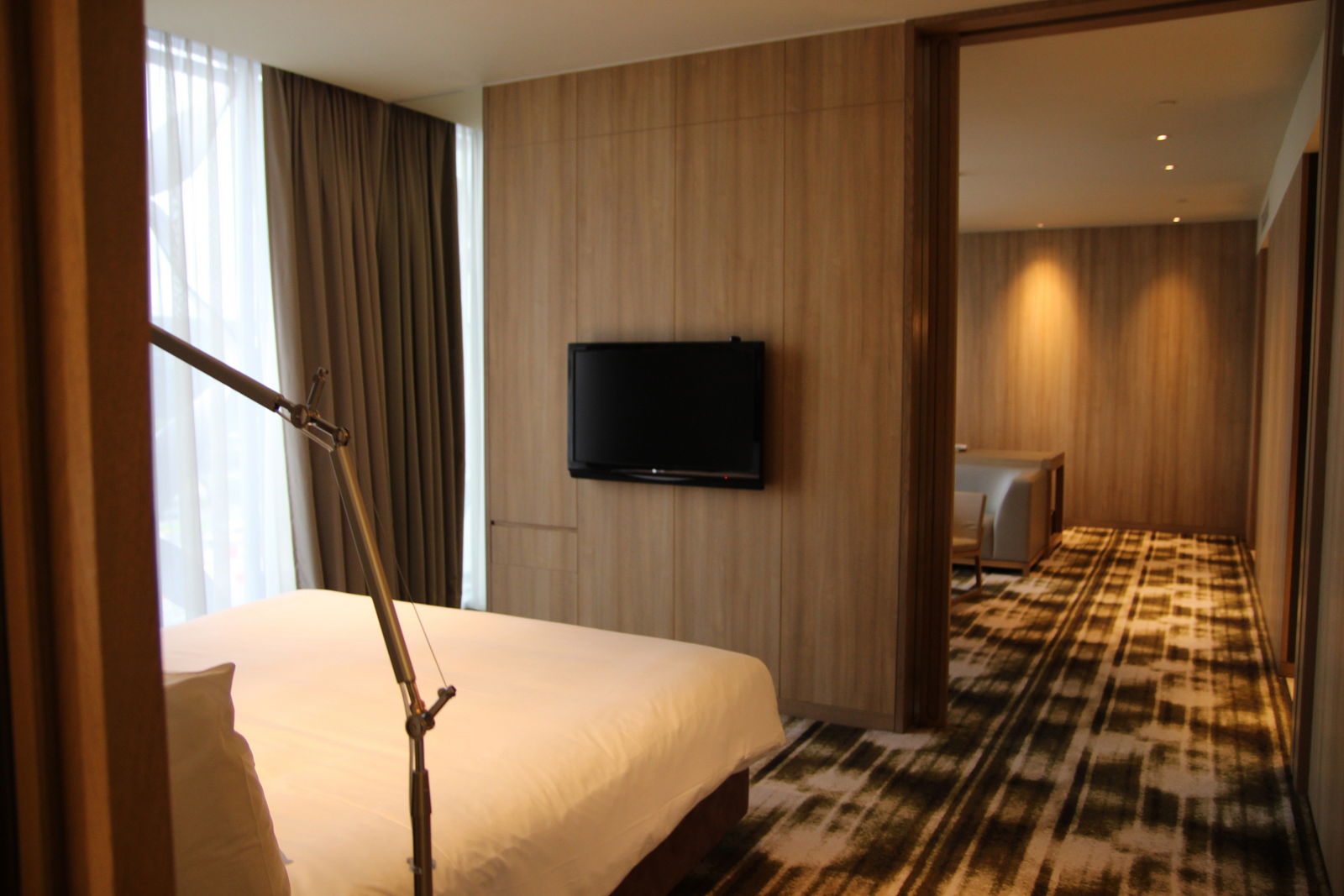 Qatar Airways: The cabin manager introduced himself upon arrival and said he noted my visual impairment and offered any assistance I might need. I found the lighting much better on the flights with them and it also didn't hurt or strain them either. The aisle was wide enough for me not to trip or bang into seats so I overall found it very good.
Doha Airport: Again meet and assist were waiting at the air bridge and walked me to the business lounge at Doha Airport. They also arranged a meeting time in the foyer for them to return to walk me back to the plane for the next flight. There is no way I could have navigated this airport by myself with the signs/symbols way too small for me to read.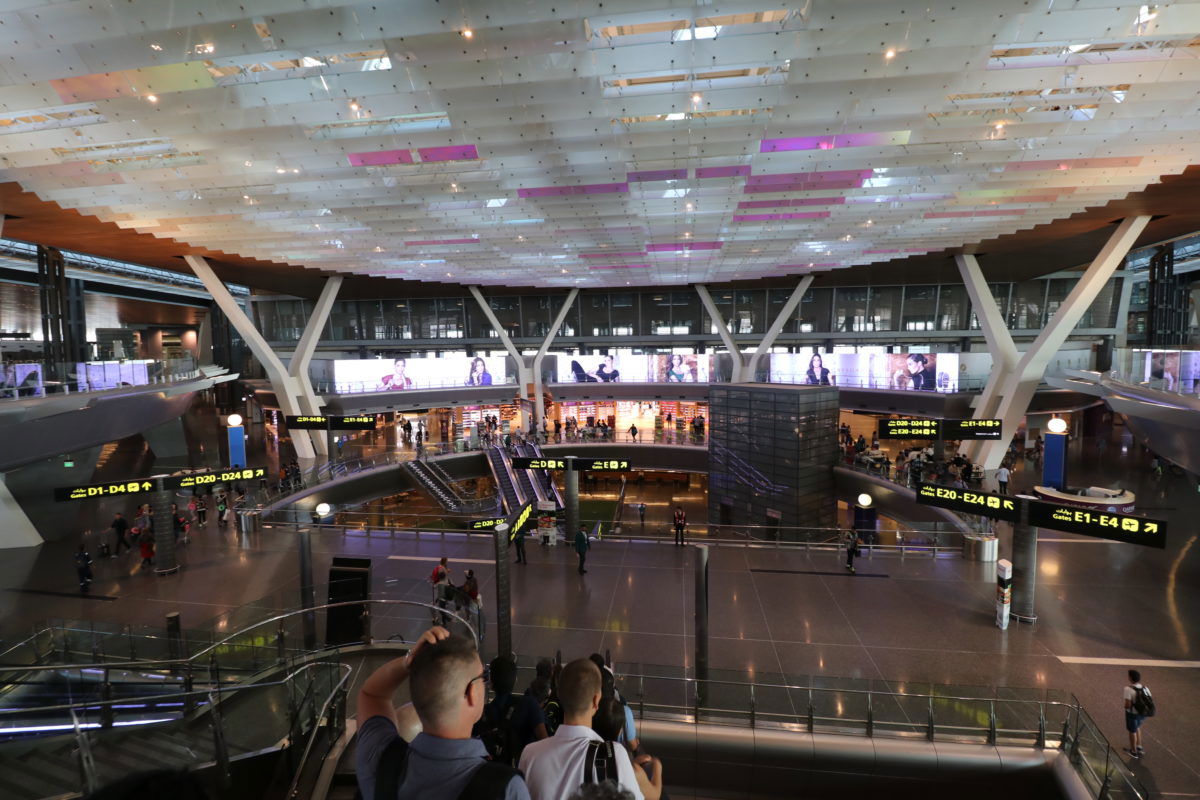 Athens Airport: No meet and assist at all upon arrival, however I know ATH extremely well (and the walk-ways are short and wide), and with an EU passport I was off the plane and in a taxi 10 mins after landing.
Thai Airways: Upon check in at FCO I was asked if I needed wheelchair assistance which I again declined. I have flown this route a few times and knew the A350 well, however I still let the Cabin Manager know that I would need help reading the menu and possibly assistance with walking through the cabin when it as dark.
Bangkok Airport: Meet and assist were waiting again on the jet bridge for me. I was very grateful for the wheelchair this time as after an 11 hour flight my eyes get extremely sore and tired and my motion isn't that great. He wheeled me through security and all the way to the lounge and came back to get me an hour later for the next flight.
Melbourne Airport: Interesting my home airport said I HAD to use the wheelchair this time upon arrival as I again was greeted on the air bridge. And this slowed up the entire process. They wouldn't take me to the e-gates (even though I'm eligible) as they said the wheelchair couldn't go through (I said I was happy to walk but she said she couldn't allow it?!). So I had to line up (or wheelchair up) in the normal lines to re-enter Australia which took an extra 45 mins. Frustrating.
During the trip: I don't use public transport while traveling on my own. The main reason is that I've had incidents in the past when I've missed my footing while getting onto a train, bus or tram or even falling down stairs on a Hop on/Hop off bus! My goal with traveling alone is to be as safe as possible for my health without having to cause myself distress if something was to happen (and I've learnt that the hard way).
Conclusion
For those of you that travel with visual impairment, if you do need assistance it's important to let those know during every step of your travel journey.
If your eye-sight is very bad ensure you have contacted the airline or tried to add the notes in the booking as there is a shortage of wheelchairs at some major airports if you do require one. Almost every flight I take lately internationally has around 10-15 wheelchair passengers with a range of health/disability/vision problems.
Mum is now happy I got through the trip with no major issues and my husband was extra happy as he did get that new pair of shoes.
---
As a reminder, this post was guest-written by a fellow reader. Feedback is appreciated, but please keep the comments kind and constructive.