Hello from Santorini! Yesterday I flew from Milan to Santorini on EasyJet. This was my first time flying with one of Europe's biggest ultra low cost carriers. I'm lucky enough to usually fly in premium cabins, so I can't say I was looking forward to the flight. However, my expectations were exceeded by a long shot. I'd go so far as to say that my flight on EasyJet was much better than many of the experiences I've had in intra-Europe business class.
I think those of us who don't have a lot of firsthand experience with European ultra low cost carriers assume the experience will be awful, but as the legacy airlines have cut their services, is there really much of a difference anymore? Ultra low cost carriers have evolved in a positive way, while it seems that legacy airlines are adopting the worst of ultra low cost carriers, with very little innovation. As a result, there's really very little difference EasyJet and British Airways nowadays, for example.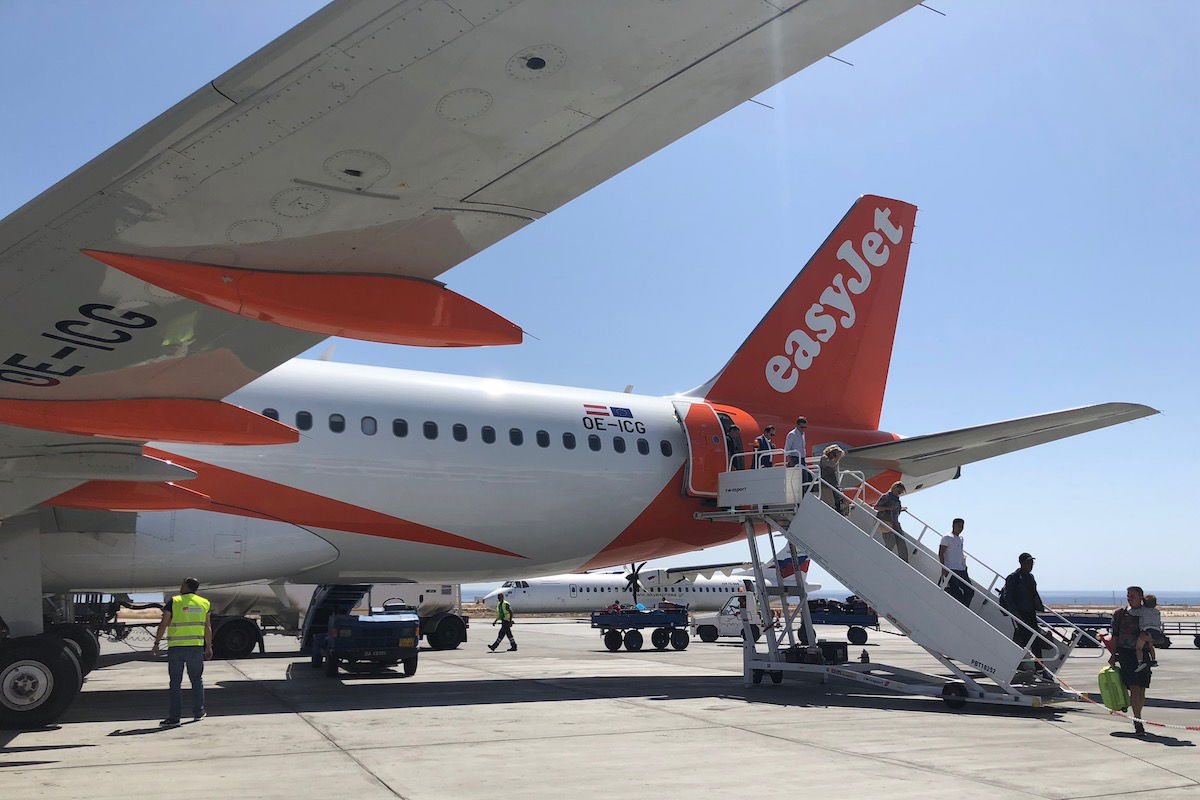 While I'll have a full review of the flight, in this post I wanted to share what I liked about it so much:
The ability to fly nonstop
First and foremost, the best thing about EasyJet is how many nonstop flights they operate, including in markets where other airlines don't offer a lot of service. Even though many places in Europe are in close proximity, in the past connections would often be required. Being able to avoid connections altogether is awesome.
In the case of this flight, we were able to fly nonstop from Milan to Santorini, which is a route that has very limited service. This flight was blocked at 2hr40min, while the second best option on our date involved 4hr25min of travel, though most options involved even more than that (the below sorts options by travel time).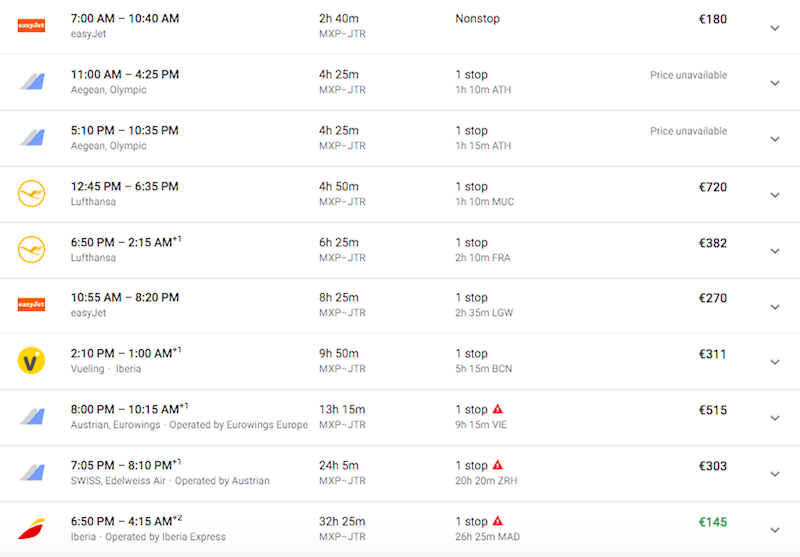 Cheap premium seating & priority boarding
EasyJet has low fares to begin with, though personally what I love is how reasonable the cost is to select a premium seat. EasyJet has extra legroom seats, and the benefit of these is that they come with Speedy Boarding and also come with an additional carry-on (more on that below).
For example, our fare was 57EUR per person, and then for 25EUR per person additional we could select an aisle and window seat in the exit row, and that came with a large carry-on, a personal item, and priority boarding.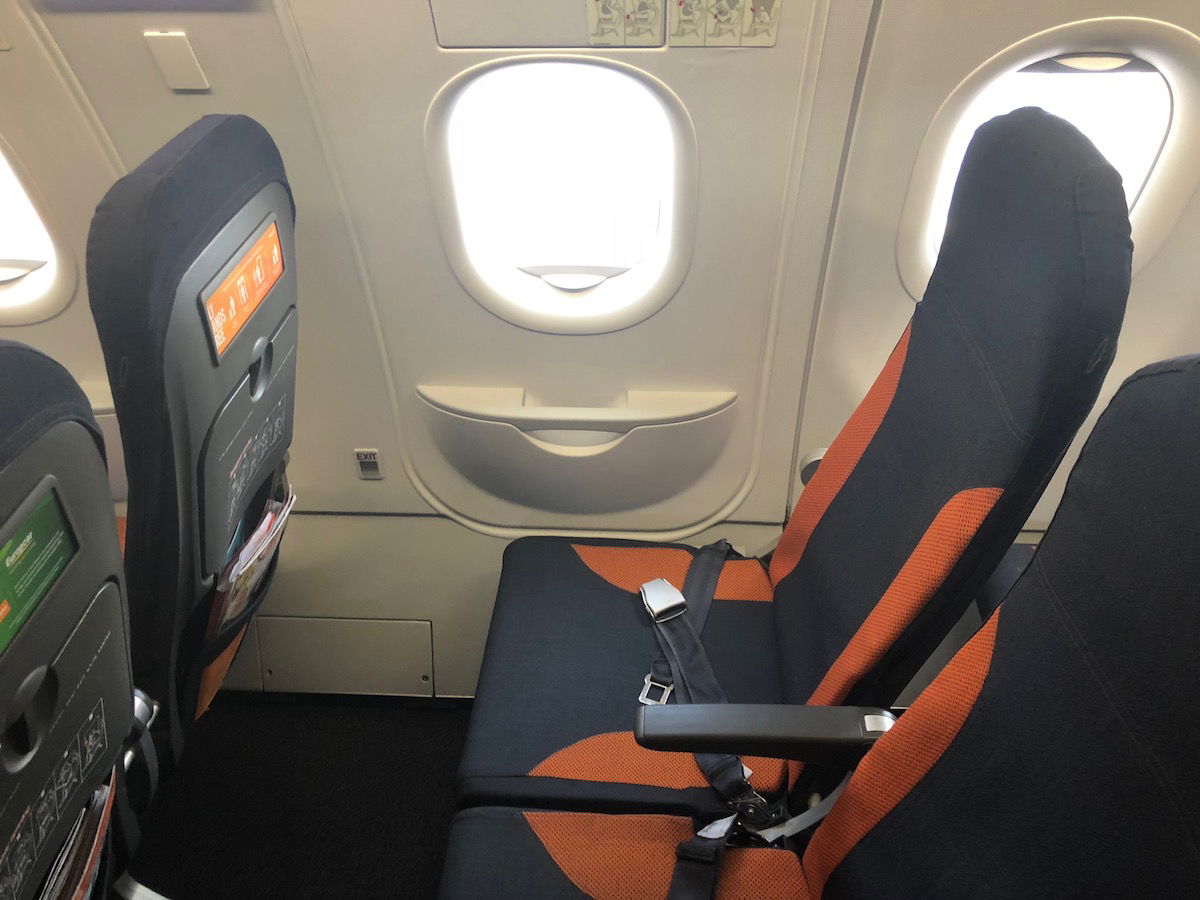 But possibly the best benefit of these seats is that most people don't want to pay extra for them. There were three empty seats on my flight, and all three of them were in the exit row, including the seat between Ford and me. SCORE!
I have to say, though, that the legroom in other rows didn't look that horrible, especially since the seats don't recline.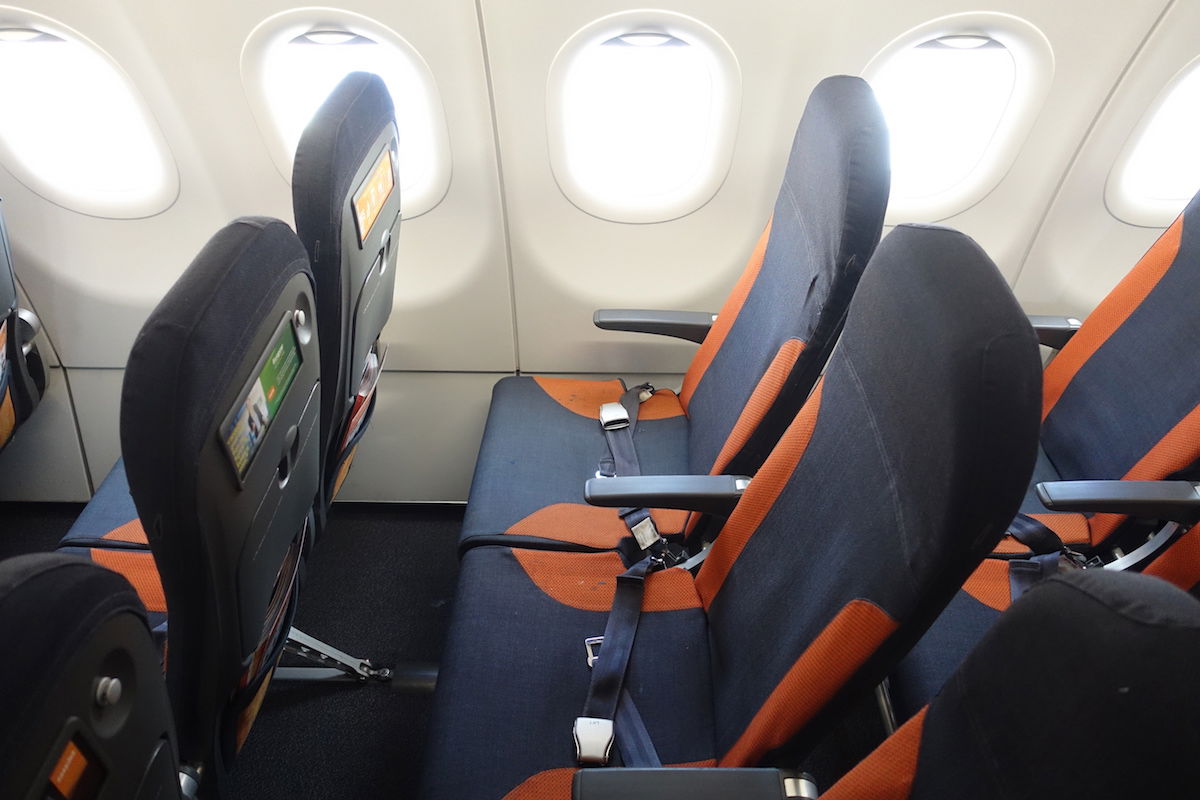 Possibly the most generous carry-on policy in Europe
EasyJet arguably has the most generous carry-on policy in Europe. On the most basic level, EasyJet doesn't have a weight limit for hand baggage. All that matters is that your bags are within the dimensions of 56cm x 45cm x 25cm.
As a point of comparison, Lufthansa's carry-on baggage weight limit is 8kg. That per item limit even applies in first class. That means I could legally never take my carry-on on a Lufthansa flight, though most of the time I can get away with it.
EasyJet has a limit of one carry-on per person, but if you buy an extra legroom seat then you can also take on a personal item. Ford and I both travel with big carry-ons, and they didn't even bat an eyelid, while I've repeatedly had issues on other European airlines.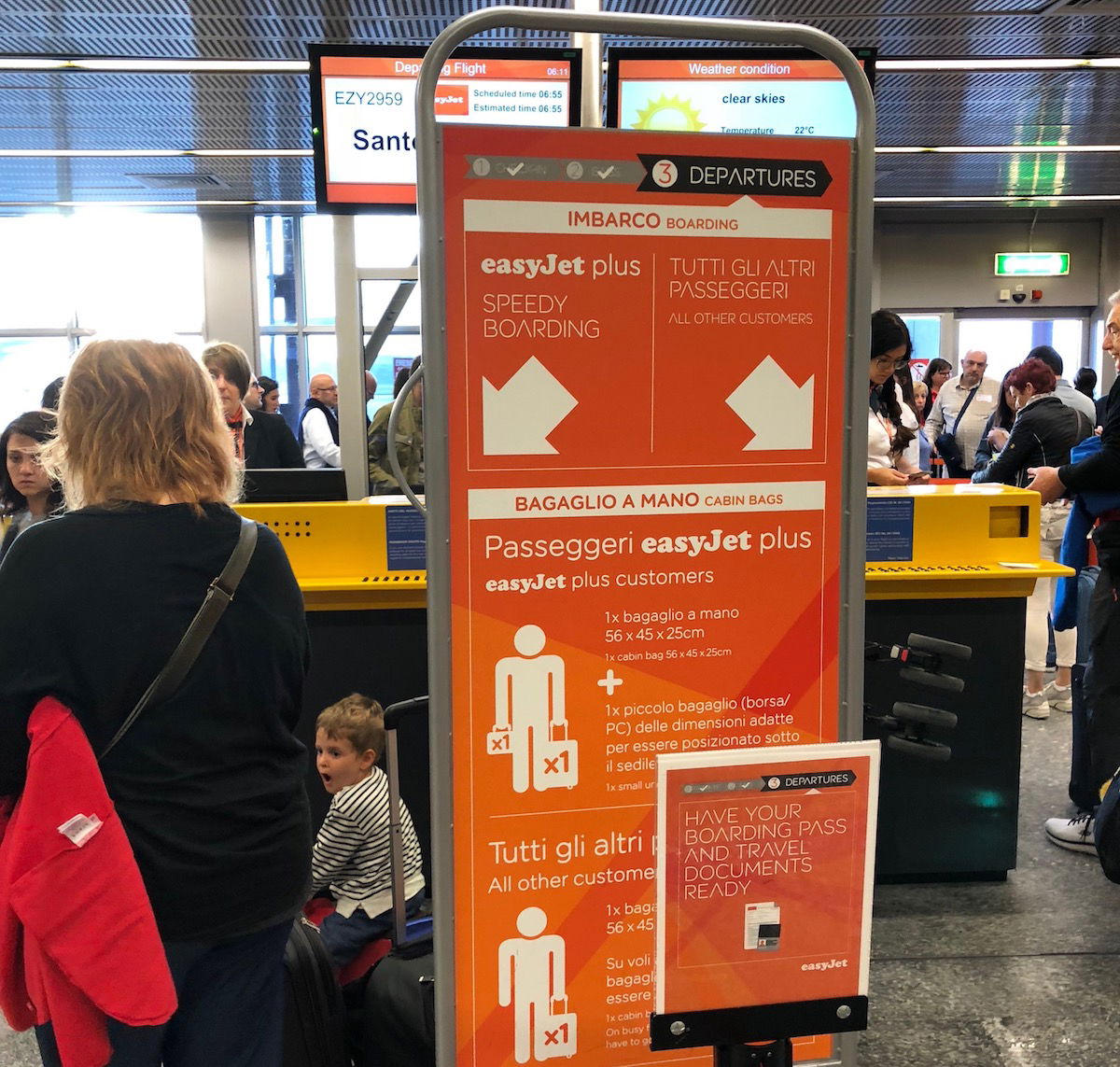 Friendly staff
Our crew was Italian, and they were a delight. They were friendly, attentive, and professional. While all service is buy on board, they treated everyone well, the announcements were professional, the captain provided frequent updates for our minor air traffic control delay, and the captain was even at the door as we deplaned to thank each passenger for flying with EasyJet.
The crew was every bit as good as what you'd find on any "full service" airline, and maybe even better.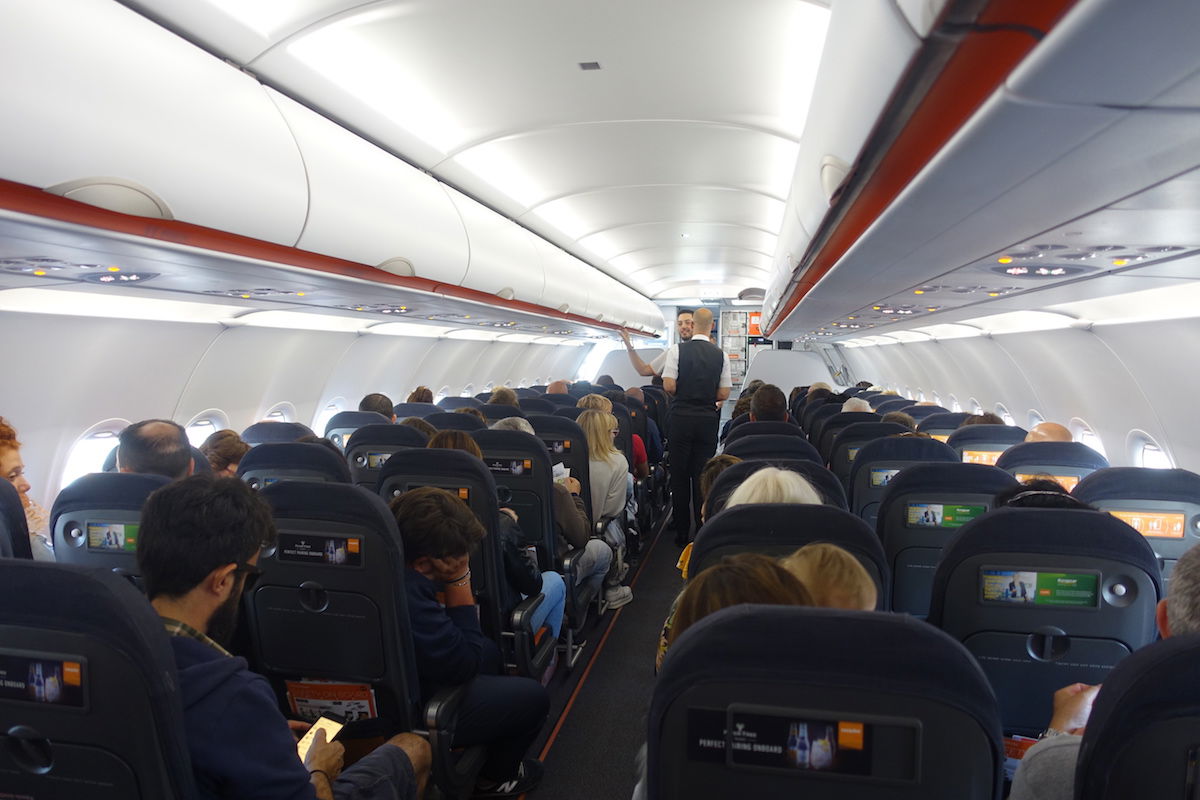 Bottom line
Of course I'm going off one data point here, and it's possible that I just had an isolated great experience. However, based on this I'd fly EasyJet again in a heartbeat. That doesn't mean that I'd merely tolerate them, but I actually find that they offer one of the better intra-Europe experiences.
When it comes to EasyJet, there are some things I'm confident are always the case — they have an excellent route network that will transport you nonstop in markets where other airlines can't Furthermore, their per carry-on limit is among the most generous in Europe (given the lack of a weight limit), and if you pay for an extra legroom seat then you even get a personal item as well.
Then there's my specific experience — the crew was so friendly, and we had an empty middle seat, which I would guess isn't too uncommon, since most people probably don't want to pay for an extra legroom seat on an ultra low cost carrier.
Maybe I need to try Ryanair next — James says they're not too bad either.