This could shape up to be a tough week weather-wise.
If you haven't heard, there are several large storms brewing in the Atlantic, with Florence being the most imminent and aggressive.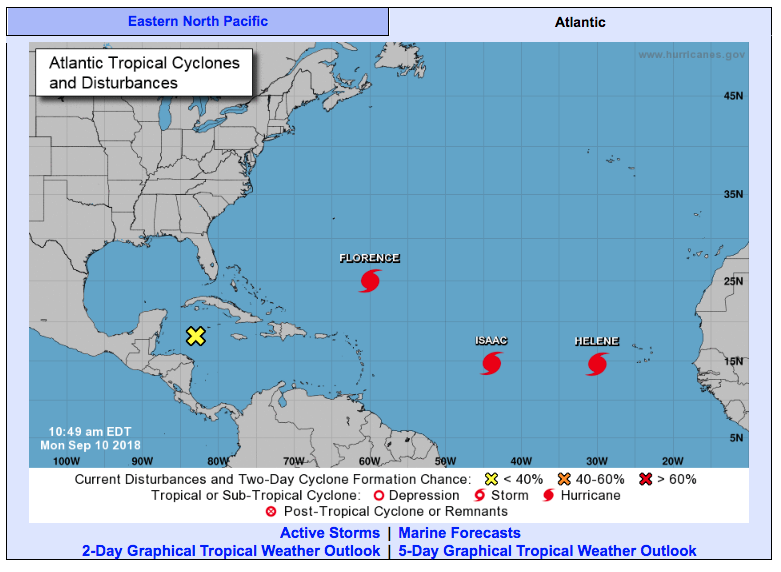 Florence is now a Category 4 hurricane, and is expected to reach the Carolina coast Wednesday night/Thursday morning.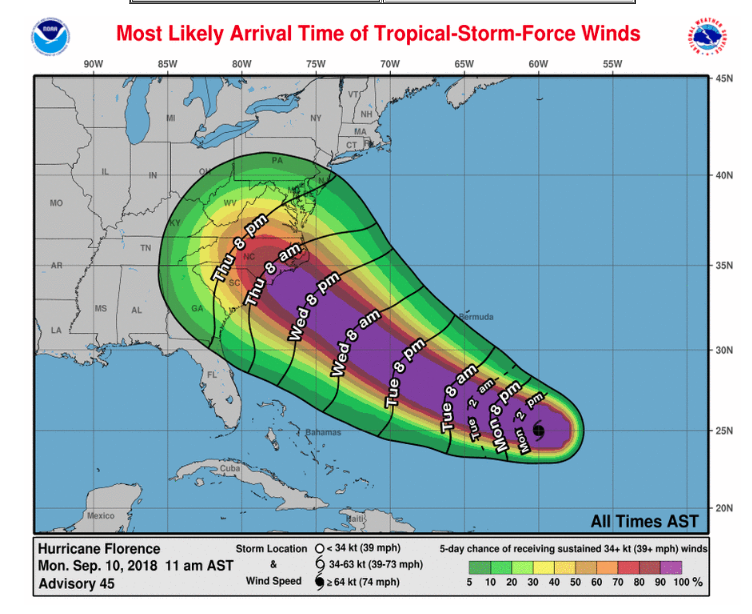 Meanwhile, Guam and the Marianas are dealing with Typhoon Mangkhut, which is expected to continue increasing in strength as it moves through the Pacific:
#Typhoon #Mangkhut is pounding the Mariana Islands, including Guam where wind gusts have topped 80 mph: https://t.co/9hsFBKYr9Q pic.twitter.com/YiHnqedJaz

— The Weather Channel (@weatherchannel) September 10, 2018
And Hurricane Olivia is brewing off the coast of Hawaii: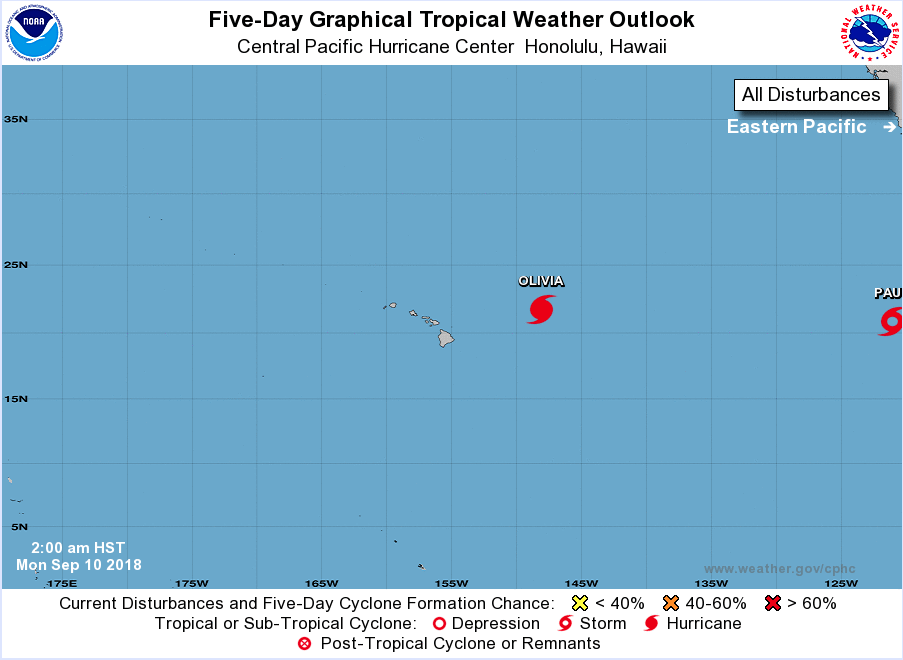 Significant amounts of rain (much less a hurricane) can often cause systemwide disruptions — though given the nature of South Pacific and Hawaii operations the impacts in those regions will likely be fairly localized.
Florence is the greater concern for general airline operations, given the density of airports, crews, and aircrafts on the U.S. Eastern seaboard.
So, if you're scheduled to travel in the coming days you'll want to take precautions, and monitor the situation closely.
Typically the best case scenarios once these storms make landfall involve widespread power outages and flash flooding. Even if you're traveling to an area which isn't directly in the storm path, you should expect operational delays and challenges at nearby airports, or those that normally have substantial numbers of flights to impacted airports.
Current Hurricane Flight Cancelations & Waivers
At present, we aren't seeing mass cancelations of flights yet. That could always change though, and some airlines have already posted weather waivers.
In general, the airlines are going to accommodate you if you're able or willing to move your plans around — after all, they don't benefit from having cranky passengers stuck in the terminal either. There are nuances to each policy though, so you can see the individual policies on the airline sites.
Not every airline has posted a waiver, but I've included the links to where a waiver will potentially be posted regardless:
Keep in mind that as the severity of the storm increases, the parameters of the waiver can change. At the time of this writing, for example, most airlines are not waving cancelation fees, but are allowing you to rebook for later in the weekend, or next week.
Tips for rebooking
Regardless of the reason for flight cancelations, phone queues can get ugly fast. Given that many people need to rebook at the same time, you might be able to get new plans confirmed more quickly by using an alternate method.
Try the club lounge
Don't leave this until the day of travel, but if the situation changes and you're already at the airport, start with the lounge agents. They tend to have fewer passengers to deal with than the gate agents, and thus may have more time (and more patience), when it comes to rebooking your flight. The exception is Alaska, as due to contractual reasons their lounge agents literally can't help with flight reservations.
Reach out on social media
I've had good luck changing flights by sending direct messages to American via Twitter. Several other airlines have a Twitter presence as well, and while they might not be able to fix your reservation, it's worth trying:
Avoid the domestic call centers
If you're willing to spend a few dollars on Skype or Google Voice credit, calling the international call center for an airline can often save you an hour or more of hold time.
Almost all of these call centers have an English-speaking option, but you can also call Australia, or even just Canadian numbers can get you through faster.
¿Hablas Español?
If you have a rudimentary understanding of Spanish (like, just enough to get through the computer system), you can try the Spanish-speaking numbers. Again, fewer people calling means shorter hold times, and the agents typically speak English as well.
American Airlines Spanish line: 1-800-633-3711
United Airlines Spanish line: 1-800-426-5561
Be your own advocate
This is maybe more a life philosophy than one specific to travel disruptions, but it holds true — no one cares about you (or your travel) as much as you do.
So be nice, but ask questions, present alternatives, be prepared to book your own hotel rather than waiting in line with a hundred other people for a voucher, and so forth.
If you stand around and wait, you will almost certainly have a worse time than those who are actively finding solutions to the situation.
Check your credit card coverage
If you purchased your tickets with a credit card, you may have some additional protection and benefits when your flight is delayed. Check with your credit card company, or see our list of popular travel cards with good delay coverage.
These cards will often cover your hotel, or the cost of a new flight, and so forth, so it's good to know both the benefits and the requirements to file a claim.
Bottom line
As I say every time we have a major storm, you want to be as proactive as possible in these situations. Pay attention to your flight, along with the status of your inbound aircraft, and be prepared to react quickly and creatively.
If you have plans to travel to the region, I'd suggest rescheduling now, as it looks like the ground situation is going to be messy at best. And keep in mind that even if you aren't traveling in, to, or through the storm corridor, your aircraft might be, so you could still be impacted by this storm.
This isn't a situation you can control, but you can lessen the impact on your life. The best thing to do is pay attention, and be as proactive as you can.
Anyone living in or flying to/through these areas later this week? What's your plan?