Over the past few months we've seen the major US airlines begin selling tickets for flights to Cuba, with many of the flights launching in the coming weeks. It's no surprise that so many US carriers requested rights to operate routes to Cuba, given that it's the first time in decades that such flights are possible.
However, I also think we're going from one extreme to the other. While there's certainly interest among Americans in visiting Cuba, the actual demand isn't there, at least not to fill the thousands of seats per day that will soon be operating between the US and Cuba.
While there was a lot of enthusiasm at first, over the last few weeks we've heard a lot of airline executives say that they're in Cuba for the long run, and they don't plan on making money flying there in the foreseeable future.
In fairness, I suspect the performance on these routes will vary significantly. For example, American may do reasonably well on flights from Miami to Havana, given that the flight covers a distance of just a couple of hundred miles, and they're connecting big populations. On the other end of the spectrum, I can't imagine how much money Alaska will lose on their daily Los Angeles to Havana flight.
While American has the most extensive planned route network to Cuba, it looks like they're already trying to scale back. Per a DOT filing on Tuesday, American is planning on downgrading their nonstop flights from Miami to Cienfuegos and Camagüey from mainline planes to American Eagle planes, operated by Republic Airways. Specifically, the flights will go from being operated by A319 aircraft, to being operated by Embraer 175 aircraft, on or around February 16, 2017. That means these markets are going from 128 seats per day to 76 seats per day, which represents a ~40% reduction in capacity.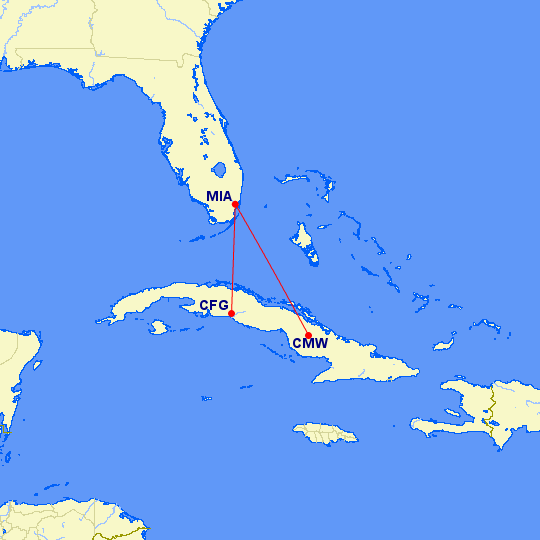 Bottom line
I suspect this is only the beginning of capacity cuts to Cuba, at least in the next few years. In this instance downgrading flights isn't an issue, since routes to destinations other than Havana weren't contested. However, it'll be much more complicated for airlines to reduce capacity to/from Havana, given how competitive those routes were, and the application process they went through. I suspect more airlines will eventually come to their senses on over-capacity to Cuba.