Authorities are looking for a flight attendant who fled LAX Friday night, leaving behind 60 pounds of cocaine and Gucci shoes (as one does).
Flight attendants and pilots can become Known Crewmembers, where they don't have to go through normal security screening to enter the secure area. Instead they just enter through the typical TSA exit, and have to present two forms of identification. Of course they can also be subjected to extra screening, either randomly or because of suspicious behavior.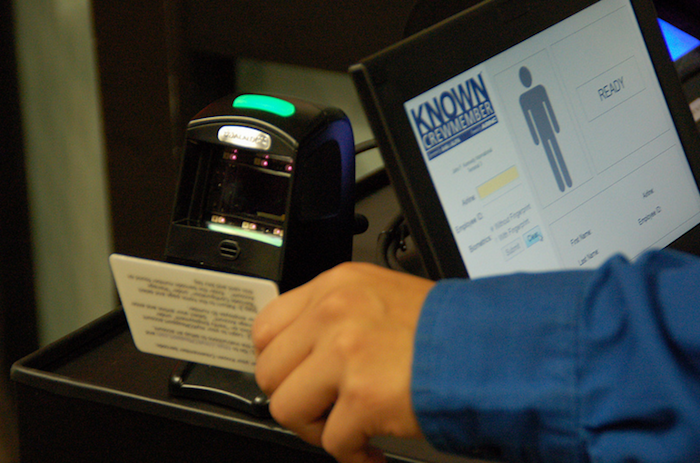 Known Crewmember checkpoint (photo credit: ALPA)
That's exactly what happened at LAX Terminal 4 this past Friday night, as a flight attendant was about to take American flight 28 from Los Angeles to New York. Per NBC News:
Flight attendants and other crew members are not normally subjected to searches. But the suspect was pulled aside by Transportation Security Administration officers for a random screening in Terminal 4, the sources said.

The woman, who was not identified, appeared nervous and made a cellphone call in a language not recognized by officers, authorities told NBC News. She was then taken aside to a secondary screening area and asked for her employee identification.

Suddenly, she bolted from the screening location, running with her bags toward an escalator, authorities said. She jettisoned the luggage and her designer shoes and fled the terminal.
I'm not sure what exactly is suspicious about making a phone call in a language a TSA agent didn't recognize (presumably anything other than English or Spanish), but the rest of it does seem a bit strange, like the flight attendant having two rollaboards.
It seems she didn't think that through so well, since that is more than usual, and presumably would make the TSA more suspicious. While plenty of flight attendants have one rollaboard and then a few bags strapped onto it, two rollaboards seems unusual (though perfectly logical if you're trying to transport 60 pounds of cocaine without breaking a sweat).
I also assume that authorities have info about her identity, given that she had to present ID to get through the checkpoint.
I wouldn't be surprised to see flight attendants trying to smuggle on an international flight (where there's presumably at least a lot of money in it for the person doing the carrying — maybe I've watched too many episodes of "Locked Up Abroad"), but 60 pounds of cocaine on a domestic flight? Sheesh!
There's video footage of the incident, though it hasn't been released to the public yet.
Here's to hoping they find the flight attendant and make the video public!