Over the years we've seen some studies about the general health risks associated with being a frequent flyer. Environment Health has just released a study that's specific to flight attendants, which has some pretty disturbing (though probably not surprising) findings.
Increased cancer risks for flight attendants
This study was conducted because researchers found that flight attendants are an understudied occupational group, despite the wide range of conditions they deal with. So the goal of the study was to characterize the prevalence of cancer among US cabin crew relative to the general population.
5,366 flight attendants participated in the study and were compared to those with a similar socioeconomic status. The study found that flight attendants had a higher prevalence of every cancer they examined, especially breast cancer, melanoma, and non-melanoma skin cancer among females.
Across the board the increased risk here is huge, with the study finding that risk of breast cancer increased by nearly 50%, and risk of stomach cancer increased by nearly 75%. That's extremely alarming, obviously, especially since the higher risk was true across the board in this study.
Here's a chart comparing the prevalence as a percent, with the "FAHS" category being flight attendants, and "NHANES" being non-flight attendants: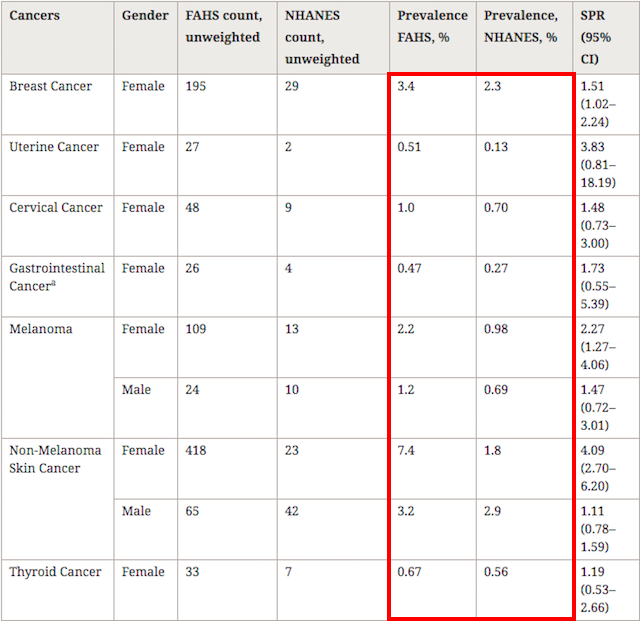 Do these results concern me as a frequent flyer?
While this study is specific to flight attendants, I think it wouldn't be unreasonable to assume that frequent flyers are potentially subjected to similar risks, given sleep patterns, exposure to radiation, irregular eating patterns, and more.
It's a question I'm often asked about. "Aren't you worried about the health implications of the amount of flying you do?" Yes, I am. Actually, it's something I think about all the time, and I'm conflicted.
On one hand, I tend to think you should live your best life (whatever that might be). It's not worth living in fear or missing out on something you truly love because of a risk (aside from, like, jumping off a bridge and wondering what will happen). If you truly do evaluate every risk you face on a daily basis, I don't think any of us would be able to function. Should we only drive in cars that have the best possible safety ratings? Should we never eat junk food or drink? Should we never have a long or stressful day of work?
While my flying habits are bad, I'd like to think that many of my other habits are fairly decent. When I'm in the US I get lots of sleep, go to bed early, and wake up naturally.
At the same time, I fully recognize that the type of traveling that many of us do isn't necessarily "moderate." It's one thing to take one or two international trips per year, but a dozen plus? Less so, certainly.
These risks also seem to be very real. We're not talking about a one in a billion chance of getting something. Is flying excessively reckless? Is this no different than being addicted to harmful drugs or riding a motorcycle down a highway without a helmet?
I don't know… so it's something I do think about all of the time. I do wonder if I should just never get on a plane or go anywhere again. Certainly there's a happy medium, but I've never been great at moderation. I really do love flying, and flying also happens to be a vital part of my job, so…
To flight attendants and/or frequent flyers, does this data disturb you? What's your perspective on the dangers of spending too much time up in the air?
(Tip of the hat to Vijay)