Qatar Airways is the launch customer for the Airbus A350, and will soon begin service with the first of 80 A350s that they have on order.

Qatar Airways A350
Qatar Airways has just announced their first Airbus A350 route, which will be Doha to Frankfurt as of January 2015. They have twice daily service to Frankfurt, and they should both be operated by the A350 by the end of January.

Qatar Airways A350
QR67/68 will first be operated by the A350, with the following schedule:
QR67 Doha to Frankfurt departing 7:35AM arriving 12:30PM
QR68 Frankfurt to Doha departing 3:25PM arriving 11:25PM
QR69/70 will next be operated by the A350, with the following schedule:
QR69 Doha to Frankfurt departing 2:00AM arriving 6:55AM
QR70 Frankfurt to Doha departing 10:45AM arriving 6:40PM
However, we don't yet know the exact dates that service will begin.
Qatar Airways' A350s will be configured with a total of 283 seats, including 36 business class seats and 247 economy class seats.
Qatar Airways presently operates the Boeing 787 on this route, which features 22 business class seats and 232 economy class seats. So the Airbus A350 represents an increase of 29 seats, 14 of which will be in business class. This is great news for premium cabin travelers, as this should lead to more award availability, at least in the short term.
Presumably Qatar Airways will have reverse herringbone seats in business class, the same they have on their Airbus A380s and Boeing 787s.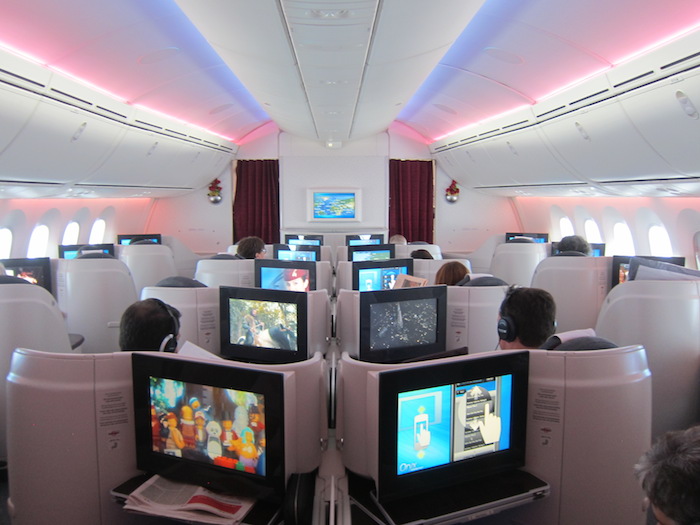 Qatar Airways Boeing 787 business class

For what it's worth, award availability on the route is quite good — I see four seats in business class on both flights on many dates in January. So if you want to be one of the first people in the world to fly the Airbus A350 on a commercial flight, this is your chance. You can't beat the value of booking through American AAdvantage, as they charge 30,000 miles one-way in business class, and don't impose fuel surcharges.
I'll post again once they actually solidify their schedule. Let's hope that their Airbus A350 service is a bit more reliable than their Airbus A380 service. After all, Qatar Airways is the only major airline in the world where the CEO personally inspects every single inch of every single aircraft they take delivery of. Airbus better make sure there are no scratches or carpet flaws then The Chief does his inspection!
Would you go out of your way to fly the A350, or is it just another plane to you?
(Tip of the hat to Sven)