While hardly significant in the grand scheme of things given that the arrangement only lasts a week, this is interesting nonetheless:
Finnair and LOT Polish Airlines have signed an agreement by which Finnair's New York route will be operated by one of LOT's almost brand new Boeing 787 aircraft from December, 27 2013 to January 2, 2014, due to scheduled maintenance of Finnair wide body aircraft. The agreement includes an option to continue the lease period until January 7, 2014, in case of maintenance delays.

On all flights the service is according to Finnair concept, and there is a Finnish purser on every flight. The rest of the crew is from LOT Polish Airlines.
So you have a LOT crew along with a Finnair purser on each flight. LOT's 787s have fully flat beds in business class, so it shouldn't represent too much of a downgrade in terms of product quality. Well, as long as they do Finnair catering and not LOT catering, which leaves a bit to be desired.
Quite funny to go to American's website and find award availability for a Finnair flight on a 787 operated by LOT Polish: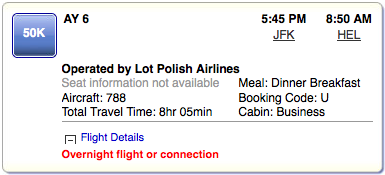 Anyway, this is one of the more unique solutions I've seen to figuring out a short term aircraft shortage due to scheduled maintenance.