Reader Tamara asked the following question in the Ask Lucky forum:
Hi Lucky!
I'm 33, I've travelled some around the world, but recently had a bad flying experience and have since developed one serious fear of flying. I can't even make it through a 40 minute flight without thinking of crashing, turbulence drives me crazy, I picture everything going wrong with the plane…the thought of a transatlantic flight sets me on panic mode and I have no option but to travel to Europe in a couple of months (I'm from LA). Any tips? Please? Help!
Believe it or not, I can relate. For a majority of 2013 I was terrified of flying. Terrified. I'd sweat profusely every time I flew, and a never-ending list of scenarios would run through my head of what could go wrong.
This followed my Royal Jordanian flight from Bangkok to Hong Kong in March 2013, which was the first time in my life I was convinced I was going to die. In my millions of miles of flying, it was my first time actually being scared on a plane.
Following that event I developed severe anxiety when it came to flying. I'm not typically an anxious person, but every time I got on a plane I considered all the things that could go wrong. During takeoff my palms would get sweaty. When we hit turbulence I'd grasp onto the armrest as if it was my first time on a plane. I couldn't sleep out of fear of waking up in a terrible situation.
It was horrible, almost like being in an abusive relationship. Airplanes are among my favorite thing in the world, but they made me feel terrible. But I kept flying and flying and flying. And a couple of hundred thousand miles later, I was over my fear of flying.
So how did I do it? The thing is that what fundamentally scares me about flying hasn't gone away — instead I've simply come to terms with it. To this day there are things I think about all the time when I get on a plane (and these are all things which have caused crashes):
What if the pilot is suicidal?
What if the cargo wasn't properly screened, and there's something which will explode after takeoff?
What if there's a fire over the ocean, and we can't divert?
What if maintenance on the plane wasn't done properly, and something vital comes loose after takeoff?
I realize saying that "out loud" to someone with a fear of flying might not sound like it would help, but for me it has. Because I can say that and still go "wow, despite all the things that could go wrong, tens of thousands of planes fly safely every day." So in a way it's comforting to me to know everything that could go wrong, but still realize that my odds of dying are one in several million.
Perhaps it's more comforting in the context of the other things which can kill you, like coconuts falling on your head, champagne corks, tripping, ladders, and lightning.
What seems to scare people most about flying is turbulence, and I think that's an area where people should be at ease — turbulence won't be what takes down a plane. Planes are built to withstand major turbulence, so that should be the least of your concerns.
https://www.youtube.com/watch?v=DAOU2Ch6fhw
Lastly, I find it comforting to come to terms with all of the things which actually have a good chance of killing me — health issues, driving, etc. By being up in the sky I'm at least shielded from many of the other things which can kill me!
Bottom line
There's no easy solution to getting over a fear of flying, unfortunately. But instead I can simply say that I was in exactly the same situation, and was terrified of flying, even though I realized it was irrational. A couple of hundred thousand miles later it became "normal" again. While what fundamentally concerns me about flying doesn't go away, I also acknowledge how good my odds are, and how many other things I should be worried about instead.
I'm also terrified of cable cars, even though I admit it's an irrational fear. When I take one for the first time in a while, I'm always sweating and shaking like crazy. But the more I take them over a short period, the better I feel about them.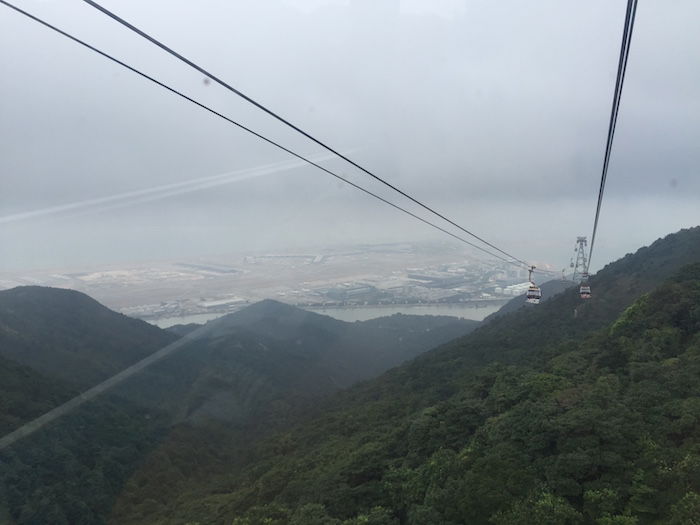 In the meantime I'll still view flying as a miracle. I have no clue how it's so safe given what's actually happening, but it is. And I like statistics, so I'm okay with that. But that won't stop me from pondering what can go wrong every few flights.
Sorry for rambling. I guess my real "bottom line" is "you're not alone, hang in there."
Have you ever had a fear of flying, and if so, how did you deal with it?