Full disclosure: This experience is in conjunction with the Starwood AmEx Stars program I'm participating in, courtesy of the Starwood American Express. They covered the cost of my flights to New York, my two night stay at the Westin Times Square, and tickets to the US Open. That being said, all opinions expressed are my own.
Even though I write this blog as "Lucky" (I'm not actually sure why), perhaps sometimes I share a bit too much of my personal life here, for better or for worse. And this is no exception. Of all the "AmEx Stars" events I got to attend, this is the one I was most excited about, especially because I was able to take my mom with me. My family loves tennis. My brother was a nationally ranked tennis player when he was younger, and my first memories of travel are when I was just a few years old and traveling with my mom and older brother to tennis tournaments around the country (I played tennis when I was younger as well though was never any good, thanks largely to the fact that I have the hand-eye coordination of a dog). So growing up I remember the US Open being on TV at home every Labor Day weekend, depriving me of the "Rugrats" and "Hey Arnold."
But that's only part of the equation. While I talk about my older brother, what I don't mention is that we both had an older brother that unfortunately passed away in an accident when I was very young. The reason I mention this is because both his birthday and the day he passed away fall over Labor Day weekend, so for my mom it's by far the toughest week of the year, even after 20 years. Not only is it because of the timing, but also because both of my older brothers loved tennis.
So for a while now I've had the goal of taking my mom to the US Open one year instead of watching it on TV, since I figure it'll not only get her mind off things, but she's also a huge tennis fan. Obviously this proved the perfect opportunity, and I'm hoping to make this an annual trip with her from hereon out after what a great time we had.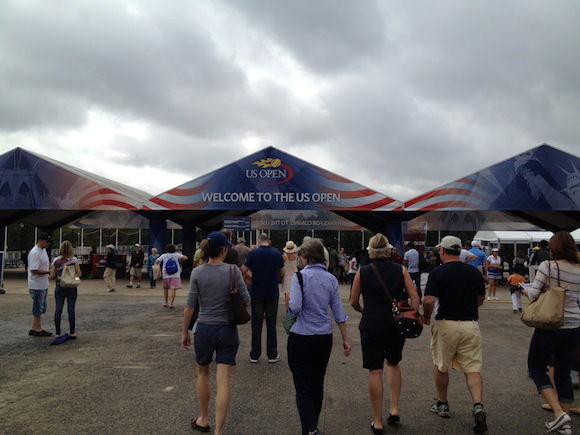 Entering the facility
We were given amazing club level seats in Arthur Ashe Stadium for Tuesday, September 4, which we were very much looking forward to as there were some great matches lined up.
The first match was between Victoria Azarenka (who is ranked number one in the world) and Samantha Stosur (who won the US Open last year). Unfortunately we had the worst luck ever when it came to the weather, since about 15 minutes after starting play the first rain delay was called.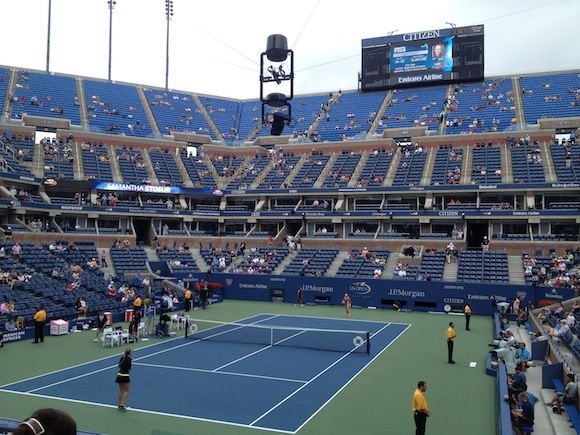 Arthur Ashe Stadium
What followed was at most two hours of tennis over the next eight hours, with constant delays.
During the first delay we had lunch at Aces, which is the club level restaurant.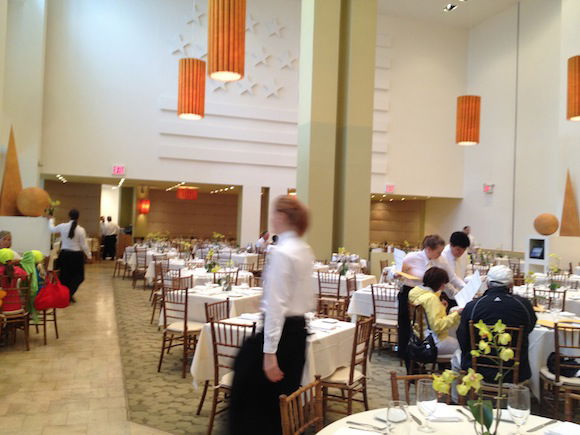 Aces Restaurant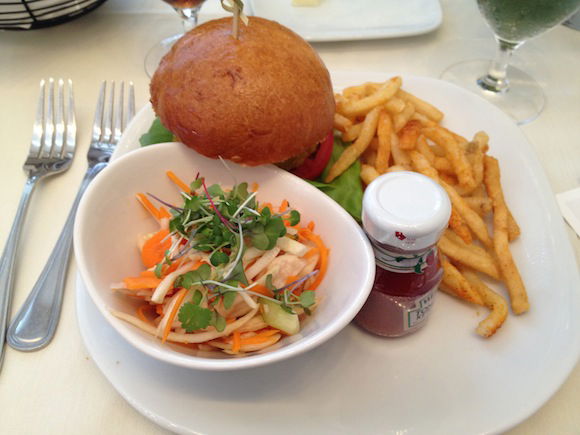 Crab cake sandwich

After hours of delays Azarenka won in three sets in which turned out to be a great match, and the next match began, between Maria Sharapova and Marion Bartoli. After just a few minutes of play a rain delay was called, and the match didn't resume till the following day, which wrapped up our day of tennis.
Fortunately during the rain delay I got to check out some of the sponsor exhibits, including the American Express Fan Experience and Emirates first class suite.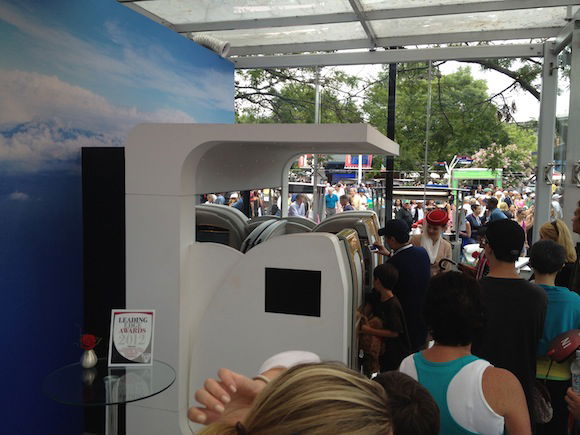 Emirates first class suite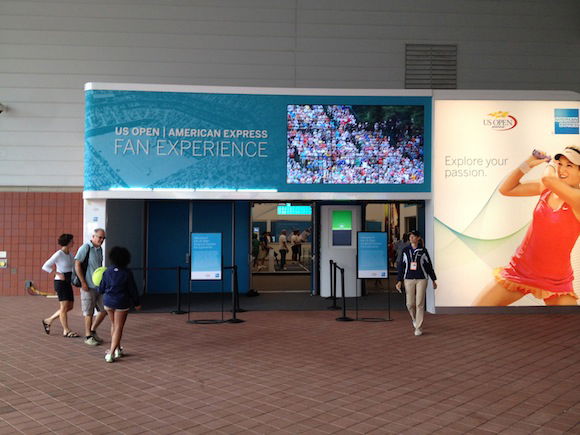 American Express Fan Experience
The following evening we attended the Starwood American Express card member event, which is available exclusively to card members of the Starwood American Express on a first come first serve basis. There are fewer than a 100 tickets available, and I believe they retail for $110 each, which includes night tickets to the US Open.
The event was being held in the hospitality pavilion.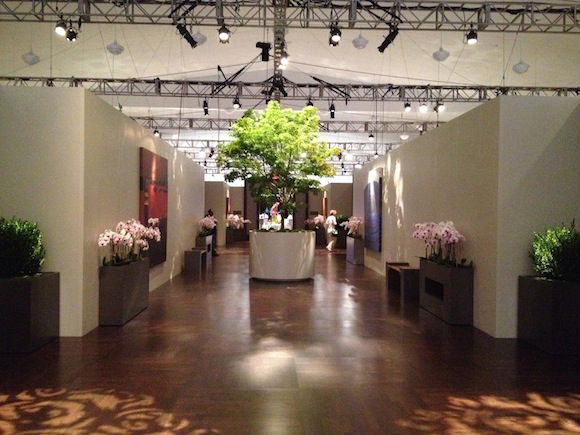 Hospitality Pavilion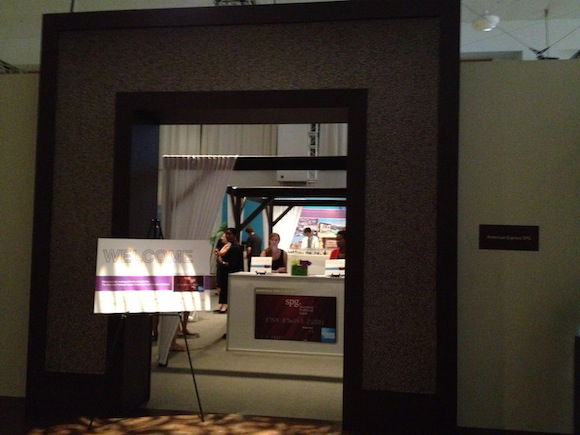 Card member event entrance
These events are awesome because it's a great opportunity for card members to interact with executives from both Starwood and American Express. Beyond that drinks were free flowing and there was a buffet with some great food. Andy Roddick was actually playing during the event so my mom and I were both a bit distracted watching the TV, as this also happened to be his retirement match. It was pretty rough watching him lose that match.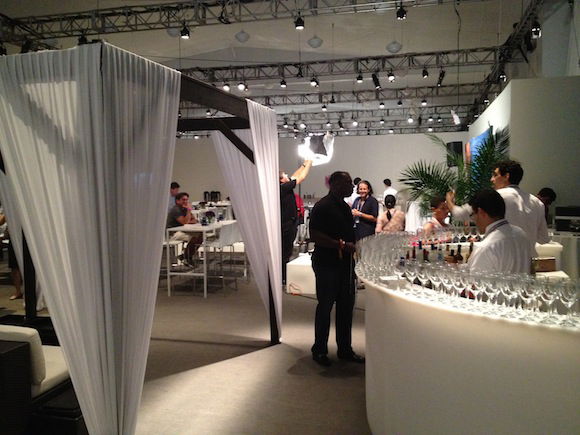 Card member event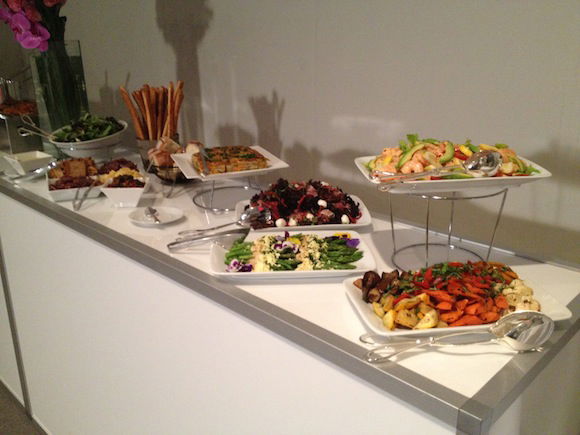 Buffet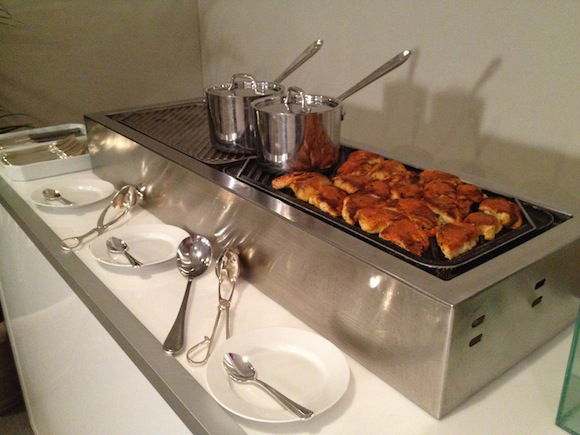 Buffet
American Express also usually has a "celebrity guest" at these card member events, and in this case it was Lindsay Davenport, who used to be the number one tennis player in the world. She held a Q&A and was then available for autographs and pictures, so it's a great way for tennis fans to be able to interact with her.
After that it was back to Arthur Ashe Stadium for some night time tennis. Admittedly this time we were a bit further up so it wasn't quite as great as the day time tennis we saw, though being in a stadium is all about the "vibe," which is present no matter where you're seated. This time it was Serena Williams vs. Ana Ivanovic, which was a quick two-setter.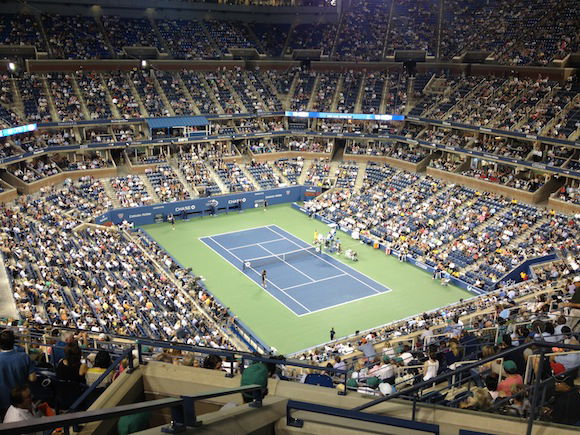 Night time tennis
Anyway, while I had a great time, my mom had an especially awesome time, and I hope I can take her back in the future. If I went next year I'd certainly pay the $110 for the Starwood American Express event and evening tickets, if they had a similar experience available. And my goal has actually become to take my mom to one of the other major tennis tournaments in the next year, given how much she loves tennis.
But more than anything else this event really convinced me about the fun of seeing things "live." Before I went I said to myself that I might as well just watch the matches from home in my air conditioned living room on a comfortable couch instead of dealing with uncomfortable seats, lines, and rain delays. But there's something fun about actually being there and experiencing it firsthand, so I'd really love to attend more "live" events, be it a music concert or tennis match.
Thanks again to the Starwood American Express for this awesome experience!