Garuda Indonesia has what I've called the mileage deal of the decade at the moment, as they're offering 90% off award tickets booked through the end of the year. Unfortunately it's also the most mind-numbingly confusing and convoluted airline promotion of the decade. For those of you not up-to-date on this situation, here are my previous posts:
Before I share a reader's experience with this promotion, I had a couple more thoughts to share:
Garuda Indonesia: get with the program!
Let's forget about this specific promotion for a moment. I can't for the life of me wrap my head around Garuda Indonesia's award ticketing process. The airline recently began allowing online ticketing of awards, which is great.
Prior to that, they had possibly the most convoluted award ticketing system of any airline. You had to call them to hold the award, then had to complete a form and bring your original frequent flyer card to a sales office to ticket.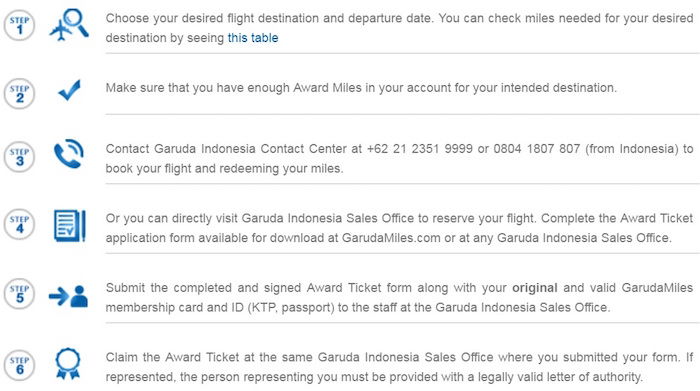 That's a horrible system, but what's even more confusing is that they haven't updated this. So if your award can be ticketed online you can complete the process in just a few minutes without leaving home, while the alternative is having to show up at an office in person? I don't understand the two extremes, or how they can justify that.
What is Garuda Indonesia thinking with this promotion?
On the surface this is one of the most puzzling promotions we've ever seen. What airline intentionally offers 90% off anything?! With this promotion, a first class ticket from Jakarta to London is less expensive than an economy ticket from Jakarta to Bali would usually be. While extremely generous, that simply doesn't make any sense.
But the more I thought about it, the more I feel like it's sort of brilliant. My guess is that Garuda Indonesia's logic behind this promotion was to generate some positive buzz around their product. Giving people the opportunity to try their world class product for next to nothing will generate a lot of publicity and will get a lot of people talking about the airline.
Ultimately it's not going to cost the airline much, since saver level award seats would typically go out empty anyway. While airlines can spend millions of dollars on big ad campaigns, they can arguably get even more publicity through people sharing their experiences on social media.
I still assume Garuda Indonesia's goal is to generate a lot of buzz, though it sort of seems like it's backfiring. C'mon Garuda Indonesia, I love you guys more than I've loved any airline in a long time, but this is causing headaches rather than generating goodwill:
If they really want to make this a positive experience, they should make this award deal available for online bookings, so that everyone can take advantage of it.
At a minimum, they need to do a better job setting expectations, as no one really seems to know what's going on. Where are Garuda Indonesia ticketing offices (the lists online are apparently incorrect)? Can these awards be ticketed by phone? Will a U.S. credit card work? Can you ticket an award in someone else's name? Do you need your original membership card?
C'mon Garuda Indonesia, you guys could generate a lot of goodwill through this offer (which I assume is the intention), but you've gotta do a better job than this.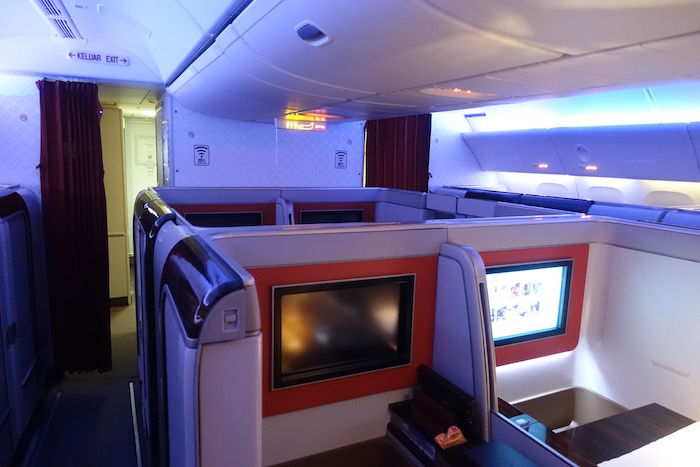 A reader's experience ticketing a first class award
We've heard a lot of stories of people being able to put itineraries on hold, which can be done without even having enough miles in your account. However, we haven't heard many stories of people actually being able to ticket these awards.
However, reader JL was able to successfully ticket an award. Here's what he had to say about his experience:
You're best off calling the Garuda Indonesia call center during "local" business hours, as someone picks up almost right away (many of us have been on hold and then disconnected after a couple of minutes, but that's probably due to the hours we're calling).
There's a special number for first class passengers (both those booking revenue and award tickets), so perhaps consider calling there. That call center can be reached at +622129655777.
It's not possible to mix classes on these awards, so he had to pay extra for his connection in business class (which isn't much of an issue at 90% off).
He went to Garuda Indonesia's city ticketing office in Singapore, where he had no trouble buying miles in person. The rate is even better than the $30 per 1,000 miles we thought, as the cost is 275000IDR per 1,000 miles; just make sure you request they price it in IDR rather than USD.
The taxes and carrier imposed surcharges for a first class roundtrip ticket between Asia and Amsterdam came out to ~$430.
He said the process was easier than he expected, and that the phone call and ticketing experience in the office was easy, as the 90% off rate was automatically calculated.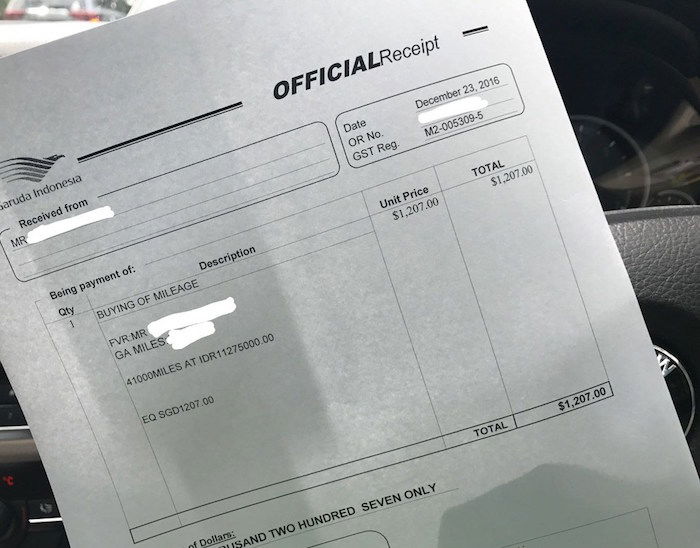 This raises more questions
So it seems like taking advantage of this promotion is reasonably easy if you live near a Garuda Indonesia ticketing office. The issue is that we're not sure if any of the U.S. offices actually exist, and if they do, whether they actually ticket awards.
But for those in cities like Singapore, this seems like a straightforward enough process. Perhaps the biggest questions now are:
Can awards be ticketed in the name of someone not related to the account holder?
Can you send someone on your behalf to ticket an award out of your account?
Is the passport of the passenger required to ticket the reservation in either of those circumstances?
Goodness gracious, this is an adventure…
Has anyone else successfully ticketed a Garuda Indonesia 90% off award?