Ready to earn rewards for your business spend?
Brex Cash was recently introduced, and I wrote in a separate post about why this is so great. I signed up for an account a while back, and wanted to report back on my experience.
I've earned over 110,000 points (which can be transferred to airline partners) without a credit pull and without paying a dime in fees. This is quite literally an unprecedented opportunity.
These are probably the easiest points I've ever earned (easier than any credit card sign-up bonus), and best of all, I have a business cash management account that I actually like, and plan to keep long-term.
In this post, I wanted to break down the value of Brex Cash in basic terms, share my experience applying, and also share some tips for getting approved. For anything not answered in this post, see our Brex frequently asked questions.
Why you should get a Brex Cash account
Brex Cash is a cash management account that functions much like a business or corporate checking account (although it isn't a bank account). In other words, you link your business checking account, and then you can transfer funds and then use your Brex account for everything from payroll to business purchases.
If you're eligible you absolutely should apply, in my opinion:
In order to qualify, your company must be a C-corp, S-corp, LLC, or LLP (sole proprietorships don't qualify)
If you have multiple businesses, you can apply for a Brex Cash account for each business (and each business would be eligible for the welcome bonus)
Rewards earned through Brex Cash aren't taxed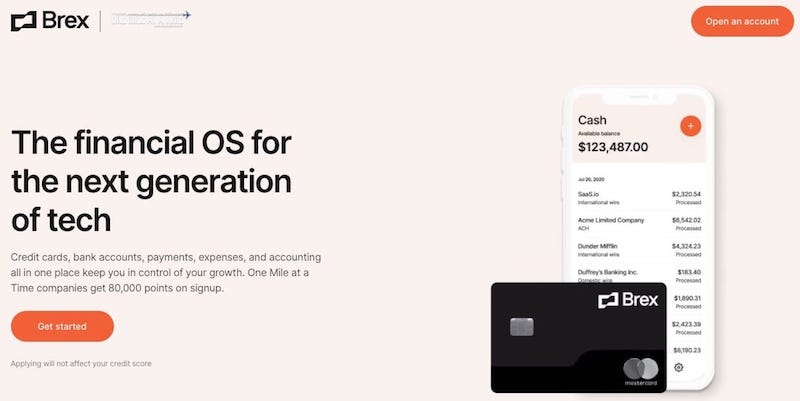 There are two reasons you should get a Brex Cash account — there's a huge bonus when you sign up, and then there's lots of value in keeping a Brex Cash account.
Earn 110,000 easy points with no fees or credit pull
One reason to get a Brex Cash account is because you can earn up to 110,000 bonus points. Points can be redeemed for one cent each cash back, or my preferred use would be to transfer them 1:1 to airline partners (these include Air France-KLM Flying Blue, Avianca LifeMiles, Emirates Skywards, JetBlue TrueBlue, Singapore KrisFlyer, and more). See this post for everything you need to know about redeeming Brex points.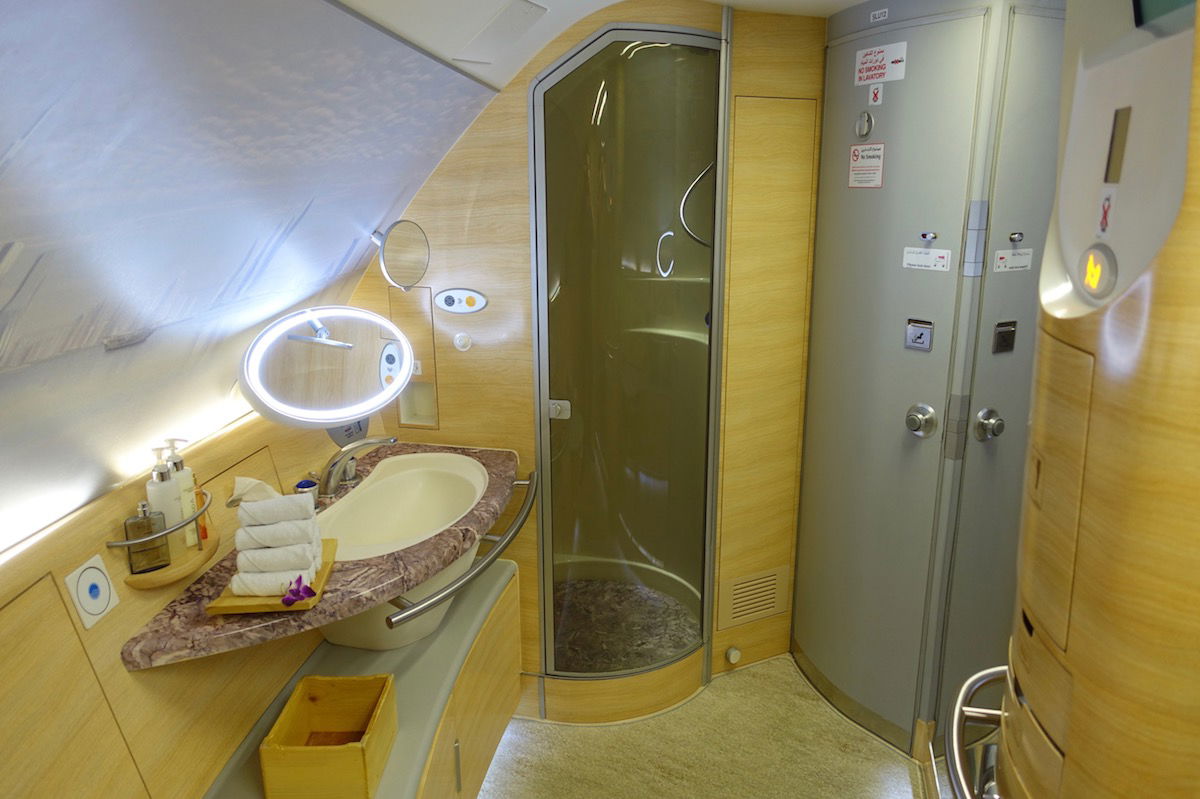 Redeem your Brex points for travel in Emirates first class
That's right, we're talking about 110,000 points for a no fee account, and there's not even a credit pull.
Here's how that bonus is broken down:
Earn 80,000 bonus points after spending $1,000 on your new Brex Card (this is an exclusive, limited time offer for OMAAT readers)
Earn 10,000 additional bonus points after spending $3,000 on your next Brex Card within the first three months
Earn 20,000 bonus points when you link payroll to your Brex Cash account
And yep, it's really that easy — I have over 110,000 Brex points in my account already.

Earn 80K points as an OMAAT reader, plus up to 30k additional bonus points!
Why a Brex Cash account is worth keeping
The Brex Cash bonus for new accounts is obviously something to get excited about. However, beyond that, there's value in keeping a Brex Cash account in the long run. Just to summarize a few highlights:
Brex Cash is as no-fee as accounts and cards get — there are no account management fees, no foreign transaction fees, no ACH fees, no wire fees (even internationally), etc.
Brex Cash offers some industry-leading bonus categories for spending on your Brex Card, like 8x points on rideshare, 4x points on restaurants and dining, and more
Brex Cash offers perks with all kinds of partners, ranging from Amazon Web Services, to Dropbox, to Slack
Brex Cash offers virtual card numbers for added security, which can be useful for online purchases, subscriptions that auto-renew, etc.
There are so many other reasons to hold onto a Brex Cash account, and it's also worth noting that all deposits at program banks are FDIC-insured up to $250,000.
My experience applying for a Brex Cash account
The process of applying for a Brex Cash account with an S-corp took me just over five minutes.
To briefly walk through the process, when applying you have to first provide some basic personal details, including a work email address. There's no need to enter a referral code for the bonus of up to 110K points, as long as you use the OMAAT link.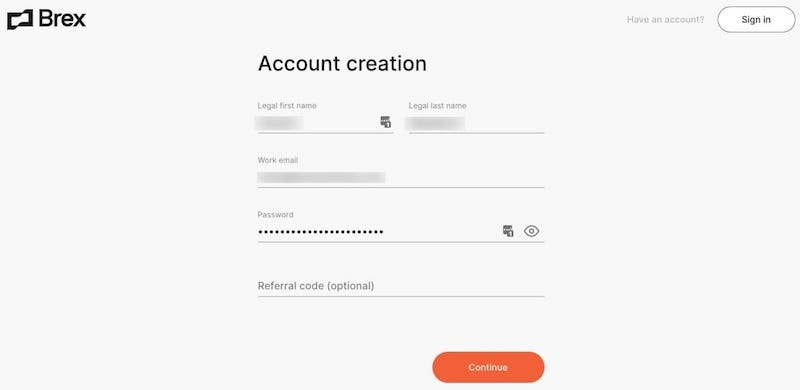 Then you'll have to enter some information about your business.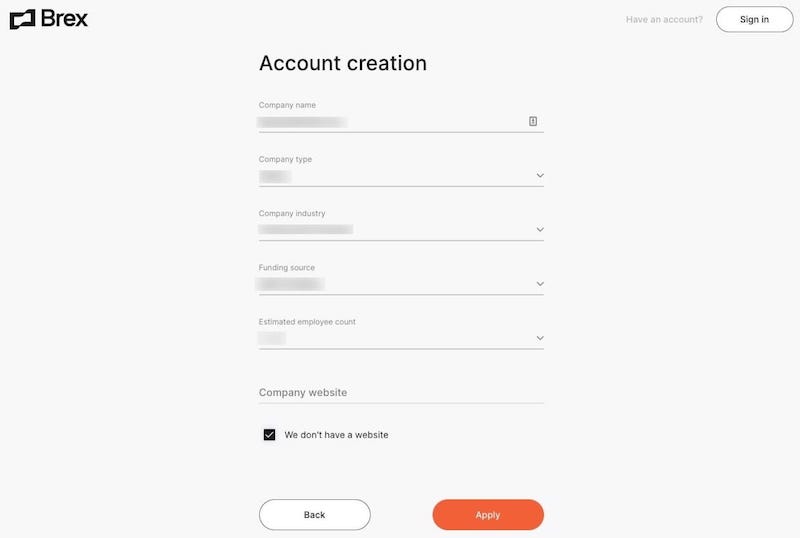 Depending on your type of business, you may then be presented with several account options. If you're presented with this, you'll want to select the "Cash" account option, since that's what offers this great promotion.
If you don't see this page, don't worry. Generally businesses that are self-funded and/or are not tech companies will automatically be enrolled in Brex Cash, which is what you want anyway. This is intended to simplify the process.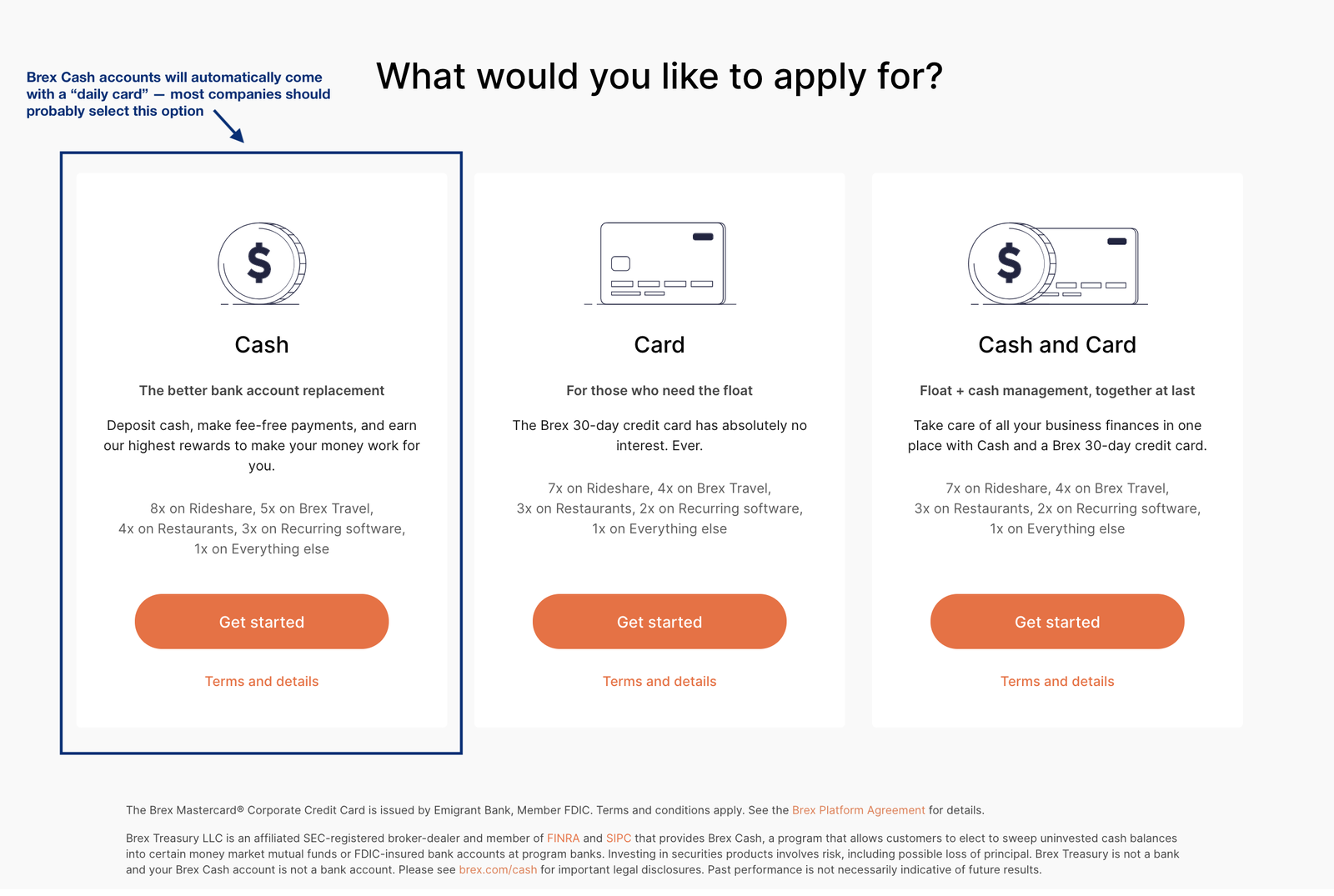 Next, you'll be asked to enter some more business details.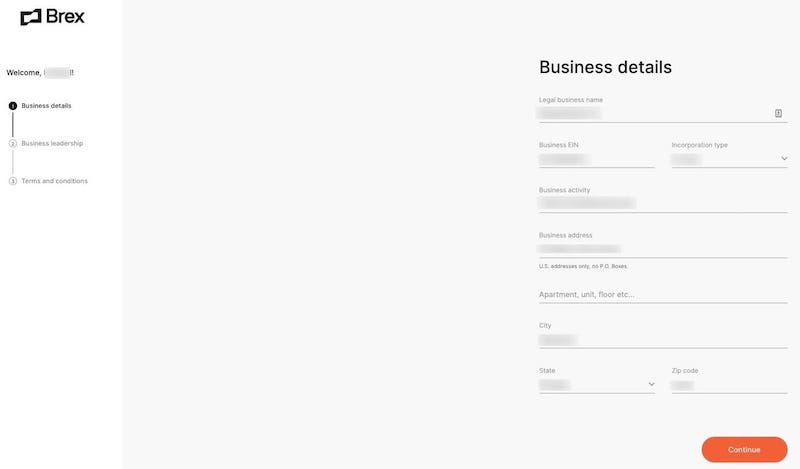 Depending on your business type, you will need to enter details on the various company owners, including their social security numbers due to federal data-collection requirements.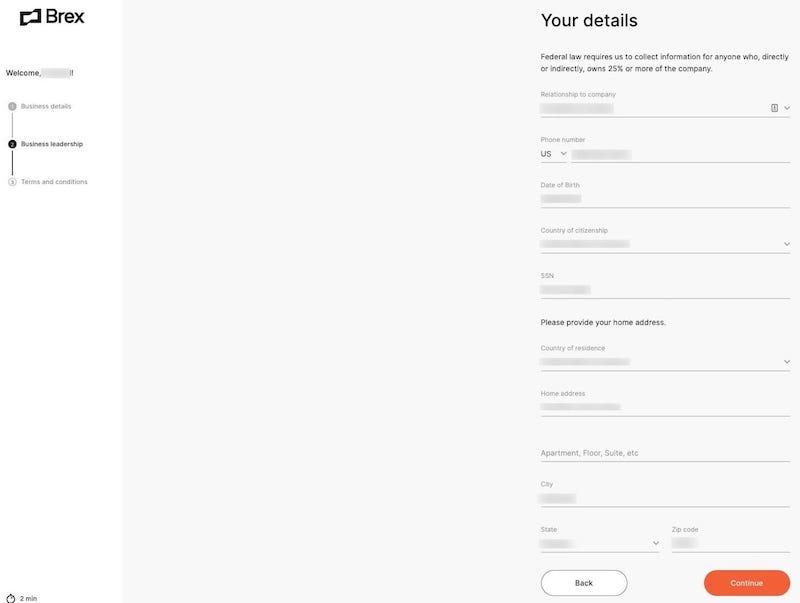 Once that's complete, you'll have to upload a copy of your photo ID, which could be your passport, state ID, permanent resident card, etc.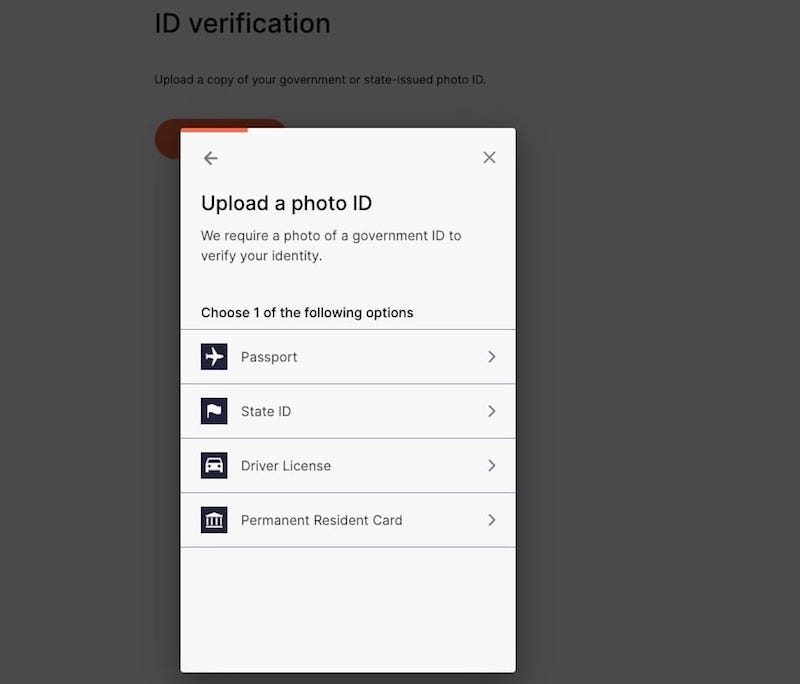 Once all that info is submitted and you've clicked a link in your email, you may be instantly approved (or in some cases further processing is required). If you are approved, you'll instantly have access to your Brex Cash account, and can start using your account immediately. It's that easy!

As you'd expect & hope (based on this ultimately being a quasi-tech company), the Brex online experience is much better than your typical online banking experience.
Tips: how to get Brex Cash instant approvals
People are overwhelmingly being instantly approved when applying for Brex Cash accounts, though that's not the case for everyone.
While I can't speak to every specific case, Brex has shared with us that the most common reason for not getting an instant approval is when Brex can't collect the information needed to verify a business, which is most common for companies without much of an online presence.
To be clear, if you don't get instantly approved, that doesn't mean you'll necessarily be denied. You definitely could still be approved, it's just that some manual processing is required.
To maximize your odds of being approved instantly:
Make sure you have a valid business (that isn't a sole proprietorship)
Make sure you select the Brex Cash option if you're presented with it during the application process
Ideally enter your actual business email address and business website, rather than using a personal email
Bottom line
Brex Cash is a phenomenal business cash management account. For starters, you can earn up to 110,000 bonus points when you apply and complete certain activities. That's unheard of for a no-fee account that doesn't even involve a credit pull.
It's not just the great bonus that makes Brex Cash worth considering, but also the ongoing value that it can provide to your small business. This is an innovative product, and the Brex Cash concept doesn't currently have any real competitors. Brex has developed a niche, and I can't wait to see how the product evolves over time.
If you're eligible, I'd highly recommend applying for a Brex Cash account with the current limited time bonus.
Get up to 110K points with a no-fee Brex Cash Account