As I wrote about yesterday, Etihad and Lufthansa held a joint news conference in Abu Dhabi today to discuss the expansion of their partnership. While the announcement wasn't about Etihad joining the Star Alliance, the cooperation between the two airlines has greatly been expanded.
Etihad and Lufthansa have entered a $100 million, four year, global catering agreement, where Lufthansa's LSG Sky Chefs will provide catering services for Etihad in 16 cities in Europe, Asia, and the Americas
The two airlines have signed a Memorandum of Understanding to cooperate in aircraft maintenance, repair and overhaul
The airlines will co-locate at Lufthansa's hubs in Germany; Etihad will move from Terminal 2 to Terminal 1 in Frankfurt, and from Terminal 1 to Terminal 2 in Munich (I'm curious what this means for lounge access)
Perhaps the bigger message is that the airlines plan to continue to broaden their commercial partnership going forward, and this is only the beginning
The previously announced codeshare agreement between the two airlines kicks off today, for Etihad flights between Abu Dhabi and Germany, and Lufthansa flights between Frankfurt and Rio de Janeiro and Bogota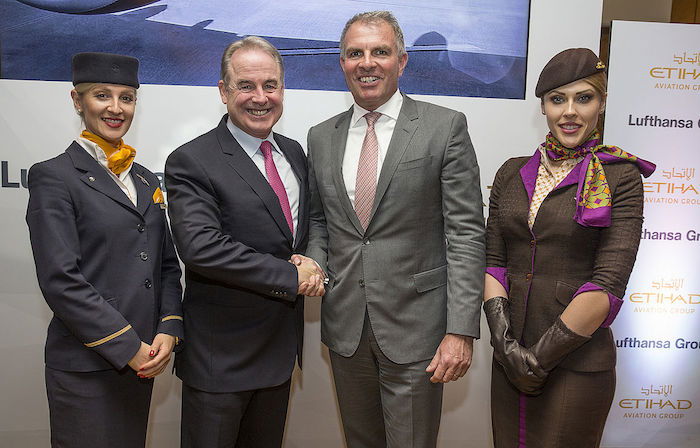 Live and Let's Fly stayed up to watch the news conference, and has some interesting commentary on it, in particular about what Lufthansa's CEO had to say about working with an airline as subsidized as Etihad Airways, and about the importance of alliances.
Yesterday I also wrote about the rumor of Etihad possibly joining the Star Alliance. As I said in the post, I didn't necessarily think this was something that would be announced in today's news conference, but rather that it's something in the work that's fairly close to being completed. My opinion on that stays the same; only time will tell whether that rumor is true or not.
Bottom line
Today's announcement primarily confirmed a lot of what we already knew, and also concerned catering and maintenance, which doesn't really impact consumers much directly. However, there was certainly the undertone of expanded cooperation, which I think is the key takeaway here. I suspect there's a lot more coming soon…