Etihad Airways, the national airline of the United Arab Emirates, announced today that they'll be launching nonstop daily service to San Francisco as of November 18, 2014.
The new route will be operated by a three cabin 777-300ER, featuring eight first class seats, 30 business class seats, and 308 economy class seats.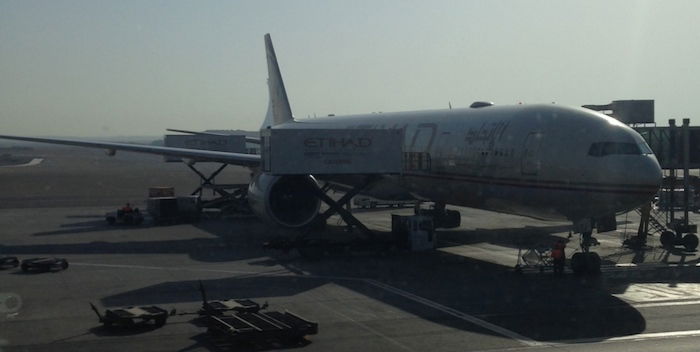 Etihad 777-300ER
With the rate at which they're expanding, you're probably wondering where the aircraft for this route is coming from. Well, this route will be operated by one of the Jet Airways aircraft which Etihad Airways is leasing. Etihad crews will still be working the flights, with the same food/drink as you'd get on an Etihad aircraft.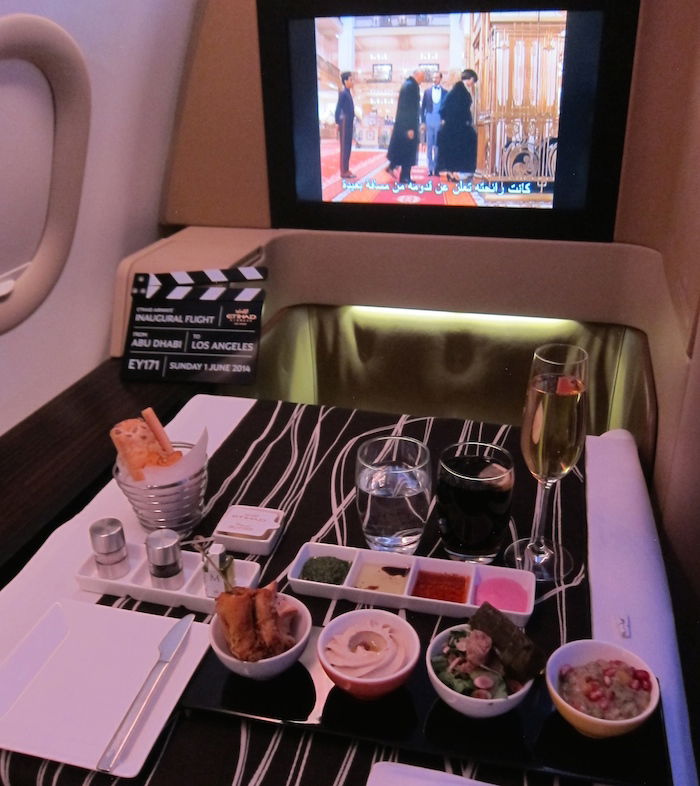 Etihad first class meal service
For more information about Etihad's first class services, check out my review of the Etihad first class lounge Abu Dhabi, and my recent Etihad first class flight from Abu Dhabi to Los Angeles.
This will be Etihad's fifth US destination, after Chicago, Los Angeles, New York, and Washington. Etihad will also be launching service to Dallas as of December 3, 2014.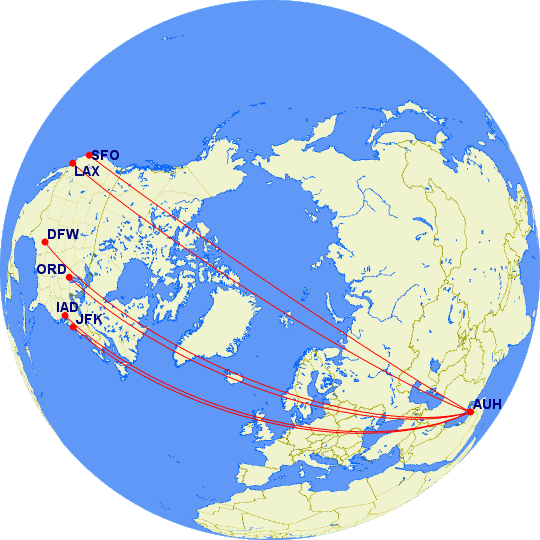 Etihad's USA destinations
The schedule for the new San Francisco flight will be as follows:
EY183 Abu Dhabi to San Francisco departing 2:15AM arriving 6:30AM
EY182 San Francisco to Abu Dhabi departing 8:30AM arriving 12:40PM (+1 day)
It's worth noting that this schedule is different than most of Etihad's other US-bound flights. Most of them depart the UAE in the morning, arriving in the US in the afternoon, and then turn around in the evening, arriving back in the UAE in the evening.
For example, here's the schedule for Etihad's Los Angeles flight:
EY171 Abu Dhabi to Los Angeles departing 8:45AM arriving 1:20PM
EY170 Los Angeles to Abu Dhabi departing 3:55PM arriving 8:20PM (+1 day)
In the case of Etihad's San Francisco flight, you have a westbound redeye and then morning departure out of the US. I definitely prefer the westbound redeye, though am not a fan of the eastbound morning departure. On the plus side, this means you'll get to skip the US pre-clearance facility in Abu Dhabi, as it's only open for the morning departures out of Abu Dhabi.
Once launched, this will be the longest nonstop flight into San Francisco, beating Emirates' flight to Dubai by ~50 miles. The flight is blocked for 16hr15min westbound and 16hr10min eastbound, so it's definitely an ultra-longhaul.
Bottom line
This is a very nice addition for those in the Bay Area, especially since Etihad is historically fairly generous with releasing first and business class award space. Unfortunately it looks like Etihad hasn't loaded any award space yet. Once they do, here's a tutorial on searching Etihad Airways award space.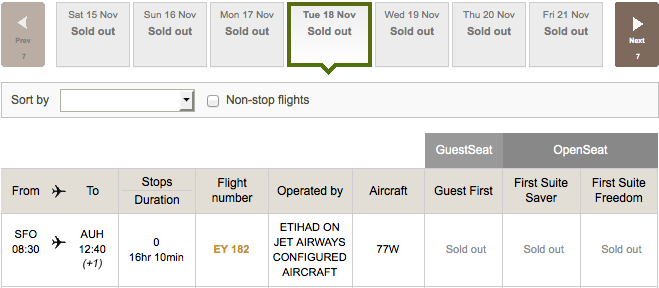 No award space yet!
I do wish the flight were operated by an Etihad aircraft rather than a Jet Airways aircraft, and I do wish it didn't leave from San Francisco so early in the morning, but for such a longhaul flight those are ultimately minor quibbles.
I'm sure eventually the flight will be operated by one of Etihad's own planes, as they have a lot on order.
Do you plan on taking Etihad's new San Francisco flight?