With the US electronics ban about to be implemented, airlines are outlining their policies for how they're going to deal with this. Both Emirates and Turkish have announced that they'll let passengers take their electronics all the way to the gate, and will then allow passengers to check them there. They'll be securely packaged, and upon arrival in the US they'll separately be brought out to passengers.
I appreciate the effort they're putting into the system. While it doesn't totally solve the problems the electronics ban causes, at least I feel they're doing what they can to minimize the risk of electronics being stolen or damaged, and are also minimizing how long passengers will be separated from them.
Well, now Etihad has announced their electronics ban policy, and it's… confusing.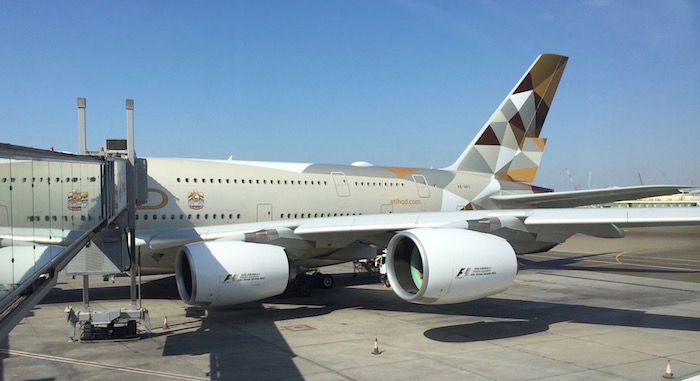 Here's their press release:
Effective March 25, passengers on all US-bound flights from, or transiting through, Abu Dhabi International Airport will not be permitted to carry electronic devices bigger than a smart phone or mobile into the aircraft cabin.

Items such as laptop computers, tablets including iPads, gaming devices, cameras and e-readers will be required to be placed in checked-in luggage. Medical devices are exempt and can be carried onboard.

US-bound passengers traveling via Abu Dhabi must check-in their electronic devices at the point of origin. The directive, issued by the US Transportation Security Administration, does not affect flights departing from the United States.

At Abu Dhabi International Airport, all Etihad Airways guests traveling to the United States clear US Immigration and Customs at the US Preclearance facility in Terminal 3 – the only one of its kind in the Middle East. When guests land in the US, they arrive as domestic passengers with no requirement to queue for immigration checks again. Due to the additional security measures, Etihad Airways will deploy more staff at the US Preclearance facility to provide assistance.

Guests must pack the prohibited items in their checked baggage prior to reaching the Preclearance facility in Abu Dhabi. Any prohibited electronic devices will have to be declared and placed in padded envelopes before being securely taken to the aircraft luggage hold by staff. Such items will be returned to guests on arrival in the US, while conveniently, other items of checked-in luggage can be collected at the final destination in the United States.
The press release very clearly states that all electronics need to be checked at the point of origin prior to going to the gate, so it sure seems like Etihad isn't taking the same approach as Emirates and Turkish.
Now, in fairness Etihad has a US Pre-Clearance facility, meaning that passengers have to clear US immigration before even being able to get to their gate. I imagine the electronic device screening will be done at that facility, rather than at the gate. However, you'd think the solution would be that they would collect electronic devices right in front of the facility. It shouldn't be much more complicated than any other carrier's setup.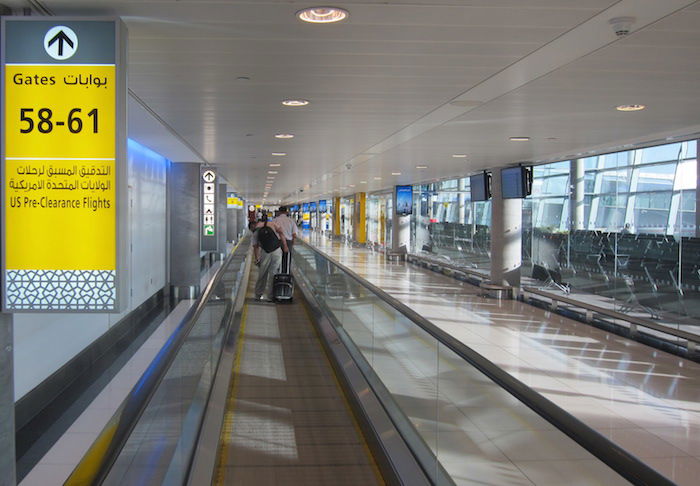 While Etihad does state you need to place your electronics into your checked bags, they also say "any prohibited electronic devices will have to be declared and placed in padded envelopes before being securely taken to the aircraft luggage hold by staff." So while they're encouraging people to check electronics, it's not a "use it or lose it" situation in the event that you don't check your electronics, at least based on how I read it.
Regardless, assuming Etihad means what they say, this is certainly the least customer friendly policy we've seen so far from an airline subjected to the ban. I have a hard enough time being separated from my electronics, but just checking them at the point of origin is something I could never do in good conscience.