Ethiopian Airlines is Africa's fastest growing large airline, and the amount that they've expanded globally the past few years has been impressive.
In terms of their North American destinations the airline presently flies:
Daily from Addis Ababa to Dublin to To Washington Dulles to Addis Ababa using a 777
3x weekly flight from Addis Ababa to Dublin to Los Angeles to Dublin to Addis Ababa using a 787
3x weekly from Addis Ababa to Lome to Newark to Lome to Addis Ababa
3x weekly from Addis Ababa to Dublin to Toronto to Addis Ababa using a 787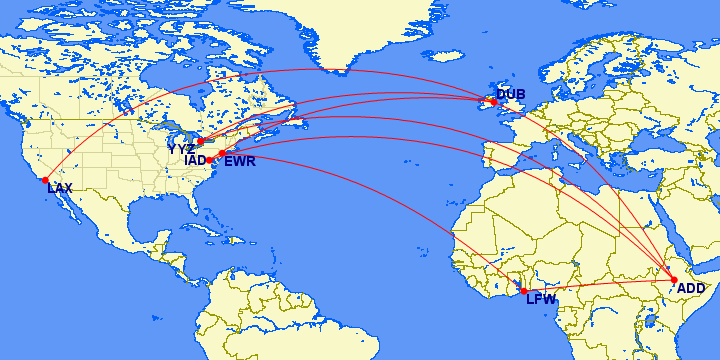 The reason that all of the flights from Addis Ababa to North America have a stop is because of the altitude of Addis Ababa's airport. Planes have reduced takeoff performance at high altitudes, so they can't carry a full payload and operate ultra longhaul flights from there.
For Ethiopian's flights to Toronto and Washington, the stop in Dublin is simply for refueling, and the airline doesn't have pick-up rights. Meanwhile for Ethiopian's flights to Los Angeles and Newark, the airline has pick-up rights in Dublin and Lome, respectively. I guess they figure there's enough of a local market that it's worth making the stop in both directions.
Ethiopian Airlines has just announced plans for their latest US expansion. The Reporter Ethiopia notes that Ethiopian Airlines' CEO says that the airline wants to start flying between Addis Ababa and Chicago in June 2018. The flight isn't yet bookable and exact details haven't yet been announced, so for now I'd think that the route is likely, though not a sure bet.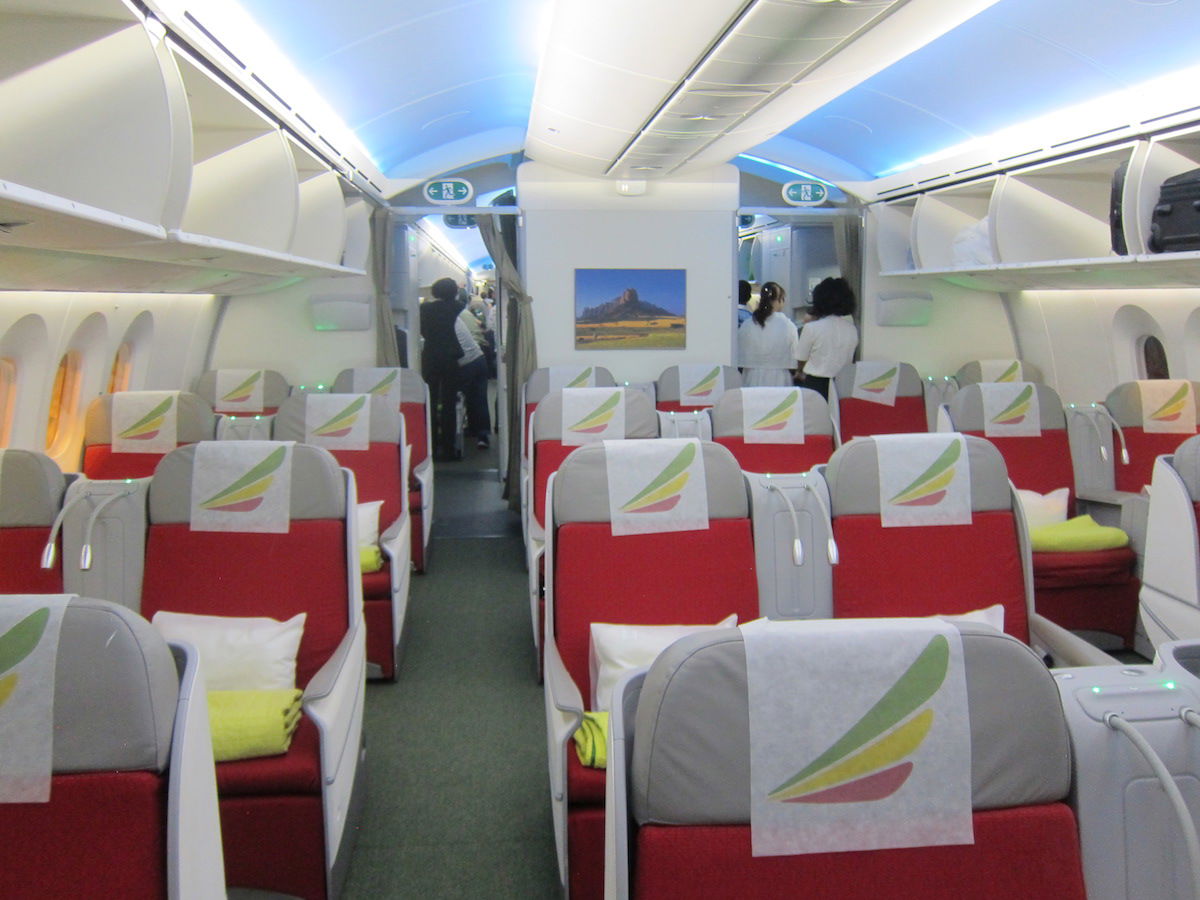 Ethiopian Airlines 787 business class
What remains to be seen is whether this route will just have a standard refueling stop in Dublin, or if they'll actually operate the flight via Dublin in both directions, and serve that market as well, as they do out of Los Angeles.
As of now Chicago doesn't have any direct links to Africa (shockingly Global Ghana Airlines' flight from Chicago to Accra didn't launch last week as proised), so this will open up a lot of one-stop routings between Chicago and destinations in Africa. Furthermore, Chicago is a United hub, so they have the further benefit of potentially having quite a few connecting passengers.
I can see merit to the route, though I'm curious how they structure it, and whether they'll have pick-up rights in Dublin (Chicago to Dublin is a big market, after all). This route certainly seems more realistic than the proposed flights to New York from both RwandAir and Kenya Airways.
What do you make of Ethiopian Airlines adding flights between Addis Ababa and Chicago?