When we first booked this trip, this sector was scheduled to be operated by a 787, the same plane I flew from Beijing to Addis Ababa. While that hard product was already disappointing, it was infinitely better than the business class product on the 767, which our flight got switched to about a week before departure.

Ethiopian 767

Ethiopian 767
Ethiopian 767 business class seat
My understanding is that Ethiopian has several 767 configurations, given that they acquired many of them from other airlines and haven't bothered to standardize the cabins.
On this particular plane, there were a total of 24 business class seats spread across four rows in a 2-2-2 configuration. The product was what you'd expect in the 90s, with comfortable lounger chairs that aren't even slightly competitive 20 years later.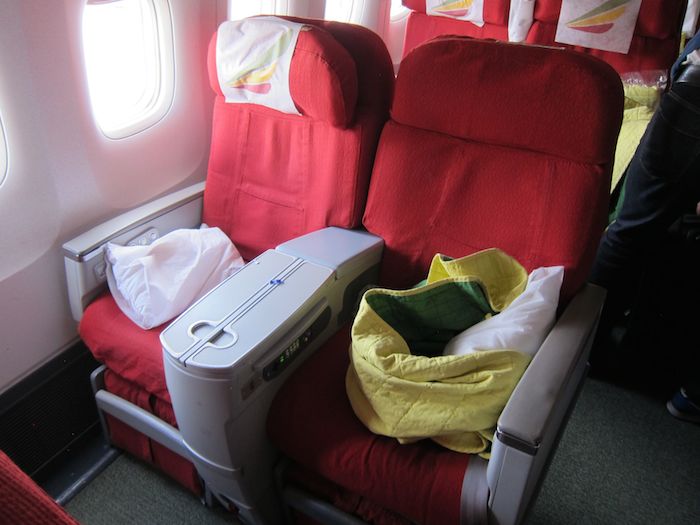 Ethiopian 767 business class seats

Ethiopian 767 business class cabin
To the right of the seat were the entertainment controls.

Ethiopian 767 business class entertainment controls
And to the left of the seat were the seat controls.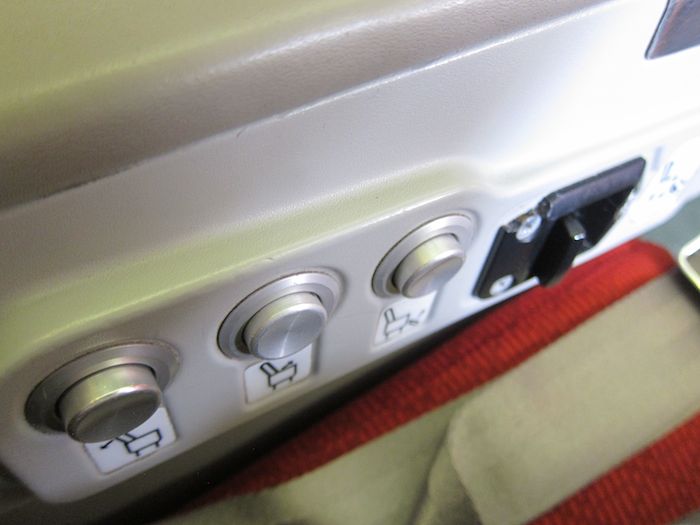 Ethiopian 767 business class seat controls
The plane didn't have any power ports or on demand entertainment, and the seats didn't recline very much. The fact that they use the 767 and 777/787 interchangeably (and charge the same prices on cash tickets) on some of their medium haul routes is just embarrassing. This is a seven-hour flight to what you'd think would be a premium market (due to the massive Star Alliance hub there), yet they fly this old, rachet plane there.
Ethiopian business class food
On one hand I feel like a horrible person for complaining about the quality of food being catered out of Ethiopia. I should probably be looking at it in more binary of a way — there was food, so maybe they just deserve a "check" mark?
But yeah, it wasn't very good.
The meal began with a salad and prawn starter.

Ethiopian business class appetizer and salad
I did like that between the appetizer and main course they had an Ethiopian dish. I've only had Ethiopian food a few times in my life and quite enjoyed it. This Ethiopian food didn't taste very good to me, but it was nice to at least get some local food.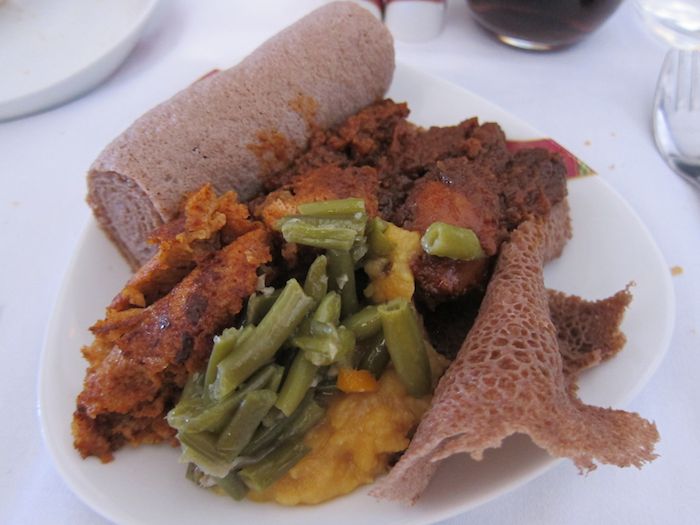 Ethiopian business class Ethiopian dish
The Ethiopian course was most definitely better than my "mystery" main course, though.

Ethiopian business class main course
And the cheesecake for dessert was good enough.

Ethiopian business class dessert
One thing worth noting is that the menu didn't at all match what was served. It listed the two appetizer choices as being salmon or tomatoes and mozzarella. In reality the choices were shrimp or tomatoes and chicken. The same went for the main course.
Ethiopian business class service
It just wasn't good. At all. Well, unless you were seated in 1H (more on that below).
The crew wasn't very friendly, and it was two hours into the flight before the meal service began. Then again, given that I had absolutely nothing to do on my seven hour flight, I guess I was hoping the meal service would last all the way till landing.
Ethiopian business class amenities
There was an amenity kit, which was identical to the one I received on my last flight, except it was green.

Ethiopian business class amenity kit
There were personal entertainment screens, though there were no on demand movies. Instead they had four movies which "looped." They were all movies that you didn't want to see in 2006, let alone today. "Night at the Museum," really?

Ethiopian business class entertainment system
Captain's mother or royalty?
In terms of really bizarre things, after takeoff, a lady was moved up from economy to seat 1H. She was treated like royalty throughout the flight. While it was two hours into the flight before we were served our first course, she was done with her meal at that point.

Upgrade after takeoff
The captain came out of the cockpit after takeoff and talked to her for maybe 30 minutes. Later in the flight the first officer came out of the cockpit to talk to her as well.

Now that's what I call service!
Before landing the captain even helped her put her shoes on, and kept coming back into the cabin to make sure the crew was taking care of her. What on earth?!

1H being pampered
Ethiopian's pilots
As I mentioned in the review of my Beijing to Addis Ababa flight, one thing I found interesting was just how often there was only one pilot in the flight deck. I wasn't sure if it was an isolated incident or not, but did find it a bit odd.
Earlier in the year an Ethiopian plane was hijacked by the first officer, who apparently "locked" the captain out of the cockpit. Fortunately it ended well, but you'd think they would change some cockpit procedures as a result. And I realize it was an isolated incident, but at the same time that could have ended horribly…
For example, in the US one flight attendant always goes into the cockpit when a pilot leaves the cockpit, which makes sense to me so there's never just one person in the cockpit.
On this sector there were two pilots, and I'd say the captain spent at least two hours in the cabin throughout the flight just hanging out, talking to the lady in 1H, etc.
Let me be clear, it didn't make me feel unsafe. Taking it to an extreme, ultimately if there's a mentally unstable pilot they'd find a way to bring down a plane no matter what, and certainly putting a second person in the cockpit wouldn't stop them. At the same time, in my millions of flown miles I've never seen one member of a two person cockpit crew spend as much time outside of the cockpit as on this flight.
Again, just something I found interesting, and not something that made me feel unsafe.
On a brighter note, I thought it was cool that the first officer was both Ethiopian and female. It's still somewhat rare in the US, and I imagine it's even rarer in Ethiopia (after all, it's a country where allegedly 69% of marriages happen through abduction).
Bottom line on Ethiopian business class
This was just an all around disappoint flight. From the aircraft itself to the entertainment to the food to the service, there was nothing about this flight that I'll miss. At least when I had a crap flight on China Southern, the hard product was still excellent…
Cloud Nine? More like Cloud Two-and-a-Half.