Emirates operates quite a few fifth freedom flights (where they're flying between two countries other than the UAE), and they've just announced their latest such route.
Emirates launching Singapore to Penang flight
Emirates will launch a new daily service between Singapore and Penang as of April 9, 2020. Passengers will be able to book Emirates between Singapore and Penang, or can book it as part of a larger itinerary connecting to Dubai and beyond.
Penang will be Emirates' second destination in Malaysia, after Kuala Lumpur, which the airline currently serves with three daily flights.
Schedule for Emirates' new Penang flight
Emirates' new flight between Dubai and Penang (via Singapore) will operate with the following schedule:
EK348 Dubai to Singapore departing 2:30AM arriving 2:05PM
EK348 Singapore to Penang departing 3:35PM arriving 5:15PM
EK349 Penang to Singapore departing 10:20PM arriving 11:50PM
EK349 Singapore to Dubai departing 1:40AM arriving 4:55AM
The flight between Singapore and Penang covers a distance of just 373 miles, and is blocked at 1hr40min to Penang, and 1hr30min to Singapore.
I'll be curious to see how they crew this flight, given that the plane sits on the ground in Penang for about five hours:
Will they have crews work all the way from Dubai to Penang? Maybe they can get away with that for their flight attendant contract, but certainly not with their pilot contract.
Will the crews work Dubai to Singapore, have a layover, then work Singapore to Penang to Singapore as a turn (with a five hour "sit" in Penang), have a layover, and then work back to Dubai?
Will the crews operate each segment on a separate day, which seems highly inefficient?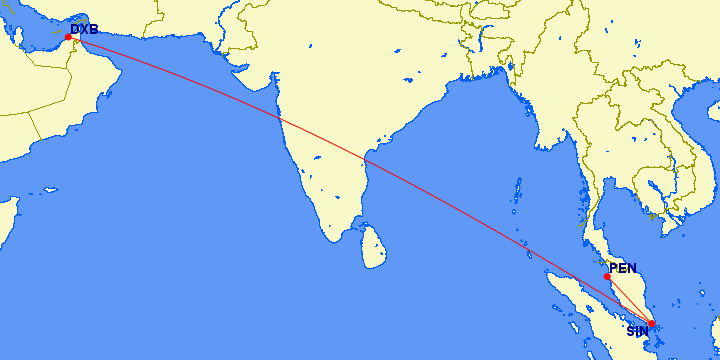 Emirates' 777-300ER cabins
The new Singapore to Penang flight will be operated by a three cabin 777-300ER featuring 354 seats.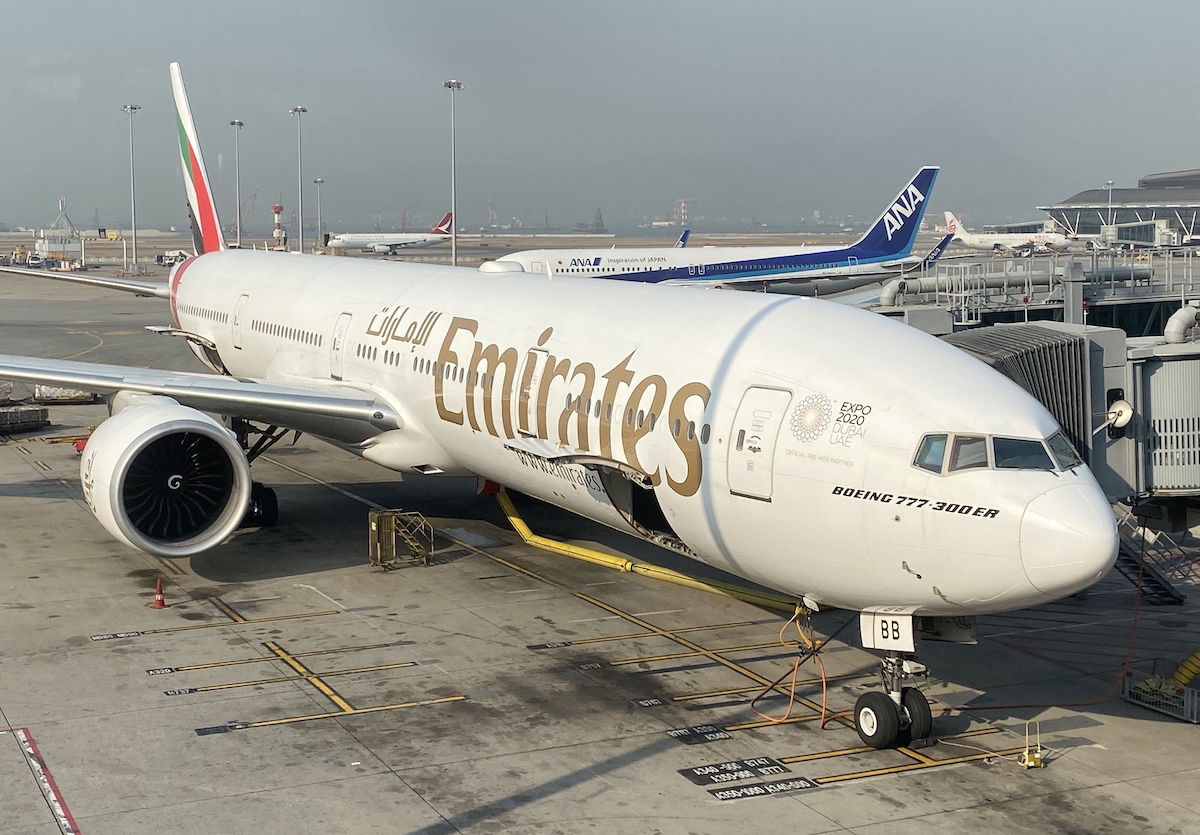 Emirates 777-300ER
This includes eight first class suites, in a 1-2-1 configuration.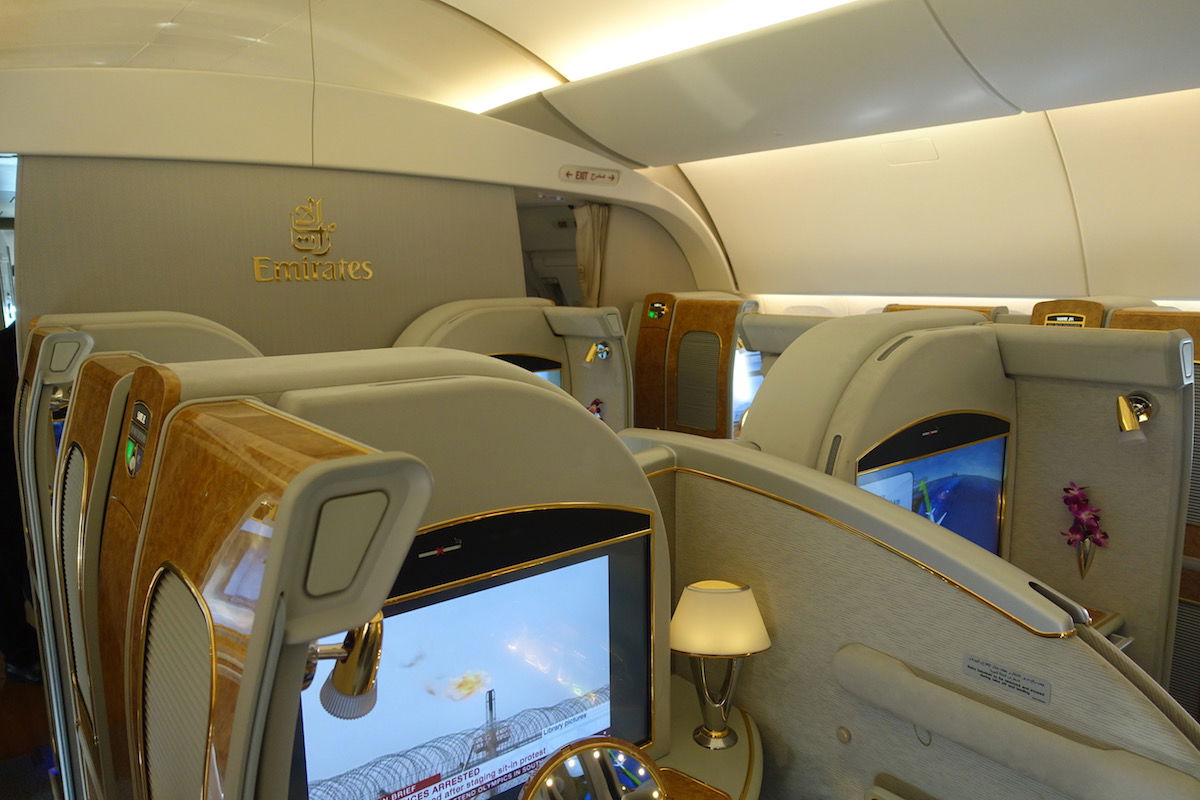 Emirates 777-300ER first class
Then there are 42 business class seats, which are slightly angled and in a 2-3-2 configuration.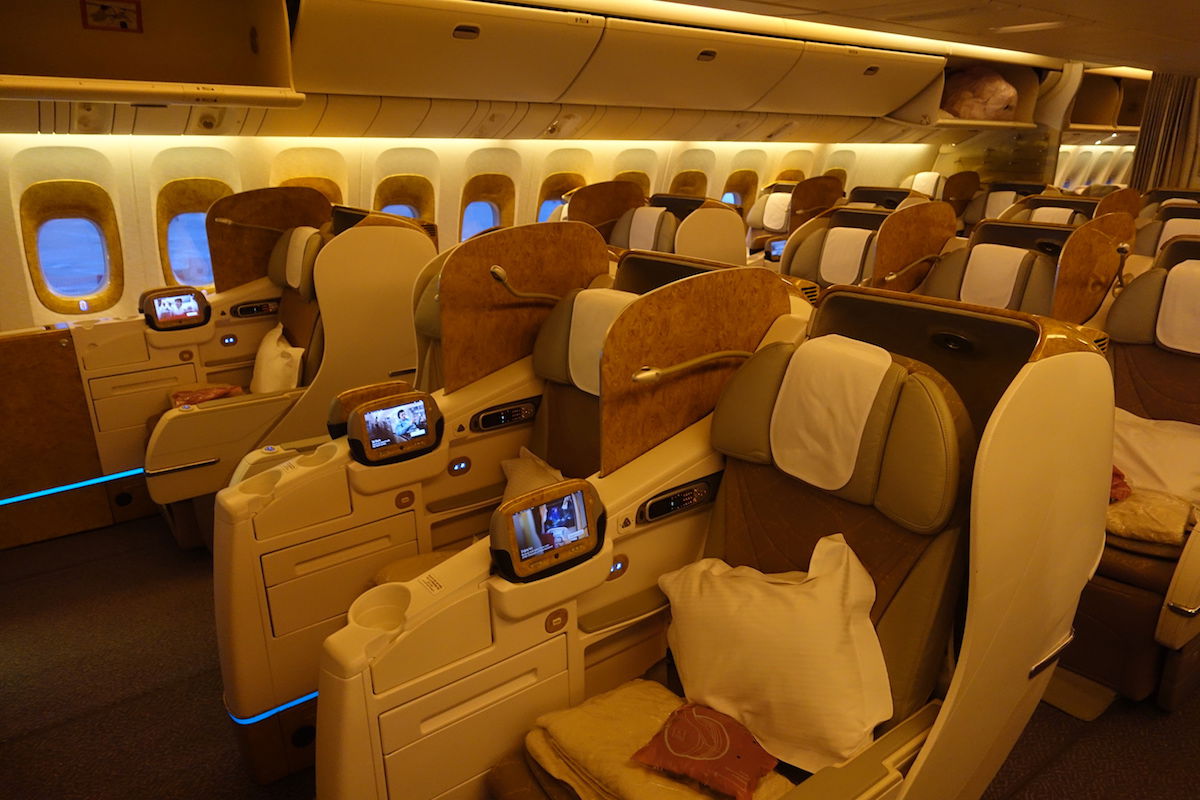 Emirates 777-300ER business class
Lastly, the 304 economy seats are in a 3-4-3 configuration.
Competition on the route & Emirates in Singapore
Emirates has a history of operating fifth freedom flights out of Singapore. In addition to flying to Singapore from Dubai, the airline also flies there from Brisbane and Melbourne, though the Brisbane route is being cut at the end of March 2020. Furthermore, in the past Emirates flew from Singapore to Colombo.
The Singapore to Penang market as such is quite competitive, as AirAsia, Jetstar Asia, Scoot, and SilkAir, all operate in the market. It'll be interesting to see how Emirates does, given that they're largely competing with low cost carriers.
Why would Emirates further add capacity to the market? As Emirates' Chief Commercial Officer, Adnan Kazim, describes the route:
"Penang is a major centre for tourism, business travel, as well as medical tourism and the increased levels of inbound travel is consistent with the growth in numbers of visitors to the country. We have been serving Malaysia through our flights to Kuala Lumpur for more than 20 years, with three-times daily service, and the introduction of flights to Penang will help us meet growing demand from leisure and business travellers, both to and from Malaysia. We are also pleased that the fifth freedom flights between Penang and Singapore will connect two sister cities and increase connectivity for passengers in South East Asia."
It's also noted that Emirates will offer up to 15 tons of cargo capacity to & from Penang, so I could imagine this might have as much to do with cargo as passengers.
Bottom line
It's cool to see Emirates launch a daily service between Singapore and Penang as of April 2020. I love a cool fifth freedom flight, and this one sort of seemed to come out of left field.
This is certainly much better than anything else offered in the market, but then again, there are limits to how much you can enjoy such a short flight.
What do you make of Emirates' new Singapore to Penang flight?