Last Wednesday an Emirates 777 crash landed in Dubai. Fortunately all passengers evacuated safely, though tragically one firefighter died during the rescue efforts.
Once video footage of the evacuation surfaced, I posted about the number of passengers who decided to take their carry-on bags with them.
Evacuation video of #Emirates #EK521 from crash landing #Dubai #Airport this afternoon. Brave #CabinCrew pic.twitter.com/kEZuFh2aa6

— Rehan Quereshi (@rehanquereshi) August 3, 2016
A lot of people online tried to justify what the passengers were doing, explaining that life in the Gulf for Indian workers can be very tough. Trust me, I understand that, and I get all the reasons that someone would want to take bags with them when they're being evacuated. It makes perfect sense to me, and it's a natural instinct not to want to part ways with your belongings.
However, it doesn't change the fact that over the years several planes have exploded during evacuations, killing dozens and dozens of people. By slowing down the evacuation process, you're quite literally putting other peoples' lives at risk, and that's something you don't have the right to do no matter what the circumstances are.
Again, I get the hardships faced in the Gulf by foreign workers, but we're talking life and death here, and the way I see it, this is a black-and-white topic. There's simply no excuse, and I was harsh on this flight in the same way that I was harsh when a flight in the US had an evacuation. End of story.
An op-ed piece was published in the Times of India about the evacuation, entitled "Emirates crash-landing incident brings to light the deep-rooted racism against Indians." The writer supports his/her argument with three points:
Some people were leaving racist comments on Facebook following the incident
A Twitter user explained the challenges of life in the Gulf, and that we're not being understanding enough of the circumstances faced by Indians in the Gulf
A former Indian union minister, Shashi Tharoor, accused Emirates of sending visibly inferior planes to India, and wanted the airline to investigate
Let's look at that last point, because it's a Facebook post that received over 7,000 likes, was shared over 1,700 times, and has hundreds of comments, mostly in support of the idea:
So, he's calling on Emirates to "review their policy on the type, age and quality of aircraft" used on their routes between Dubai and India. There are lots of comments suggesting that Emirates is somehow being unfair towards the Indian market, but there's actually a pretty straightforward explanation.
The plane involved in the incident was A6-EMW, a 777-300 which took its first flight in July 2003, making it 13 years old. First of all, when an airline has good maintenance, there's virtually no correlation between an airplane's age and how safe it is. Planes go through all kinds of checks frequently, and every several years planes are basically taken apart and put back together. Even if there were a correlation, a 13 year old 777 is not old by any stretch of the imagination.
Nonetheless, it was one of Emirates' older 777s, so why do they fly this to India? Very simple, because it's one of their high density regional configurations, and not one of their "ER" (extended range) aircraft, since that's not needed for such a short flight. Here's a listing of Emirates' 777 fleet, and as you'll see, all 11 of the 777-300 aircraft were among the first delivered. Virtually all the later versions of the plane were 777-300ERs.
Not only is the longer range of the aircraft not needed, but presumably based on the route's yield and demand, a high density configuration aircraft was a better fit.
Why might these planes be in worse condition, in theory (though I think this is very relative and circumstantial)?
The plane has more seats than the longhaul three cabin version of the plane, and generally more passengers means more wear and tear
Generally a plane that operates a lot of frequencies (meaning primarily short flights) will have more wear and tear, due to the number of flights it operates, rather than an ultra longhaul aircraft, which may just operate one flight per day
Basically there's a high correlation between the total number of passengers flying a plane, and the shape it may appear to be in.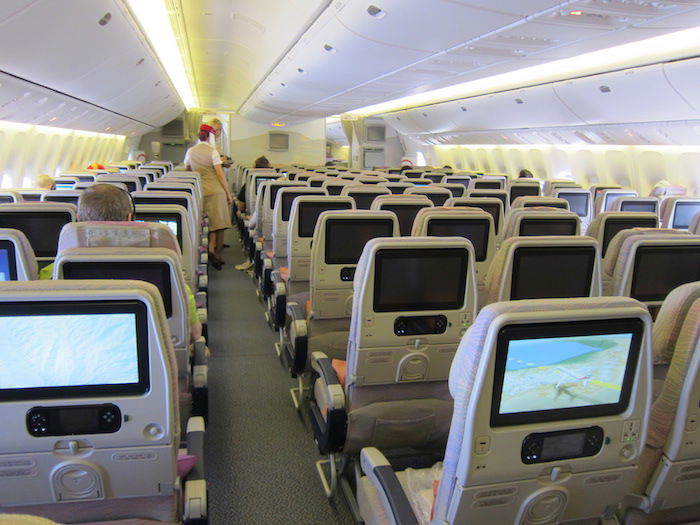 Bottom line
We still don't know what happened on Emirates flight 521, though I think it's highly unlikely it has to do with the plane being 13 years old, or with the perceived condition of the interior of the aircraft. There's a perfectly straightforward explanation for why Emirates operates these flights to certain cities in India, so there's no need for conspiracy theories here.
(Tip of the hat to Apurva)