Earlier today I wrote about the Emirates 777 that crash landed in Dubai. It's my understanding that all the passengers were evacuated safely, though I've heard reports that a firefighter died in the rescue efforts. That's incredibly tragic, but when pictures of the incident came out earlier today, I assumed it could have been a lot worse.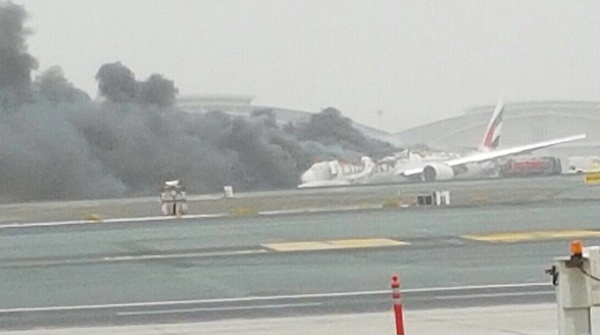 We now have footage from inside the plane as the evacuation took place, and it looks pretty terrifying:
Evacuation video of #Emirates #EK521 from crash landing #Dubai #Airport this afternoon. Brave #CabinCrew pic.twitter.com/kEZuFh2aa6

— Rehan Quereshi (@rehanquereshi) August 3, 2016
But what stands out to me the most is the incredible selfishness and/or cluelessness of these passengers, or perhaps both. Sadly this seems to be the case every single time video emerges of such an evacuation.
As you'll hear in every safety briefing ever, in the event of an emergency evacuation, leave all carry-on items behind. Why is this so important?
It slows down the evacuation process, and in a situation like this, you never know what could happen to the plane (the fire could spread, the plane could blow up, etc.)
Carry-ons could rupture the slide, causing injuries to others, or possibly even preventing them from evacuating
Simply put, by taking your carry-on with you in an emergency evacuation you're selfishly putting the value of temporary access to your personal belongings ahead of others' lives.
Now, this was a flight from India and Dubai, and I suspect many passengers didn't know better and weren't frequent flyers, so I'm not saying any/all passengers had the intent of risking others' lives by taking their belongings. Furthermore, even if people had heard the safety briefing, a lot of people might not understand why they shouldn't take their carry-on with them.
At the same time, in the video you can repeatedly hear the crew saying to leave carry-on items behind, and it largely goes ignored.
I wrote about this same topic last year after a plane had to make an emergency evacuation and passengers reacted in a similar way, and was amazed by how many commenters said they'd to the same thing, because their belongings are "important."
So while I doubt peoples' behavior will change anytime soon, that won't stop me from reminding people of this. Fortunately this evacuation ended (mostly) well, though there have been plenty of deaths over the years due to slow aircraft evacuations, and I suspect there will be more in the future.
(Tip of the hat to Rene's Points)