Back in the day I was resistant to inflight Wi-Fi. Since I'm not the type that can voluntarily disconnect, the time I spent flying was about the only time I ever relaxed. And I wanted to keep it that way. Except I also started to realize that I became stressed on flights because while I was "relaxing," hours and hours of work was piling up.
I guess at some point I just had an epiphany that onboard Wi-Fi is amazing, as there's nothing better than landing at your destination with most of your work done, so you can enjoy your time on the ground. And for that matter, work is a lot more fun when you can do it while enjoying your preferred champagne. 😉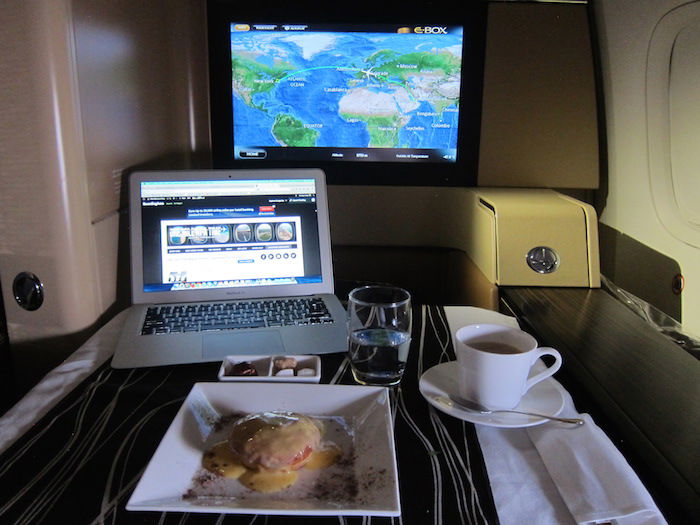 Non-sucky office!
In the meantime I actually sort of choose flights around Wi-Fi. While it's largely a given on domestic flights nowadays, on international flights it's still not that widespread.
The cost of onboard Wi-Fi can vary significantly
The other thing is that the cost of onboard Wi-Fi can vary massively by airline. Airlines generally either let you buy a 24 hour pass with unlimited data, or they'll charge you based on usage.
I obviously far prefer the former, which is the system that Etihad and Lufthansa use, for example. ~$20USD for Wi-Fi on a longhaul flight without data limits is a steal.
But even among airlines that charge based on usage, the cost can vary substantially. And that's even true among airlines that use the same provider. For example, Emirates and Singapore both use OnAir for their Wi-Fi. Singapore Airlines charges you $10 for 10MB of data: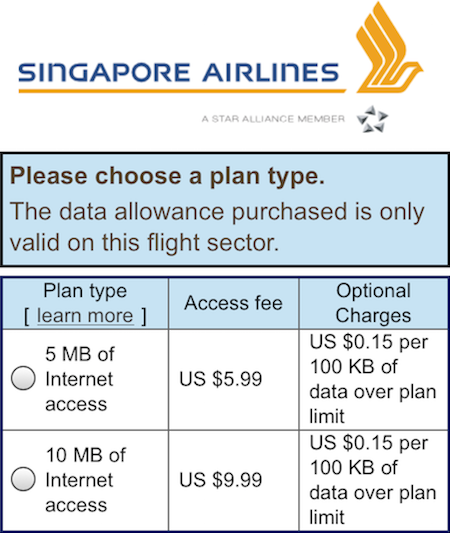 Meanwhile, Emirates has historically charged you $20 for 100MB of data: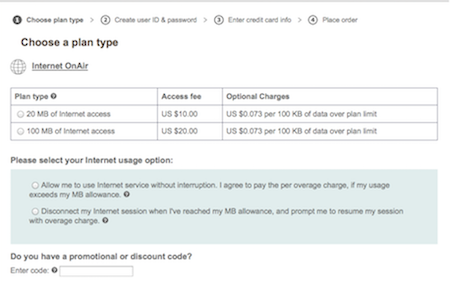 So Singapore charges five times as much as Emirates, and charges you double the overage as well.
For example, on my Singapore Airlines flight from Frankfurt to New York in August, I spent $41 just to send out a couple of Tweets, read a couple of emails, and try (unsuccessfully) to upload pictures to Instagram.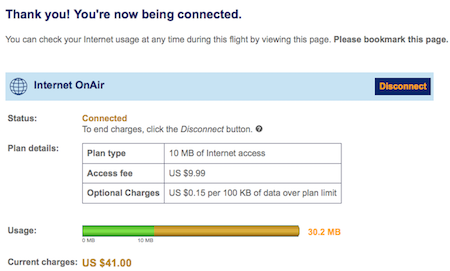 Emirates is now offering free Wi-Fi
Emirates is now offering free Wi-Fi on all Airbus A380 and Boeing 777 aircraft equipped with the OnAir service:
Each passenger gets 10MB of data for free
An additional 600MB can be purchased for $1
If you exceed that limit, you can purchase yet another 600MB for $1
All of Emirates A380s feature Wi-Fi, while only some of Emirates' longhaul 777s do.
Australian Business Traveller notes that long term apparently Emirates plans to offer free Wi-Fi throughout the fleet, as they don't view it as a revenue stream but rather a value-added product offering:
And Emirates isn't stopping there, with the airline promising "to eventually enable passengers to have unlimited free access to Wi-Fi" at 35,000 feet.

"We've always viewed Wi-Fi as a service and a value-added part of Emirates' overall product, rather than a revenue stream," said Sir Tim Clark, President of Emirates.

"Ultimately, we believe that on-board Wi-Fi will become a free service, and a standard that customers will expect on a full service airline, just like on-board refreshments and personal inflight entertainment."
I have a couple of upcoming Emirates flights, so this is especially timely. I think Emirates is spot on with their approach to onboard Wi-Fi, and as long as it doesn't slow the system down much further, it's great news.
I really don't get their pricing strategy, though. Why are they bothering to charge $1 for 600MB? Is it to keep the speeds up slightly for people that are too cheap to pay even $1 for Wi-Fi, or what? That just kind of feels like a promotion McDonald's would run, and not Emirates.
What am I missing?
Bottom line
I love onboard Wi-Fi, and I don't think there's an airline that's more "onboard" with onboard Wi-Fi than Emirates in terms of their long term business plan. It's nice to see an airline that views onboard Wi-Fi as a value-added part of the overall product, and not as a revenue stream.
How do you feel about onboard Wi-Fi, and does the availability of it ever impact your airline choice?