In mid-January, Emirates signed a memorandum of understanding to buy up to an additional 36 Airbus A380s, in addition to the 142 Airbus A380s they had already ordered from Airbus (100+ of which are already in their fleet). With this deal they intend to place a firm order for 20 additional Airbus A380s, with options for an additional 16 aircraft. Emirates intends to take delivery of these planes starting in 2020. At list prices, the deal is valued at up to 16 billion USD.
Not only is this deal significant because it represents the first new A380 order in a long time, but it's also significant because Airbus was at the point where they had to decide whether they wanted to shut down A380 production, due to a lack of demand. For years we had been hearing rumors of Airbus shutting down A380 production, given that Emirates is the only airline that seems to love the A380, while they haven't seen much additional demand from other airlines.
With that in mind, Emirates was in a tricky situation — if they wanted A380 production to continue (in hopes of the A380, which they invested billions of dollars in, not becoming completely old technology), they'd need to place an order to keep the program alive. At the same time, presumably they placed an order in hopes of this not just extending A380 production by a few years, but rather for much longer than that.
The reason for this post is that a few weeks ago Emirates had signed a memorandum of understanding for the additional A380s. While that's significant, sometimes it can be a long time between when that is signed and when the order is firmed up. Sometimes airlines even back out of deals. Yesterday, just weeks after the MoU was signed, Emirates has finalized their A380 order.
This agreement was signed on the sidelines of the World Government Summit in Dubai, with HH Sheikh Mohammed bin Rashid Al Maktoum of the UAE, and Mikail Houari of Airbus, in attendance.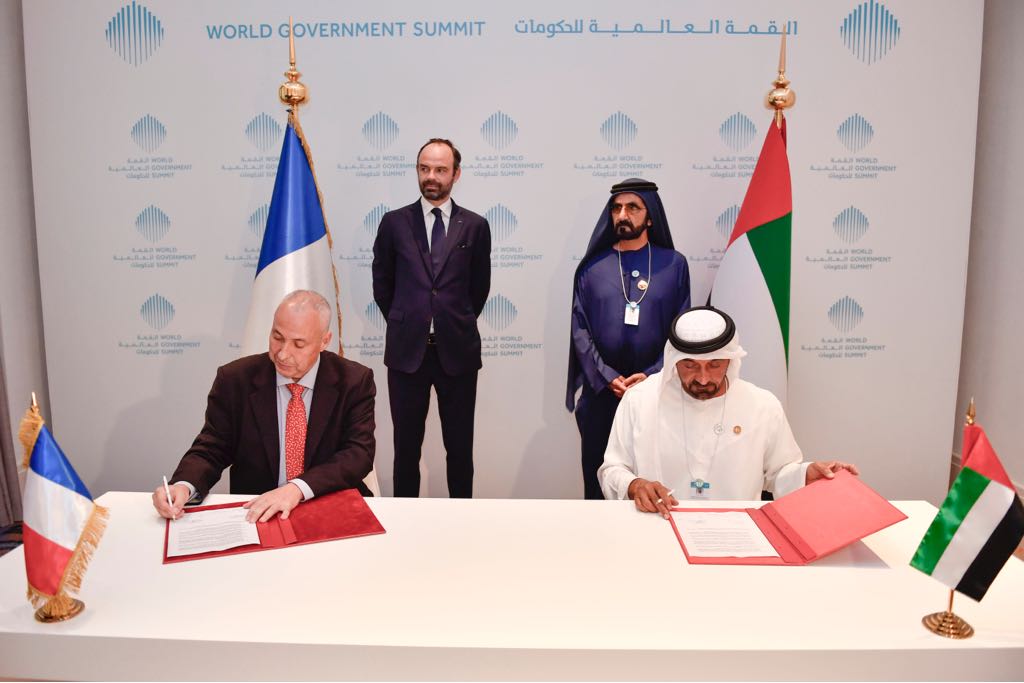 Here's what was said at yesterday's event:
Sheikh Ahmed said: "This agreement underscores our commitment to the A380 programme, providing stability to the A380 production line and supporting tens of thousands of high-value jobs across the aviation supply chain. For Emirates, the A380 has been a successful aircraft for our customers, our operations, and our brand. We look forward to continue working with Airbus to further enhance the aircraft and onboard product."

"We thank Emirates, HH Sheikh Ahmed, Tim Clark and Adel Al-Redha for their continued confidence in the A380, which has so successfully transformed air travel in the 21st century," said Fabrice Brégier, Airbus President Commercial Aircraft and Chief Operating Officer. "This latest agreement further demonstrates the strength of our valued partnership with Emirates in support of their impressive growth."
Congrats to Airbus and Emirates for finalizing this order, and here's to hoping that the A380 is around for many years to come. I'm still skeptical about the future of the program, though there have been rumors of British Airways placing a further A380 order. I'll be curious to see if that comes to fruition.