Emirates has just announced a cool new fifth freedom route. As of June 14, 2018, Emirates will be launching daily flights from Dubai to Auckland via Bali. This will be Emirates' third route to New Zealand, and complements their existing daily nonstop flight from Dubai to Auckland, as well as their daily flight from Dubai to Sydney to Christchurch.
Emirates' new flight to New Zealand will be operated by a three class Boeing 777-300ER, featuring eight first class seats, 42 business class seats, and 304 economy seats.
The flight will operate with the following schedule:
EK450 Dubai to Bali departing 6:55AM arriving 8:20PM
EK450 Bali to Auckland departing 10:00PM arriving 10:00AM (+1 day)
EK451 Auckland to Bali departing 12:40PM arriving 5:55PM
EK451 Bali to Dubai departing 7:50PM arriving 12:45AM (+1 day)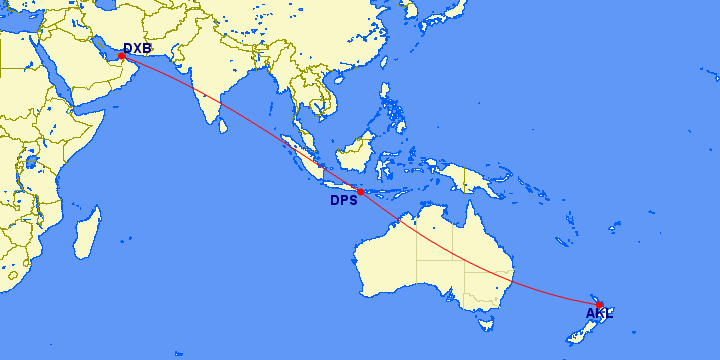 Bali is almost on the straight path between Dubai and Auckland, as the distance of Dubai to Bali to Auckland is only 20 miles further than the nonstop distance from Dubai to Auckland. So geographically this is a logical stopover point. The flight from Dubai to Bali will cover a distance of ~4,700 miles, while the flight from Bali to Auckland will cover a distance of ~4,200 miles.
Per Emirates' press release:
Sir Tim Clark, President Emirates Airline, said: "We're pleased to introduce additional capacity to serve the strong demand for travel to Bali, and to Auckland. We are confident that our year-round service between Auckland and Bali will be well received by our customers, not only in New Zealand and Indonesia, but also from our global network particularly from markets like the UK, Europe and the Middle East."

With its spectacular mountains and picturesque beaches, Bali is considered to be a world leading tourist destination, welcoming more than 4.5 million foreign tourist arrivals in 2016, including over 40,500 New Zealanders. Emirates' new service will add to Bali's global connectivity, further stimulating the island's economic and tourism growth.
The 40,500 New Zealanders who go to Bali every year doesn't sound like a terribly compelling reason to launch this route. That translates to about 110 people per day, which is less than a third the capacity of Emirates' flight (and just because Emirates will fly this route nonstop doesn't mean everyone will fly with them). However, I suspect the primary motivation for this route is the demand between Auckland and Dubai (and beyond). Emirates began flying nonstop between Dubai and Auckland in 2016, and based on what I've heard, the route has performed well. So presumably most passengers taking this flight won't actually be stopping in Bali, but will be taking the flight all the way to Dubai.
This flight is also a nice addition for those just traveling between Dubai and Bali. While Emirates already operates that route, they presently only do so with a two cabin aircraft, so with this change we'll finally see the introduction of first class in the market.
What do you make of Emirates' new flight from Dubai to Bali to Auckland?