In terms of stories which can't help but make you scratch your head, an El Al flight from Tel Aviv to New York on Wednesday returned to Tel Aviv over an engine failure.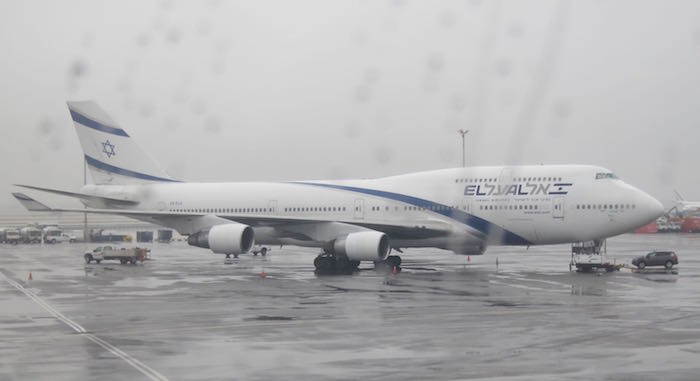 Engine failures happens every so often, and aren't at all unusual or even noteworthy. What is unusual, however, is that the plane was already halfway through the flight when it had that engine failure, and made the decision to return to Tel Aviv, rather than diverting. Via Haaretz:
The Boeing 747-400 airliner, carrying 340 passengers, took off at 11:30 A.M. from Ben Gurion International Airport. Shortly after reaching the Atlantic Ocean, the pilot turned off one of the plane's four engines due to a technical malfunction.  But instead of making an emergency landing, the pilot turned the airplane back.
Here was the flight's path, via FlightAware:
As you can see, the flight's duration was 10hr52min. Meanwhile the flight time from Tel Aviv to New York is usually 11 hours. So the flight was quite literally at the halfway point, just leaving continental Europe and beginning the Atlantic crossing
So what prompted El Al to return to Tel Aviv, rather than either continuing the flight or diverting somewhere closer?
Sources in the aviation industry believe that the decision to turn the airliner back instead of landing it in Europe was not prompted by safety reasons alone, but by financial reasons as well. An emergency landing in Europe would have required El Al to send a replacement engine to Europe and to pay for the passengers' stay in hotels until the plane is repaired.

El Al said in response: "Due to a malfunction in one of the four engines, it was decided to return the airliner to land in Ben Gurion International Airport. The plane is currently over Europe and is expected for a normal landing in the evening."

El Al added that after the airliner lands, "the passengers would be transferred to alternative flights. El-Al considers flight safety a top priority and doesn't compromise on the issue."
My initial thoughts here are:
No one was in danger. A 747 can easily fly with three engines, and I even remember the story about a decade ago about a British Airways 747 which flew all the way from Los Angeles to London on three engines.
Did the pilots feel safe flying with three engines over land, but not over water? After all, they were halfway to New York, so otherwise they could have just continued.
It sure seems like El Al was just being cheap here, and wanted to rebook passengers on their own flights, do maintenance at their own hub, etc., even if it was significantly more inconvenient for passengers.
Bottom line
This is a bit of a crazy story. Based on my read of it, I wouldn't accuse El Al of endangering passengers' lives to save a few bucks, but rather just inconveniencing them substantially for some cost savings.
What do you make of El Al returning to Tel Aviv halfway through their flight to New York?