It goes without saying that we've evolved a lot as a society (though different cultures have evolved at different paces and in different ways). As you'd expect, marketing has evolved similarly, and was different decades ago than it is now.
That's especially true in the airline industry. Here in the US many years ago flight attendants were exclusively female, hired based on their looks, and in some cases couldn't even be married.
I've seen lots of airline ads from decades ago that are sexist and hard to fathom nowadays, though my jaw nearly dropped when a friend sent me a link to an Eastern Air Lines ad from 1967. I don't think sexism even begins to describe this ad.
The ad is called "The Eastern Air Lines Losers," as the airline highlights "losers" who they rejected for flight attendant positions in both print and TV ads.
First let's take a look at the paper ad, which simply has the title "Presenting The Losers." Here's what the ad says:
"Pretty good, aren't they? We admit it. And they're probably good enough to get a job practically anywhere they want. But not as an Eastern Airlines stewardess.

We pass up around 19 girls, before we get one that qualifies. If looks were everything, it wouldn't be so tough. Sure, we want her to be pretty… don't you? That's why we look at her face, her make-up, her complexion, her figure, her weight, her legs, her grooming, her nails and her hair.

But we don't stop there. We talk. And we listen. We listen to her voice, her speech. We judge her personality, her maturity, her intelligence, her intentions, her enthusiasm, her resiliency and her stamina.

We don't want a stewardess to be impatient with a question you may have, or careless in serving your dinner, or unconcerned about your needs. We try to eliminate these problems by taking a lot more time and passing up a lot more girls.

It may make our job a lot harder. But it makes your flying a lot easier."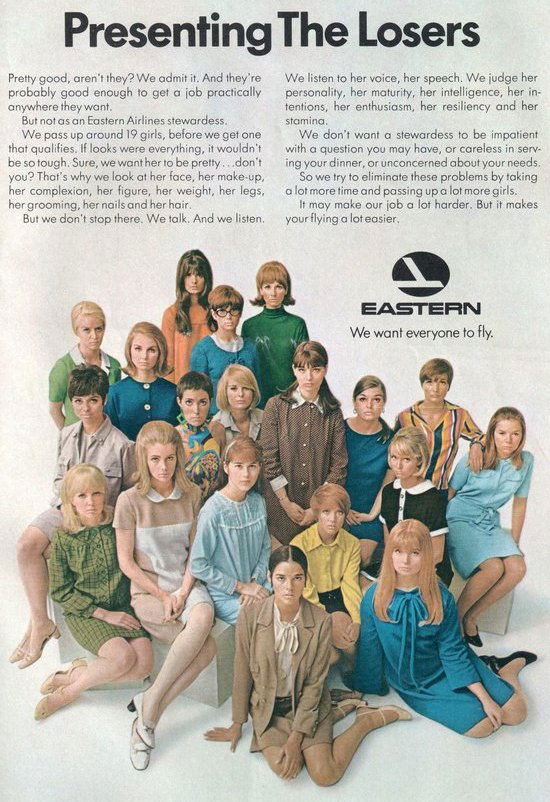 Then here's the commercial to go along with it:
This ad was from over 50 years ago, so obviously that was a long time ago. When you combine the sexism and the ad being based around "losers," it's hard to imagine how this was ever cool… but I guess it was.
It sure makes me wonder what they'll be saying about ads from 2020 in 50+ years. Surely they can't be as objectionable as this?
One other interesting note — the ad suggests that they rejected 19 out of 20 flight attendant applicants, meaning they accepted just 5%. Ironically in recent years when the major US airlines have hired, closer to 1% of applicants were offered jobs. Somehow airlines have become more selective with hiring by some metrics.
Can anyone think of a US airline ad from any point in history that was more objectionable than this?