Yesterday I posted about the one aspect of flying which still makes my mind race. Specifically, flying over large bodies of water without diversion points. Some people tried to comfort me and say that flying is safer than driving, etc. I also recognize that planes have ETOPS certifications, where in the event of an engine failure they could safely divert.
I guess I didn't express myself clearly, because I'm not actually scared when flying over large bodies of water. I just find the whole concept of being overwater for thousands and thousands of miles to still be a miracle of sorts. It doesn't actively concern me, but rather it's something I think about in the back of my mind. The post generated some interesting discussion, the most interesting of which had to be about Easter Island.
For those of you not familiar with Easter Island, it's a very small island in the middle of the South Pacific, roughly halfway between Santiago and Tahiti. It's an extremely secluded area, with virtually no diversion points.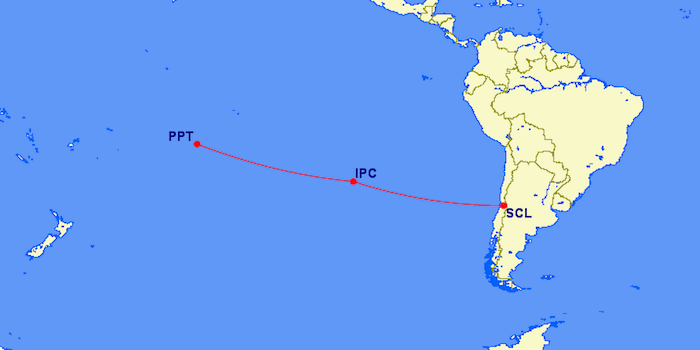 Reader tim left the following comment:
Fly LAN to Easter Island sometime. I dare you!

We were delayed by six hours. Due to Air Traffic Congestion. Meaning, in this case, there was one single plane several hours away from touching down. LAN airlines bought everyone day rooms at the hotel and two hotel meals.

Pilots get final weather report and are 100% committed to land once they pass a 'decision point' or 'point of no return'.

It is so ridiculously remote that ATC will not even consider allowing another flight to divert to Easter Island…. Because it could crash, leave debris fail to vacate the runway, etc for the life-or-death plane full of passengers already last the decision point. (a few planes name ICL as a diversion point but this is carefully orchestrated, so that there is never a chance of more than one aircraft past the commitment point.
At first it sounded a but farfetched, though I found multiple sources referencing this, including PPRuNe:
The Chilean CAA has a policy that only 1 aircraft can be operating between the ETPs from the mainland or to Tahiti. In other words, once inbound from Tahiti and past the ETP, an aircraft cannot be released from Chile until the airborne has landed. Or, if you depart Easter Island for the mainland, the flight has to be past the ETP and committed to landing on the mainland before another flight will allowed airborne or past its ETP and committed to land at Easter Island. One at a time.
"ETPs" refers to "equal time points," meaning the point at which you're closer to your next diversion point than turning around. That's to say that two planes could be operating to Easter Island at the same time, assuming one was an hour from landing in Easter Island, while the other was just an hour from taking off in Santiago, since the latter plane could still turn around if the former plane has issues.
But you can't have two planes going there at once without alternatives, in the event that something happens and the runway ends up being obstructed, preventing another plane from landing.
Fascinating stuff, eh?