In March of this year, American published a ~$450 roundtrip business class fare between Washington and Beijing.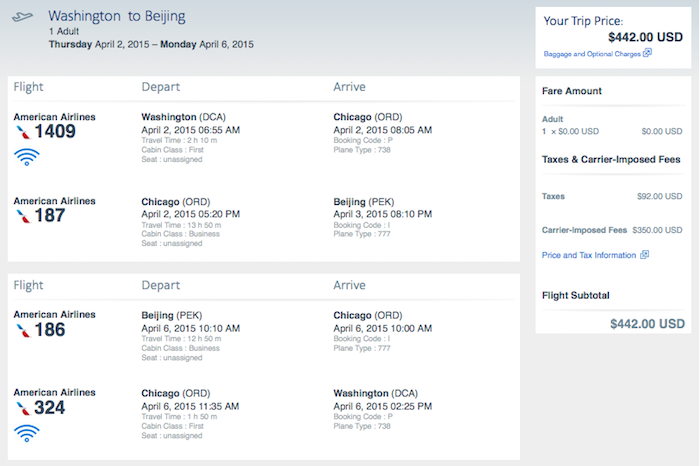 American honored the fare for those who had ticketed their reservations, which they had to do given the DOT regulations at the time regarding post-purchase price increases.
While most of us were thrilled with American honoring the fares, that sentiment wasn't universal. There were also many people who were disappointed. Specifically those who held tickets with American, as non-ticketed reservations were subsequently cancelled. American allows a guaranteed 24 hour hold on tickets, which they have to offer in lieu of a 24 hour refund (since they don't offer that).

Early last week — over six months after the mistake fare — American announced they'd be offering the following to those who held the Beijing fare but subsequently had it canceled:
A $0 base fare (~$450 including taxes and carrier imposed surcharges) economy ticket to Beijing, which isn't eligible for mileage accrual or upgrades
$1,500 off a paid business class ticket to Beijing, which isn't eligible for mileage accrual or upgrades
Neither option was anywhere close to the original deal, which was basically a $0 base fare business class ticket which was both upgradable and eligible for mileage accrual.
I was curious what prompted American to make this offering over six months after the mistake fare happened. We now have our reason. On Wednesday the DOT issued their ruling after ~100 complaints from those who had their tickets canceled. The ruling is fascinating.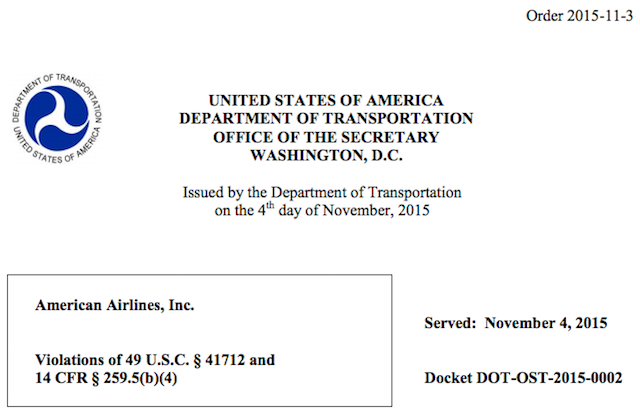 How many people booked the mistake fare?
Ever wonder how many people book a mistake fare? The DOT published the following data regarding the roughly five hour period where the sale was available:
During the sale period, 1194 reservations were made though American in total: 589 reservations for 804 passengers were purchased immediately, while 605 reservations for approximately 830 passengers were placed on a 24-hour hold. American honored the 589 tickets that had been fully purchased during the sale period; however, before the expiration of the guaranteed hold period, American canceled the 605 tickets that were on hold.
In total there were 1,194 reservations for 1,634 passengers. The fare was valid for travel over a period of roughly two months, so assuming 804 passengers booked immediately and flew over a ~60 day period, that means there were an average of ~13 people on this fare flying to Beijing each day in each direction. Not an insignificant number!
How many people filed DOT complaints?
How many complaints did the DOT receive regarding this mistake? Over a hundred, apparently:
The Office of Aviation Enforcement and Proceedings (Enforcement Office) received over 100 complaints from consumers alleging that American improperly cancelled tickets prior to the expiration of the guaranteed hold period. American received an additional 11 complaints directly from consumers whose reservations were similarly cancelled.
The DOT's ruling
In this case the DOT actually (mostly) sided with consumers regarding canceling held tickets, indicating that they failed to adhere to their customer service promise:
We have reviewed all of the available information, including the information submitted by American Airlines, consumer complaints, and additional information gathered by the Enforcement Office. We conclude that, by cancelling 605 held tickets before the expiration of the guaranteed hold period, American failed to adhere to the assurances in its customer service plan and thereby violated 14 CFR § 259.5(b)(4) and 49 U.S.C. § 41712.
American's defense
This is perhaps the most interesting part of it all (I know I'm quoting a lot, but it's worth reading):
In mitigation, American states that there is compelling evidence that the persons who purchased the mistaken fare tickets and those who put such fares on hold were prompted to do so by social media posts which both publicized the fact that the mistake fares were being offered and made apparent that the fares had been offered by mistake. According to American, there is a clear correlation between social media mentions of the mistake fares and bookings or holds made by consumers of those fares.

American maintains that the explosion of social media mentions not only prompted significantly more bookings than normal, they also put readers on notice that the fares were published by mistake. American states that in numerous social media contexts, posts were made characterizing the offered fares as a "mistake fare" and urging consumers to purchase them quickly and not take any actions that might alert American to the fact the mistaken fares had been offered.3 In American's view, social media posts acknowledging or recognizing that the fares were offered by mistake yet urging readers to rush to book them shows an intent to cheat, as many consumers knew the fares were not valid.

American believes that the proliferation of social media sites publicizing mistake fares has resulted in individuals purchasing mistaken fare tickets in bad faith, and not on the honest belief that a good deal was available.

American continues to believe that given the clear correlation between social media postings that prompted consumers to make bookings and holds and alerted those consumers to the fact the fares were offered by mistake, enforcement action is not appropriate, as it rewards persons not acting in good faith.
In the footnotes, American refers to the following social media posts:
Examples of such posts include: "I fully expect these to be cancelled the base fare was $0…"; "Mistake Fare: Business Class from DC to Beijing for $450 RT"; "Let's see if this sticks at all…not getting my hopes up."; "My first mistake fare, if it clears. I feel so alive inside."; " It does look like a mistake fare."; "DO NOT CALL THE AIRLINE"; "There is a rare Business Class mistake fare available on American Airlines for Flights from Washington DC to Beijing."; "Clearly this was one of those airline computer system pricing blunders!"; "Just noticed that the base fare was $0. Damn!!! Will still try."
Bottom line
While the DOT ultimately sort of sided with consumers here, the defense on American's part is my takeaway, and is something to keep in mind. Social media matters, and can be used against consumers. I also found it interesting to learn just how many people had booked the mistake fare.
(Tip of the hat to JonNYC)