Update: This is a heads up that this promotion has been extended for another week, through Friday, September 6, 2019, but be sure to use this link.
Of the "big three" US airline mileage currencies, I find Delta SkyMiles to be the least valuable. Delta seems to do just about everything they can to peg the value of a mile right at around a cent, with fewer and fewer opportunities to redeem them for outsized value.
Well, there's a great promotion at the moment that can get you two cents of value per Delta mile towards a vacation package.
Delta Vacations lets you book flights, car rentals, and hotels together. In addition to being able to pay cash for these packages, you can also ordinarily redeem SkyMiles for one cent each towards these packages (just as you can redeem SkyMiles for a cent each towards all kinds of purchases).
At the moment the value proposition of this is better than usual, though.
Through Friday, September 6, 2019, you can redeem Delta SkyMiles for two cents each towards vacation packages. Initially this promotion was only supposed to be valid through August 30, but they extended it for a week. In order to take advantage of this you need to book a hotel stay of at least two nights as part of this package.

So with this you could redeem 50,000 SkyMiles for $1,000 towards a trip, 100,000 SkyMiles for $2,000 towards a trip, etc. You don't have to redeem miles for the entire cost of the trip, as you can mix miles and cash to pay.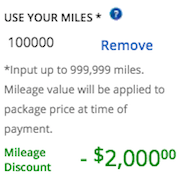 That's an incredible value, assuming this matches the type of trip you're looking to book.
If your goal is to just get the best value on flights, ideally you'd just book a package that includes a flight and the cheapest hotel possible (which you can always throw away). One of the benefits of booking through Delta Vacations is that these are normal revenue tickets, so you'll earn SkyMiles for your ticket, so these flights can even help you qualify for status.
However, do note that if you book a hotel through Delta Vacations, you typically won't earn points or receive elite benefits if you belong to the hotel's loyalty program.
See this post for more on the best credit cards for earning Delta SkyMiles.
Bottom line
Being able to redeem SkyMiles for two cents each towards a vacation package is an excellent deal. This is especially useful if you find yourself in a situation where you actually want to book a flight and hotel together, or if it's a situation where you want to book an expensive flight along with a fairly cheap hotel.
Anyone plan to take advantage of this amazing SkyMiles promotion for Delta Vacations?