Delta SkyMiles doesn't publish award charts. The price you see online is the price you get. Their logic is that the shopping experience for award flights should be the same as the experience of booking a revenue flight, where you also have dynamic pricing.
That being said, Delta continues to have mostly consistent pricing for "saver" awards, which is to say that unofficially we can figure out how much something should cost if there's saver space available. For all practical purposes, the "saver" space is the award availability that partner airlines also have access to.
Over time we've seen Delta make many award pricing changes without notice. Obviously they don't provide notice, since they don't publish prices.
Delta now charging 105K miles to Europe one-way
It looks like the airline has just made the latest such change for travel to Europe, and it's drastic. Up until now the lowest award costs for travel between the US and Europe have been 86,000 SkyMiles one-way in business class, and that pricing has applied regardless of whether you're flying Delta or a partner airline.
As of recently, Delta's lowest business class award prices to Europe are 105,000 miles one-way. It doesn't matter what date you're booking, that's the lowest price you'll find.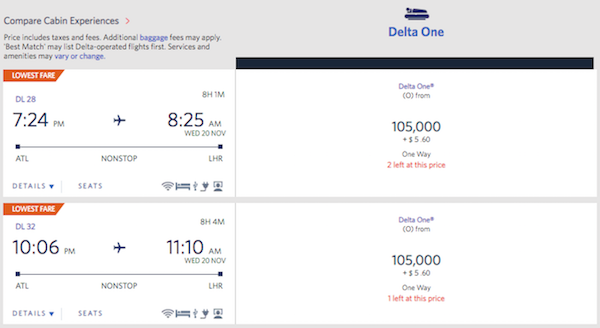 Interestingly they continue to charge 86,000 SkyMiles for many partner business class award tickets across the Atlantic, so at this point Delta consistently has lower business class award pricing to Europe on partners than their own flights (this is very different than United, for example, which a few years back introduced higher award pricing for partners than their own flights).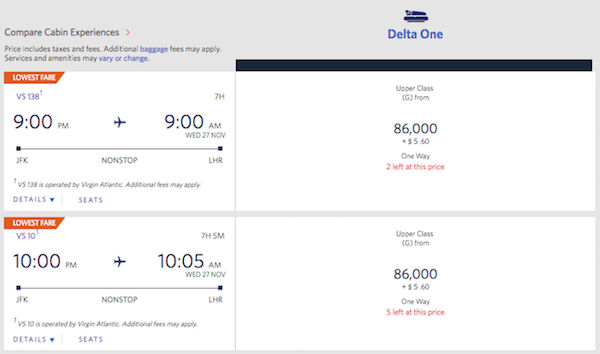 There's not a roundtrip discount here either. If you book a roundtrip business class award on Delta metal to Europe you'll pay 210,000 SkyMiles.
Talk about a devaluation. I remember back in the day when Delta charged 100,000 miles for roundtrip business class to Europe, and now you're paying more than double that.
The workaround(ish)
Delta partners with Virgin Atlantic, and as of now the easy workaround is that you can redeem Virgin Atlantic miles for travel on Delta to Europe, and the costs are much lower, consistently less than half of what Delta charges.
Here's what you need to know about that:
Virgin Atlantic charges as little as 47,500 miles for one-way Delta business class from the US to UK, though they add carrier imposed surcharges
Virgin Atlantic charges 50,000 miles for one-way Delta business class from the US to anywhere in Europe other than the UK, and there are no surcharges as long as you originate in the US
To give some examples, Delta charges 105,000 miles for one-way business class from Cincinnati to Paris.

You can book that same ticket for just 50,000 Virgin Atlantic miles.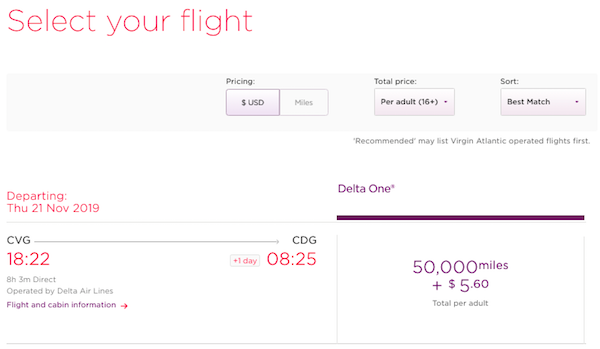 For travel from Detroit to London, Delta charges 105,000 miles one-way in business class with no surcharges.

Virgin Atlantic charges 47,500 miles plus $577.20 in carrier imposed surcharges.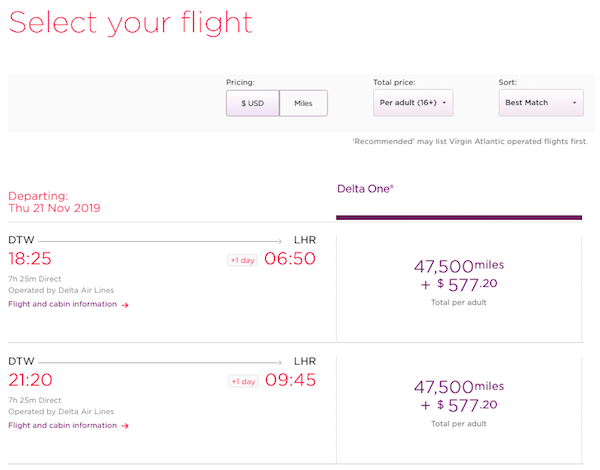 Obviously those surcharges are rough, but some might still find that to be a better option.
Virgin Atlantic Flying Club is transfer partners with Amex Membership Rewards, Chase Ultimate Rewards, Citi ThankYou, and Marriott Bonvoy, so there are lots of ways to come by their miles (Amex, Chase, and Citi points should transfer quickly, while Marriott points won't).
Transfer points to Flying Blue with these credit cards:
Bottom line
It's incredible to see how much Delta is raising their award costs. 105,000 miles for a one-way business class ticket from the US to Europe is kind of insane, especially when that's the lowest possible cost.
If you do want to fly Delta to Europe, I recommend booking through Virgin Atlantic Flying Club, where you'll typically score a better deal… at least for now.
(Tip of the hat to @RenesPoints)