Points, Miles & Martinis reports that Delta is adding three new Delta One transcon routes as of next year. Specifically, the following routes will feature Delta One service:
New York JFK to Seattle as of April 1, 2018
New York JFK to San Diego as of April 1, 2018
New York JFK to Las Vegas as of May 1, 2018
These three routes join Delta's four existing domestic Delta One routes, which include New York to Los Angeles, New York to San Francisco, Washington DCA to Los Angeles, and Boston to San Francisco.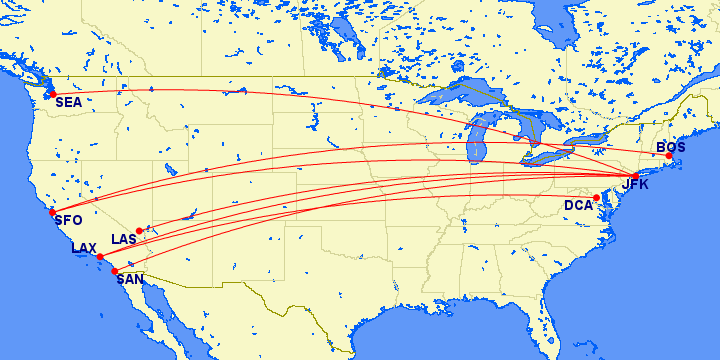 Delta One is the name for Delta's premium business class service, which they offer on most international longhaul flights, as well as on select transcon flights. What this means is that these flights will feature fully flat beds in the forward cabin. Previously some of the flights were already operated by internationally configured planes, though the key here is that the flights will feature Delta's enhanced premium cabin service, including Westin Heavenly bedding, Tumi amenity kits, and improved food & beverage offerings.
Unfortunately it's not all good news. Delta offers elite members complimentary upgrades to Comfort+ and First Class, but not to Delta One. In other words, when these changes kick in, the three routes won't offer elite members complimentary upgrades anymore.
So this can be good or bad news depending on how you look at it. On the plus side, those in Delta One will get an all around better experience. At the same time, you won't get into the cabin with a complimentary upgrade. However, SkyMiles Platinum & Diamond members can use their regional upgrades to confirm an upgrade to Delta One on these flights (Platinum members get up to four of these per year, while Diamond members get up to eight of these per year).
Clearly this decision by Delta is a competitive response to JetBlue. JetBlue is in the process of introducing Mint service from New York to Las Vegas, Seattle, and San Diego. What's especially interesting is that back when Delta started building up their presence in Seattle, their flights between Seattle and New York were Delta One service. Then they downgraded the service, and now they're upgrading it again.
What do you make of Delta introducing Delta One service to San Diego, Seattle, and Las Vegas?